Positively State Street
Rachael Yamagata Brings New Album to SOhO
Live Music Highlights Include Nate Latta, Cornerstone, Tumbleweed Wanderers
WELCOME TO CHESAPEAKE: You'd probably recognize a Rachael Yamagata song long before you recognized its creator. Like so many of her young singer/songwriter contemporaries, this vocal powerhouse has seen her songs grace screens large and small, with songs and appearances on everything from Grey's Anatomy and Brothers & Sisters to my favorite part of Must-See-Thursday, 30 Rock. TV spots or no, though, Yamagata is the real deal. She's a force to be reckoned with on both piano and guitar, and her vocals alone are a kind of double threat, gorgeous in both breathy and cigarette-burned modes.
On Chesapeake, her third album — and second alongside Happenstance producer John Alagía (Liz Phair, Jason Mraz, Dave Matthews Band) — Yamagata expertly traverses the terrain between adult contemporary and alt-pop. Tracks like "Saturday Morning" are sure to be mom-approved, and feel like they'd be right at home on a Grey's soundtrack, while "Starlight" is all sultry and Chrissie Hynde–channeling, complete with distorted guitar noises. Additionally, album opener "Even If I Don't" goes the baroque route by way of a frantic piano line and sweeping strings section. The result is easily Yamagata's biggest-sounding record yet, and one that seems to grow even better with age. Want to see it live? Yamagata plugs in for an all-ages show at SOhO Restaurant & Music Club (1221 State St.) this Saturday, November 26, at 6 p.m. Call 962-7776 for tickets.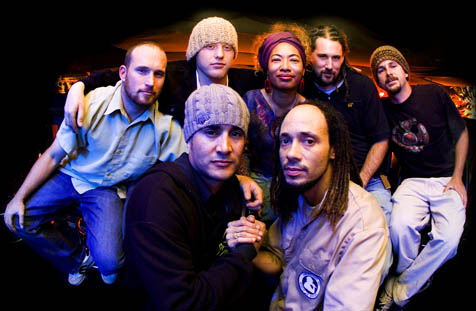 THE AFTER PARTY: And if you're in for an eclectic night of tunes, stick around after Yamagata's set clears for a late show featuring Santa Barbara's own Cornerstone. Since forming in 2009, these seven have elevated themselves to become S.B.'s go-to party starters. Their deep-cutting and bass-driven reggae grooves draw heavily from traditional Jamaican jams but also incorporate more contemporary elements, including hints of hip-hop and ska (Think Damien Marley meets KRS-1).
Live, though, is where these guys shine. Maybe it's the beats. Maybe it's the rhythm. Maybe it's just the sheer joy of getting a bunch of people in a room together to groove. Either way, it promises to be a sweet end to a great night of music.
Cornerstone plays SOhO on Saturday, November 26, at 9 p.m. Visit sohosb.com for info.
RAMBLIN' MEN: If country's your bag, this week is rife with musical offerings, too. On Wednesday November 30, Santa Barbara–based crooner Nate Latta takes to the stage at SOhO alongside singer/songwriter David Batteau. Known both for his solo work and his writing credits (he's penned tunes for Shawn Colvin, Trisha Yearwood, and Madeleine Peyroux), Batteau reminds us of a funkier (and less English) Peter Gabriel and will no doubt add an adult contemporary radio feel to the night's proceedings. Latta, on the other hand, is sure to bring the rock. His recent debut album is filled to the brim with blistering, punk-tinged Americana that's just as well suited for a honky-tonk bar as it is for a mosh pit. Add to that a few howling guitar solos and some shuffling drum work, and you've got yourself a set worth showing up early for. Latta and Batteau play an all-ages show at 7 p.m. Call 962-7776 for info.
And if you're in the mood for Americana of the more intimate kind, I recommend clearing your Monday-night schedule. It's then that rising Oakland folkies Tumbleweed Wanderers will blow into town for a house show with S.B. Farmers Market staples The Rainbow Girls. Best likened to bluesy-folk outfits like Vetiver and The Fruit Bats, these Wanderers are well worth a listen, whether online or in person. (Though we hear their live show is quite the treat.) The band drops their debut EP next month. Visit facebook.com/tumbleweedwanderers for a taste. For info about the house show, email tumbleweedwanderers@gmail.com.