Cover Story
'Tis the Season
A Guide to Winter's Festivities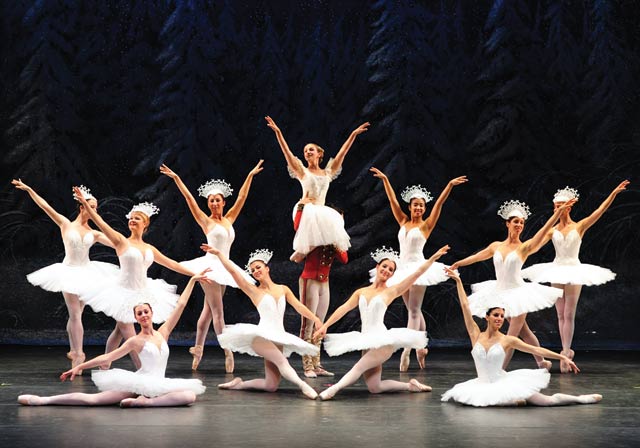 It's the most wonderful time of the year again! To help you make the most of another warm-weather winter season in Santa Barbara, The Indy's Calendar Editor Devon Claire Flannery has compiled a comprehensive guide to the plethora of holiday events on the Central Coast. Whether it's ocean-side snow play, boutique shopping, holiday comedy shows, meetings with Santa Claus, or dancing nutcrackers, the following pages are sure to help everyone — from spirited holiday revelers to those feeling a bit grinchy — fill their winter calendars with cheer. Happy holidays!
COMMUNITY EVENTS
2nd Annual Holiday Lights Tour
Explore the tucked-away neighborhoods of S.B., decorated in festive lights, on a 90-minute tour around town aboard the DeeTours Jeep Limo. One dollar from every ticket sold will be donated to DAWG (Dog Adoption and Welfare Group). Reservations are required.
Nightly 90-minute tours, Dec. 12-23, 5:45pm and 7:15pm. Stearns Wharf, Cabrillo Blvd and State St. $10-$20. All ages. Call 448-8425.
All-Star Comedy Night: Chanukah and Hilarity!
A fun, family-friendly Chanukah-themed stand-up performance by members of the Jewish Community Center's Comedy Club.
Thu., Dec. 15, 6-8pm. Bronfman Family Jewish Community Ctr. 524 Chapala St. $4-$10. Call 957-1115 x107.
Brad Nack 100% Reindeer Holiday Art Show
A one-night only display of a celebrated S.B. artist's annual holiday art show, now in its 15th year. Paintings on display are small, elegantly framed, abstract oil paintings of reindeer.
Fri., Dec. 2, 6-8pm, Roy, 7 W. Carrillo St. All ages. Call 845-5389.
Candy Cane Train
Take a ride on the South Coast Railroad Museum's festive miniature train, a tradition now in its 19th year; then check out the Toy Trains and Teddy Bears exhibit. Miniature train riders must meet the 34-inch minimum height requirement.
Daily through Sat., Dec. 24 (except Dec. 5-6 and 12-13). Hours: 1-3:45pm weekends, 2-3:45pm weekdays. South Coast Railroad Museum, 300 N. Los Carneros Rd., Goleta. $4. Call 964-3540.
Family Chanukah Party
Delicious food, arts and crafts, stories, and fun Chanukah games for the entire family. Please RSVP.
Sun., Dec. 18, 1-3pm. Bronfman Family Jewish Community Ctr., 524 Chapala St. Call 957-1115.
Goleta Valley Historical Society's Holiday at the Ranch
A holiday open house with Santa Claus and his festively clad "rein-goats," plus live music, tours, crafts, and more.
Sat.-Sun, Dec. 10-11, 11am-4pm. Stow House, 304 N. Los Carneros Rd., Goleta. $2-$5. Call 681-7216.
Holiday Dreams: 59th Annual Downtown Holiday Parade
More than 50,000 will gather to watch giant helium balloons float down State Street, along with marching bands, holiday floats, festively clad performers, and a horse-drawn carriage carrying the Holiday Prince and Fairy, accompanied by the parade's Grand Marshal Lakey Peterson and Old Saint Nick. Event starts off with festive tree lighting at Victoria and State streets.
Fri., Dec. 2. 6:30pm. Parade travels down State St., from Sola to Cota sts. Free. Call 962-2098 x22.
Holiday Nature Craft Family Workshop
Sip hot cider and nibble on cookies as the Botanic Garden's education staff instructs you and your family how to create old-fashioned craft items using materials gathered from nature, like wreathes, ornaments, wrapping paper, and more.
Sat., Dec. 10, 10am-noon. S.B. Botanic Garden, 1212 Mission Canyon Rd. Members: $25/family of four, $3/per additional person; nonmembers: $30 (family of four)/$7 (additional person). Call 682-4726 or visit sbbg.org.
S.B. Christian Women's Connection Christmas Party
Santa Barbarans Pam Swenson, Trina Pocket, and Sue Mae Willhite will lead the group in carols, jewelry sales, and Christmas traditions.
Wed., Dec. 7, 11:30am-1:30pm. Holiday Inn, 5650 Calle Real, Goleta. $22 (cost includes lunch). Call 964-8543.
S.B. Human Resources Association Holly Jolly Holiday Party
Sponsored by Pension Mark Retirement Group. Guests welcome.
Wed., Dec. 14, 11:30am-1:30pm. Fess Parker's DoubleTree Resort, 633 E. Cabrillo Blvd. $40/members, $50/nonmembers. Call 569-8952 or visit sbhra.org.
Solvang Julefest Tree Lighting Ceremony and Julefest Parade
Amidst a decked-out Danish holiday evening, watch the lighting of a giant Christmas tree and live entertainment by ballerinas and bands, and enjoy caroling and the arrival of Santa Claus. The next day, the Julefest Parade will feature a procession of Danish dancers, musical groups, vintage vehicles, horses, carriages, animals, and more in the city's downtown area.
Lighting Ceremony:  Fri., Dec. 2, 5pm. Solvang Park, Mission Dr. and First St., Solvang. Parade: Sat., Dec. 3, 11am. From Old Mission Santa Inés (1760 Mission Dr.) to Alisal Rd. post office. Free. Call 688-6144.
Solvang Third Wednesday Holiday Celebration
Featuring savvy shopping and dining specials throughout Solvang Village, as well as live entertainment and carolers.
Wed., Dec. 21. Downtown Solvang. All ages. Call 688-6144.
Sledding (and Skating!) at the Zoo and Snow Leopard Festival
A fun winter celebration of the endangered snow leopard, two of which live in naturalistic habitats at S.B.'s wild animal park. More than 75 tons of snow will be turned into sledding runs for kids ages 12 and under, and create a children's play area. Snow will also be placed in exhibits for snow leopards, elephants, otters, and other animals. New this year is Otto's Iceless Skating rink, open to visitors of all ages.
Sun., Dec. 4, 10am-3pm. S.B. Zoo, 500 Niños Dr. Admission: $12/adults, $10/children and seniors; $3/snow sledding access; $5/skating. Call 962-5339 or visit sbzoo.org.
Trolley of Lights
See all the sights and Christmas lights on a 90-minute trolley tour around downtown S.B. Reservations are required for this local favorite, now in its 12th year.
Dec. 9-23, 6:30pm. Tours depart from Wheel Fun Rentals, 22 State St. $14-$23. Call 965-0353 or visit sbtrolley.com.
Winery Weekend
Enjoy special holiday open houses for those over age 21 at a number of vintners in the Santa Ynez Valley.
Fri., Dec. 2, 5-8pm, Lucas & Lewellen, 1645 Copenhagen Dr., Solvang, free for members/$20 per guest, (888) 777-6663. Sat., Dec. 3, noon-4pm, Brander Vineyard, 2401 Refugio Rd., Los Olivos, $10/members-$25/nonmembers, 688-2455. Sat.-Sun, Dec. 3-4: 10am-6pm, Cargasacchi, 1601 W. Central Ave., Unit F, Lompoc, 736-7763; 11am-4pm, Ken Brown Wines, 70 Industrial Way, Buellton, 448-3791, and Flying Goat Cellars Tasting Rm., 1520 E. Chestnut Ct., Lompoc, $15, 736-9032.
HOLIDAY MARKETS
26th Annual Folk and Tribal Arts Marketplace
This unique event features one-stop holiday shopping for whimsical, practical, and exotic goods crafted around the world — plus food, live music, and dance performances to keep you busy all day. Proceeds benefit museum education programs.
Fri., Dec. 2, 10am-7pm, and Sat.-Sun., Dec. 3-4, 10am-5pm. S.B. Museum of Natural History, 2559 Puesta del Sol Rd. Admission is free. Call 682-4711 x123.
Dos Pueblos High School Holiday Boutique
Sales from unique handmade jewelry, handbags, clothing and lingerie, ornaments, candles, and more at this third annual holiday boutique will benefit the school's Parent Teacher Student Association.
Sat., Dec. 3, 11am-4pm. Milk & Honey Farm, 1105 More Ranch Rd. Call 452-6523.
Garden Court's Holiday Boutique and Open House
Enjoy delicious food and drink while shopping for exquisite homemade crafts created by the senior citizen residents of the Garden Court housing complex. Proceeds from a Christmas tree silent auction will benefit the Garden Court Resident Fund.
Wed., Dec. 7, 6-8pm. Garden Court, 1116 De la Vina St. Call 884-0095.
Holiday Craft Fair
Featuring work by 20 area artists and handcrafters.
Sat., Dec. 3, 10am-4pm. Casitas Plaza, 5402 Carpinteria Ave., Carpinteria. Call 684-1731.
Light Up a Life Celebration
Three special nights to remember those we have loved by lighting a star on the Hospice Tree. Hundreds of lights and stars will illuminate the memorial tree, with more stars available at each ceremony for those who wish to hang their own personalized tribute. Suggested donation of $10 per star benefits Hospice of Santa Barbara, Inc. Attendance is free.
Goleta: Sat., Dec. 3, 5:30pm, Camino Real Marketplace, 7004 Marketplace Dr.; Santa Barbara: Sun., Dec. 4, 5:30pm: Lobero Theatre lawn, 33 E. Canon Perdido St.; Carpinteria: Sat., Dec. 10, 5:30pm: Linden House, 789 Linden Ave. Call 563-8820.
Los Alamos Holiday Stroll
Bell Street will be bustling with art on display, live music and caroling, holiday cheer, and more. This year's highlights for the annual event include a "BYOW (Bring Your Own Wood) Bonfire."
Fri., Dec. 2, 5-8pm. 400 block of Bell St., Los Alamos. Call 344-3807.
Montessori Center School's Holiday Boutique
Shop for gifts from over 30 vendors selling art, books, clothing, educational toys, wine, home decor, holiday goods, and locally made jewelry and gifts. Twenty percent of all sales benefit MCS faculty.
Thu., Dec. 1, 11:30am-7pm. Montessori Ctr. School, 410 N. Fairview Ave., Goleta. Call 683-9383.
Pre-Christmas Art and Craft Fair
Browse a variety of arts and crafts to fill your Christmas stockings.
Sat., Dec 3, 9am-4pm. Living Faith Ctr.'s Fellowship Hall, 4595 Hollister Ave. Call 453-7254.
Tennis Club Annual Holiday Boutique
Eighteen vendors will showcase mosaics, jewelry, bikinis, robes, dresses, perfume, knitting, paintings, and more.
Sat.., Dec. 3, 9am-3pm. Tennis Club of S.B., 2375 Foothill Rd. All ages. Call 682-4722.
Tone-Up's 10th Annual Holiday Boutique
Gifts made by artisans for women and children, jewelry, art, clothing, beauty products, and more, plus wine vendors and tastings.
Sat., Dec. 3, noon-5pm. Tone-Up Santa Barbara, 3006 De la Vina St. Call 898-8910.
Waldorf School Winter Fair
Holiday activities and crafts for kids to make and take home, puppet shows, handmade gifts, and live trees for sale.
Sat., Dec. 10, 11am-4pm. Waldorf School of S.B., 401 N. Fairview Ave., Goleta. 967-6656.
DANCE AND THEATER
The Christmas Revels: A Bavarian Celebration of the Winter Solstice
Santa Barbara Revels' annual performance celebrating the Winter Solstice is both engaging and family-friendly, featuring more than 60 singers, actors, dancers, and instrumentalists. The Christmas Revels transports audiences to early 19th century Bavaria, to enjoy the colorful costumes, lively dancing, glorious choral and instrumental music, and engaging storytelling of that time and place.
Sat., Dec. 17, 2:30 and 7:30pm; Sun., Dec. 18, 1 and 5pm. Lobero Theatre, 33 E. Canon Perdido St. $12-$40. Call 963-0761.
Community Nativity Pageant
An elaborately staged presentation of the Biblical nativity story, featuring live animals, and musical accompaniment.
Sat., Dec. 10, 5 and 7pm. Solvang Festival Theater, 420 2nd St., Solvang. Call 688-6144
Holiday Music Fun
Craig Newton will share favorite holiday songs for all ages from a variety of cultures. Expect participation songs, sing-alongs, and sounds from the mandola, guitar, tin whistle, djembe, and more at these free events.
Wed., Dec. 7, 10:30am, Goleta Library, 500 N. Fairview Ave., Goleta, 964-7878. Thu., Dec. 8, 10:30am, Carpinteria Library, 5141 Carpinteria Ave., Carpinteria, 684-4314, and 6pm, Solvang Library, 1745 Mission Dr., Solvang, 688-4214. Sat., Dec. 10, 10:30am, Eastside Library, 1102 E. Montecito St., 963-3727.
It's a Wonderful Life
A faithful adaptation of Frank Capra's classic film as a 1940s radio broadcast, performed onstage with live sound effects. Please RSVP.
Fridays and Saturdays, Dec. 2-17, 7:30pm. Sundays, Dec. 4 and 11, 2pm. Ojai Center for the Arts, 113 S. Montgomery St., Ojai. $10-$20. Call 640-8797.
The Lion in Winter
Ensemble Theatre Company presents a witty costume drama about family politics in 12th century England.
Dec. 1-18: Tue.-Sat., 8pm, and Sun., 2 and 7pm. Alhecama Theatre, 914 Santa Barbara St. $32-$60/general and $20/students and persons ages 26 and younger. Call 965-5400 x109.
The Night Before Christmas
An annual holiday ballet production presented by the Montecito School of Ballet, celebrating its 20th year in S.B. in 2011.
Fri.., Dec. 9, 7:30pm, and Sun., Dec. 11, 2pm. Lobero Theatre, 33 E. Canon Perdido St. $16-$24. Call 963-0761.
The Nutcracker at San Marcos High School
The Goleta School of Ballet joins forces with Goleta Ballet Theatre to present this holiday classic.
Sat.-Sun., Dec. 3-4, 2pm. San Marcos High School Auditorium, 4750 Hollister Ave. $18. Call 967-4581.
The Nutcracker at the Arlington
The Santa Barbara Festival Ballet, with a live symphony orchestra, takes you on a magical journey with Clara and her Nutcracker Prince to the Kingdom of Sweets. This year, the troupe celebrates its 37th year of performing this holiday favorite in S.B.
Sat., Dec. 10, 2:30 and 7pm, and Sun., Dec. 11, 2:30pm. Arlington Theatre, 1317 State St. $25-$54. Call 963-4408.
Rudolph
A children's holiday ballet by performers from Gustafson Dance, and dancers from State Street Ballet Young Dancers, portraying Christmas characters like Santa and his elves, a delightfully "abominable" snowman, and the red-nosed member of St. Nick's reindeer team.
Sat., Dec. 3, 2 and 6pm. Lobero Theatre, 33 E. Canon Perdido St. $12-$20. Call 963-0761.
Some Thing to Do
Magical stories of Solvang are presented by Actor's Corner Center with the Jelling Stone Scarecrow, Santa Claus, the Lady of the Vine, and other colorful holiday characters.
Dec. 2-17; Fridays and Saturdays, 8pm; Sundays, 1pm. 435 2nd St., Solvang. $12-$24. Call 686-2409.
State Street Ballet's The Nutcracker
State Street Ballet's annual holiday production of the classic story by E.T.A. Hoffmann, set to legendary ballet music by Tchaikovsky.
Sat., Dec 17, 2 and 7:30pm; Sun., Dec. 18, 2pm. Granada Theatre, 1214 State St. $18-$53. Call 899-2222.
You Can't Stop the Christmas Beat!
The Santa Barbara Silver Follies presents their Christmas Spectacular, a happy, snappy, eclectic mix of holiday fun with a Broadway musical twist.
Tue.-Sat., Dec. 13-17, 8pm. Center Stage Theater, 751 Paseo Nuevo. Call 963-0408.
MUSIC
Advent Organ Series
Celebrating the 28th season of this seasonal music series in sacred space.
Sun., Dec. 4, 11, and 18, 3:30-4:30pm. Trinity Episcopal Church, 1500 State St. Free. Call 965-7419.
Christmas with Santa Barbara Noel Carolers
A special production benefiting the S.B. Vocal Jazz Foundation's Music Education Programs, featuring special guest Debbie Denke on piano.
Sun., Dec. 11, 7:30pm. Free Methodist Church, 1435 Cliff Dr. $20. Call 729-2627.
An Evening with Keb' Mo': The Spirit of the Holiday
Three-time Grammy Award–winning artist will perform songs from his new studio album, The Reflection.
Tue., Dec. 6, 8pm. Lobero Theatre, 33 E. Canon Perdido St. $37-$47. Call 963-0761.
Dave Koz and Friends Christmas Tour 2011
A magical combination of musicians will perform to celebrate the season.
Tue., Dec. 20, 8pm. Granada Theatre, 1214 State St. $49-$88. Call 899-2222.
Messiah
The 7th Annual Westmont Christmas Festival will feature dramatic readings, as well as performances by the college orchestra and choirs — who will perform selections from Handel's Messiah, as well as other seasonal musical arrangements.
Fri-Sat., Dec. 2-3, 8pm, and Sun., Dec. 4, at 3pm. First Presbyterian Church, 21 E. Constance Ave. Tickets are free, but must be reserved. Call 565-6040.
Santa Barbara Music Club Annual Holiday Concert
Program features holiday-inspired music for trumpet, organ, voice, and guitar, including original compositions written and performed by UCSB professor emeritus Emma Lou Diemer.
Sat., Dec. 3, 2pm. First Congregational Church, 2101 State St. Free. Call 565-9610.
Weihnachtskonzert
The Edelweiss Choir of Santa Barbara presents its annual concert of traditional Christmas music — sung in English, German, Norwegian, and other languages.
Sun.., Dec. 11, 3pm. Trinity Lutheran Church, 909 N. La Cumbre Rd. $12. Call 682-1537.
SERVICES
Old Mission Christmas Eve Mass
S.B. Parish's Roman Catholic Mass in splendid surroundings.
Sat., Dec. 24, 5pm and midnight. Old Mission Santa Barbara, 2201 Laguna St. Call 682-4151.
Old Mission Christmas Day Masses
S.B. Parish's Roman Catholic Mass in splendid surroundings.
Sun., Dec. 25, 7:30, 9, and 11am. Old Mission Santa Barbara, 2201 Laguna St. Call 682-4151.