News
War of Words Escalates over S.B. Cop
Attorney Accuses Officer of Stalking; SBPD Accuses Attorney of Ethical Violations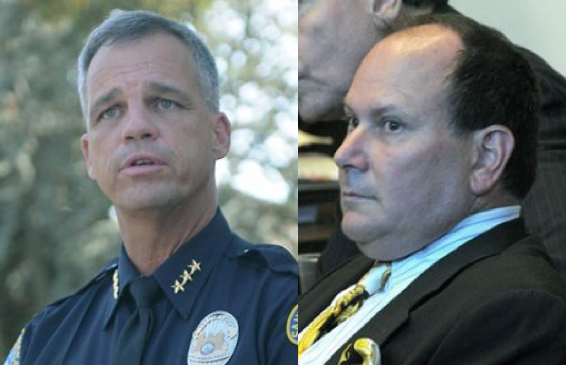 DUI attorney Daryl Genis submitted an official complaint on behalf an unnamed woman, contending that Santa Barbara Police Officer Aaron Tudor "slammed" his client against the hood of a police car when arresting her last month for driving under the influence and broke her right arm while pulling it forcibly behind her and yanking it up. Genis also charged Tudor with "stalking" another woman after he contacted her a couple times via Facebook after having arrested her for DUI as well.
Genis brought these allegations to light last week to buttress his claims of excessive force against Tudor, who'd arrested another of his clients, Tony Denunzio, after tasering him 13 times for resisting arrest in the Gelson's parking lot. While the District Attorney's Office has filed DUI charges against Denunzio, it declined to file for resisting arrest, much to the chagrin of Santa Barbara police brass. Assistant chief Frank Mannix acknowledged Genis's client had her arm broken and that Tudor was one of two officers involved. But, he stressed, the woman was resisting arrest and had to be restrained. "We reviewed the use of force, and we found nothing irregular," Mannix said. "The mere fact that someone was injured while resisting arrest is not uncommon." Mannix said multiple witnesses — including the woman's boyfriend — witnessed the event and confirmed that she'd resisted.
Mannix also acknowledged that Tudor had contacted the second woman — unnamed by Genis — via Facebook and confirmed it constituted a violation of department protocol for an officer to initiate social contact with an arrestee. But in the same breath, Mannix accused Genis of violating his professional code of ethics by describing Tudor as a "sexual predator" and equating Tudor's Facebook activity with "stalking." Mannix noted that Tudor and the woman attended the same church and that Tudor contacted her to discuss church services. "[Genis's] comments are so maliciously distorted that no responsible attorney would recognize them as truthful or ethical," Mannix stated. He also accused Genis of acting improperly by divulging details about someone who was not his client. The Police Officers Association, the union representing sworn officers, blasted Genis on the same grounds.
Although Genis insists that he had in fact been retained by the woman in question, attorney Martin Cohn — whom she hired the same day Genis went public with her story — denied this. "My client insists she never hired him," Cohn said. "They met; they talked, but that's as far as it went," Cohn said. Cohn confirmed Genis's allegation that Tudor expressed an interest in "hanging out" as well as discussing church service schedules, but denied that this conduct — while inappropriate — approximated "stalking."
Cohn said his client was extremely upset that she was arrested, upset that Tudor contacted her afterward, and upset that the matter has become the subject of media controversy. Cohn confirmed that he and his client met with Mannix and an internal affairs investigator last Friday. Genis has suggested that Cohn "has made his deal with the devil and is working in concert with the police to falsify allegations against me." And Genis stood by the remarks that outraged Mannix, the police union, and others in the department. "A heterosexual male police officer who seeks to 'hang out' with a young attractive female whom he has arrested," he wrote in an email, "is an act that is motivated by sexual desire and it is predatory in nature."
Mannix said that the internal affairs investigation into the Facebook allegations is nearly done. The disciplinary options for such a transgression range from a letter of reprimand to outright termination, depending upon the officer in question's personnel history. He suggested that Tudor or the woman might file a complaint with the California Bar Association against Genis.
Mayor Helene Schneider expressed exasperation at Tudor's conduct, wondering how an officer so under the microscope of public scrutiny could do something so inappropriate as contact someone he'd just arrested. She also demanded a public reckoning of the allegations of excessive force involving the woman whose arm Tudor helped break. "When you have an allegation like that, you need to follow up with what happened," she said. "The thing with all these allegations is that they just seem to hang out there with a bad smell."