Cover Story
Searching for Captain Kew
The Rambling and Wonderful Surfing Life of Writer Michael Kew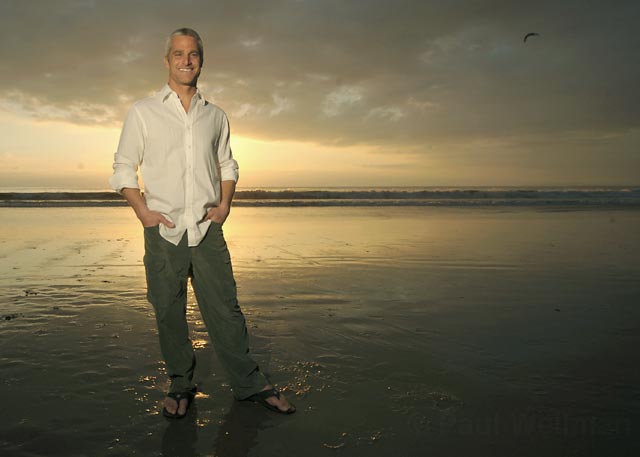 It was sometime before the whiskey but after the pulled-pork sandwich and homemade pumpkin pie when Michael Kew dropped the bomb. With 15 neatly packed surfboards lined up in the corner of the kitchen and the television an alternating blur of a recorded San Diego Chargers game and Bruce Brown's The Endless Summer, the light was getting late and perfect on the mountains behind us, a nostalgic golden hue that is the quintessential calling card of winter around these parts. As the crow flies, we were little more than a mile from Rincon, our Queen of the Coast. Rustling through an impressively stuffed cabinet of his published work, Kew looked over his shoulder, gave that short rapid-fire laugh he often uses, and asked innocently enough, "Seriously, though, what's your angle on this? I mean, why would anyone want to read about me?"
The thing is, if you fancy yourself a surfer and have read surf magazines with an even sporadic interest during the past decade, chances are high that you've already read Kew and gazed daydreamingly upon his photography. From the surf rags of Japan and Italy to the polished publications of Brazil and California, the 36-year-old regular-foot is as prolific as they come in the not-so-wide world of surf journalism. (Just punch in "Michael Kew surf" to the Google machine, for instance, and 5.6 million results pop up in less than half a second.) Even better, with an ear wired for dialogue and a perpetual curiosity particularly piqued by cultures of the far flung, Kew's trademark brand of wordsmithing is typically wielded after adventures — often solo ones — to islands and atolls in forgotten corners of the South Pacific or the Indian Ocean, places that your travel agent isn't even sure how to get you to.
As Scott Hulet, editor of the Surfers Journal, North America's preeminent surf publication and a regular landing spot for Kew's work, put it recently, "Bottom line, I don't know anyone who has racked up more surf time in remote island groups over the last decade than Kew."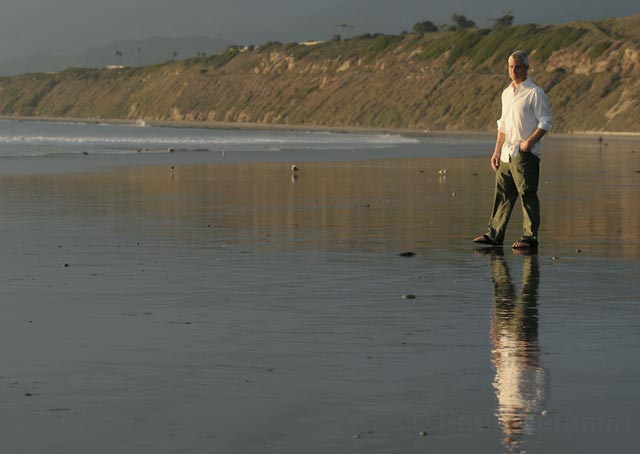 The Undergarments of Romanticism
With a passport full of stamps to the Marshall Islands, the Seychelles, Kiribati, Greenland, India, and 45-some-odd other countries, it is easy to imagine Kew as some sort of jet-setting, lifelong traveler predestined for the road by a restless and romantic gene deep in his DNA. But nothing could be further from the truth.
The San Diego native never left the U.S. until after his 25th birthday, and, when he made the move from Santa Barbara City College up to the wilds of Humboldt State to pursue a journalism degree in the mid '90s, he'd never really been north of Santa Rosa. Peeling back the layers of his saltwater-stained life over a few pints outside Carpinteria's Island Brewing Company last week, it became clear that Kew is one of those special individuals who has known since childhood exactly what he wants to do with his life, a rare knowledge of self that's been informing his plans, or lack thereof, since before he was a teenager. In short, he is a creator of media, constantly chronicling with both pen and camera, who also happens to be wickedly addicted to the art of surfboard riding.
Never mind the F he got in Intro to Journalism class during his first SBCC semester in 1993; Kew was making things with words since before puberty hit. "I read books like most kids eat Tic Tacs or play video games," he explained. "I just consumed them." Though a self-described "horrible student," the 11-year-old Kew published 30 issues of Open Doors, a homemade surf 'zine in which he interviewed friends, reviewed bands, wrote fake ads for surf labels, traced actual published surf photos, penned his own captions, broke down the ins and outs of certain spots, and even, on occasion, fabricated subscription inserts. At the age of 12, he had his first byline in Surfer Magazine, a letter to the editor about Joey Buran. Once high school hit, Kew retired Open Doors but started putting out Necroscope, a self-produced death metal 'zine that, in those pre-digital days, gained an international following of sorts for its coverage of bands like Slayer and Cannibal Corpse.
San Dieguito High School and surf spots like Cardiff and Sunset Cliffs gave way to Santa Barbara City College, life in Isla Vista, and the waves of Goleta and Gaviota. "Coming up here was my first real taste of surfing without cement behind you," said Kew. "And I loved it. I have always needed elbow room and nature." During his I.V. days, Kew published Fatty, an ode to all things surfing and skateboarding, and then transferred to Humboldt State, a place of higher learning with decidedly more elbow room, more surf, and, most importantly, an actual journalism major.
In the summer before his senior year at Humboldt, Kew came back south for a few months after scoring an internship at Surfer Magazine. He lived in a Dana Point apartment, showed up for his first day of work in a suit and tie, and slogged away as a "grunt guy" at what was then considered the best surf magazine in the world. He got coffee for people, filed things, and mailed letters, but, on a few occasions, scored a couple bylines. At 22 years old, Kew "had a foot in the door" to the world where he's been living ever since.
Writing and the Road
After graduation, Kew stuck around Humboldt County for a bit, working a traditional journalism job as a news reporter for The Independent, a now-defunct paper in the tiny hamlet of Garberville, California, while also acting as North Coast correspondent for the beer-industry paper Celebrator. He continued making occasional freelance forays into the magazine pages of Surfer and Surfing, but was yet to put a stamp on his passport. All that changed after a hefty payday from Swell.com, a relatively short-lived surf travel and forecasting Web site that's since morphed into an online retailer.
Making a large amount of coin for writing small reviews of surf breaks throughout the West Coast, Kew was able to subsidize his first international surf pilgrimage. He had moved back to the Santa Barbara area in the summer of 2000 — a relocation inspired in part by the heavy heat he started getting from Humboldt locals after hinting about a treasured break in a story — but was soon headed to Europe with notebook, camera, and surfboards in hand. In a blur of circumstantial serendipity only found when you jump headfirst without plan into living out of a backpack, Kew connected with famed surf photog Ted Grambeau, and the duo set out for Norway's Lofoten Islands, located north of the Arctic Circle and about as far off the mainstream surf map as you could get. After four days of surf in and around the beaches of Unstad, Kew had the fodder for his first travel feature in Surfer. And on the same trip, he began a lifelong love affair with the coast of Wales, where he was able to generate a handful of separate articles. By the end of the trip, Kew had spent two months in Europe — as he puts it, "living the dream: crashing on couches, partying, surfing, and just experiencing the freedom of travel" — but he came home with a formula for a surf-writing career.
And that formula hasn't changed much in the decade since. Kew continues to go looking for surf and culture in places that most of us probably wouldn't, writes about the people he meets more than the waves he actually scores (though his photos certainly still manage to smack of hi-grade surf porn), and remains by and large a one-man show who operates out of a modest two-bedroom apartment (shared with a roommate and two cats, Tank and Marvin) on a ranch above Rincon. He approaches the surf with a go-fast-as-hell, down-the-line attitude on boards shaped by people like Marc Andreini and Ryan Lovelace. He rides the waves at Rincon literally every day he is home, no matter the conditions, which might be why he surprisingly prefers to be home rather than on the road.
"I don't consider myself a world traveler," admitted Kew. "I am actually a homebody. I prefer routine. I'm not going to just go to Southeast Asia backpacking for two months. That sounds like hell to me." Rather, he travels with intent, explaining, "There is always a motive, there is always an angle, and there is always a potential selling point."
Though Kew, by his own reckoning, has been published "in just about every surf magazine in the world," he refuses to read most of those same publications for fear that they will rot his brain and bristles openly at the term "surf journalist." He explained, "I don't want to be pigeonholed as a 'surf journalist.' That is kind of the worst thing to me. There is no real respect in that." Instead, said Kew, "I love stories. I want to be a writer. I am a writer."
And so this Rincon-based writer has cobbled together a career with his thoughts and his words and his pictures (and, increasingly, his short films), and his work is as profound and important to the media-addled surf world as that of anybody his age. That same spark that had him literally cutting and pasting together homegrown magazines in his preteen years has continued to guide him in formidable freelance efforts.
"He doesn't write travel pieces so much as he produces them," said Hulet of the Surfer's Journal. "He assigns himself projects and then makes them happen … and then throws the results, Hail Mary–style, over my transom. More often than not, I bite."
This coming January will see the release of Kew's first book, a self-published collection called Crossings, and he's already starting to put trips together for next summer to Mozambique, the Ivory Coast, and Argentina. "I have zero dollars, but I'm happy," laughed Kew, back in his pad against the golden light of the setting Rincon sun. "Look, my work isn't work to me. It never has been. It's just a passion that I follow."
Luckily for those stuck in a cubicle and working jobs a bit less globe-trotting, he loves taking the rest of us along for the ride.
To check out Michael Kew's work, see peathead.blogspot.com.