Announcement
Celebrity Beanie Baby Bear Auctioned on eBay
Exclusive Autographed Beanie Baby® by creator Ty Warner, plus over 30 celebrities, supports Teddy Bear Cancer Foundation
The Beanie Baby® was created during the 2011 Santa Barbara Film Festival for the benefit of The Teddy Bear Cancer Foundation, the organization that supports families of children with cancer.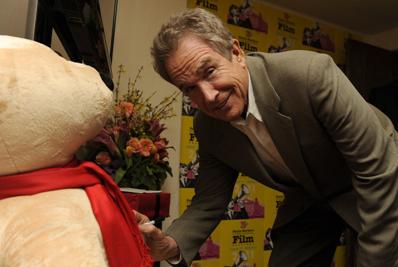 The official Ty Warner Beanie Baby® is over 3 feet tall and is autographed by more than 30 actors, writers, and directors who attended the annual film festival. The bear is on display in the main lobby at Four Seasons Resort The Biltmore Santa Barbara through January 9, 2012 when it will be shipped off to the winning bidder. To bid on this one-of-a kind item, visit www.TeddyBearCancerFoundation.org/celebritybear/.
Celebrity signatures include:
Leonardo DiCaprio, Nicole Kidman, Colin Firth, Helena Bonham Carter, Geoffrey Rush, Annette Bening, Warren Beatty, Billy Baldwin, James Franco, Ed Harris, Aaron Sorkin, Seth Rogen, Kevin Costner, David Crosby, Christopher Lloyd, Amy Madigan, and many more.
The Teddy Bear Cancer Foundation (TBCF) provides financial aid assistance to low to moderate income families who have a child with cancer. Families are assisted with rent/mortgage payments, care payments, insurance, medication, home care, utilities, groceries, hotel stays, and virtually anything related to the costs of caring for a child with cancer.