News
How to Not Get Your Bike Stolen
Lock It Tight
I've only had one bike stolen. My fault — I didn't lock it. Erika, a few months ago, wrote about her stolen bike and its happy ending. The only happy ending in my story was that the insurance company paid for a shiny new bike.
Erika briefly touched on the topic of locks. I want to delve deeper into the importance of choosing the right tool for the job and, equally important, how to properly lock your bike. If you believe that you can avoid bad things, like having your favorite bike stolen, by not thinking about them, reflect again on the scene in Ghostbusters when the Stay Puft marshmallow man appears.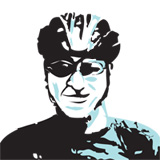 Let's start with some basic street smarts. For example, if you chose to ride your fancy $3,000 carbon-fiber road bike and park it for eight hours while you're in class or at work — it's likely to be a target of thieves even with the best U-lock or chain. If you'll be leaving your bike for long periods of time, invest in an inexpensive bike that you can feel comfortable leaving all day. Sometimes it's obvious where you shouldn't park.
I used to commute once a month to Pittsburgh for 10 days at a time for work. I bought a used $100 spray-painted red single-speed to ride to the airport. I'd lock it with a heavy chain, and each time my faithful steed would be there to take me home when my plane landed.
The same rule works for accessories. If you have a vintage Brooks saddle with a quick release seat post on your bike, swap it for a cheap saddle. Remember to take the bike lights and cycle computer with you when you lock up.
All bike locks can be broken, but if you know how to properly secure your bike, you can be pretty sure that when you come out of the movies your bike will be where you left it.
First, let's tackle the types of locks that you can choose from. There are main three types of locks: U-locks, cables, and chains.
U-Locks are a great choice to secure your bike if used properly. All U-locks are not created equally; you want to buy one made from hardened steel with a robust locking mechanism. The Kryptonite Mini or OnGuard Brute are both good choices. If you heart NYC you can go for the bright yellow New York Fahgettaboudit lock. The smaller-size U-locks are the most secure because they offer very limited room for leverage-based attacks. Some manufacturers offer anti-theft warranty programs.
Cables are a good choice for light to moderate security. For example, in the middle of the day on State Street I'll use a cable if I'm running into a store for a few minutes or having a quick coffee with a friend. Cables have become stronger and more secure with features that include armor coating that makes cutting more difficult. However, any cable can be cut quickly with a bolt cutter or hacksaw. The best thing about cables is that they are extremely flexible, lightweight, and adaptable to almost any locking situation. Cables should not be used for long periods of time, in high theft areas, or with your best bike.
Chains were the best security possible before U-locks. We used to buy lengths of heavy chain and wrap them in duct tape or slip an old inner tube over them to protect the finish of our bikes. Chains are still great for high-crime areas. The best have case-hardened links which resist hacksaws, bolt cutters, and chisels. Make sure you invest in a padlock that's just as sturdy—thieves can easily cut through cheap locks, no matter how strong the chain. The biggest problem with chains: You're now carrying around 10 extra pounds. Both Kryptonite and OnGuard are good choices for cables and chains that will work for almost any locking situation.
Okay, you've got your locks. Now it's time to learn how to use those them so thieves can't steal your precious two-wheels. Here's how they lock up on the mean streets of New York City.
Some basics: Be sure that you are securing your bike to a fixed object that cannot be easily broken, cut, or removed, or that a tall thief can lift your bike over — parking meters or short sign posts are not good choices. Also, chain link or wooden fences can easily be cut or broken.
If you're using a U-lock, position the key entry so it faces the ground.
Position your lock as high above the ground as possible to make it harder for a thief to find leverage and to make the lock obvious to folks walking by.
Most cyclists lock their bikes with only one lock. If you're using a U-lock it should go around the frame and rear rim and tire, somewhere inside the rear triangle of the frame — so what can you do about your front wheel? You can take your front wheel off (if it's a quick release) and lock it with the rear wheel (make sure you get the rim and not just a spoke), but it's often almost impossible to find a rack or post that works for this strategy. You can also purchase locking quick-release skewers at your local bike shop that will let you safely lock just through the rear wheel. Whatever you do, don't use a U-lock just through the seat or top tube and a pole. Your frame may be safe but your wheels are easy pickings for a thief.
If a chain or cable is your one lock, make sure it passes through the front and back wheels, bike frame, and post/rack.
Security-conscious cyclists use the two-lock approach, usually a U-lock and a cable. Chances are that most thieves will see two locks and move on to another victim. Set up the U-lock around your rear tire, frame, and some solid fixed object. Then snake the cable through your front wheel, frame, and the rack.
Let me end with some bike-locking reminders. Here's my Top 5 List, some of which I've learned the hard way!
5. Buy a lock that offers a guarantee and don't forget to complete the required paperwork.
4. Get insurance. Most renters or homeowners insurance covers your bicycles.
3. Locks rust over time. Give your lock a squirt of WD-40 or a similar lubricant to keep it turning smoothly.
2. Mark your bike (remember Erika's story!), and take a several photos of it for future identification.
1. If you're new to town, ask local riders where the high theft areas are. We all know them and are happy to give you a warning and personal stories over a cup off coffee or a beer.
You now have the basics to protect your two-wheels. Always follow your instincts. If someplace feels unsafe to park, it probably is. Lock it right, and you don't have to worry. Or, you can try to not think about bad things happening. But then, Stay Puft says, "Fahgettaboudit!"