News
Watson Not Running for Congress
Throws Support Behind Fellow Republican Chris Mitchum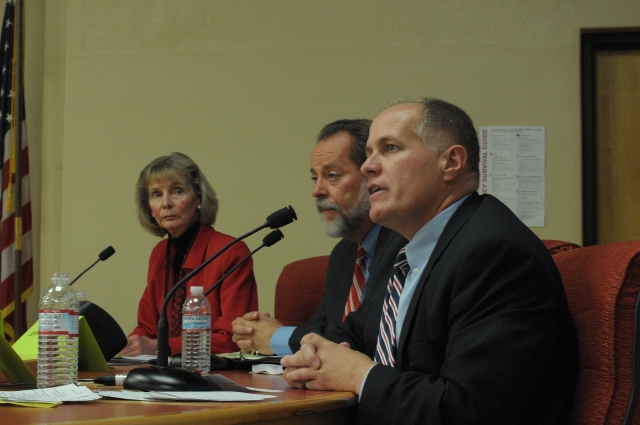 Tom Watson, who ran against Representative Lois Capps in 2010 and lost, will not run for Congress this year, and instead will throw his support behind actor Chris Mitchum.
Mitchum and Watson will appear in a joint press conference Wednesday to make the announcement.
Mitchum's official jump into the race clearly defines the June primary. Mitchum will square off against Capps — a Democrat who has been in Congress since 1998 — and former Lt. Governor Abel Maldonado, a former mayor of Santa Maria and Republican who is struggling to find support amongst right-wingers in the district. The top two candidates receiving votes — regardless of party — will run against each other in the November general election.
Maldonado's trouble with the Republican party goes back to his time as a state senator, when he parted ways with the party caucus to support raising taxes despite signing a pledge not to do so.
Despite these troubles, he has gained the attention of the National Republican Central Committee (NRCC) with his named placed on their flattering "Young Guns" list. The newly drawn district — which now encompasses all of Santa Barbara and San Luis Obispo Counties, as well as a small portion of Ventura County — has been targeted by the NRCC as a vulnerable seat, with the district a plus-6 percent advantage for Democrats. Prior to redistricting, Democrats held a more than 20 percent advantage in voter registration. Should Maldonado get to the general election in November, his position as a moderate could set up a tight race.
Mitchum, meanwhile, is fully backed by the Tea and Republican Parties in both Santa Barbara and San Luis Obispo. Pointing to Maldonado's record, Mitchum, who has lived in Santa Barbara since 1984, said, "I don't even think there's a contest," about who Republicans will support in June. "You don't vote to raise taxes if you're a real Republican."
Both Maldonado and Mitchum's fundraising has paled in comparison to Capps, who is currently sitting on more than $1 million in her campaign coffers. Maldonado — who raised only $50,000 in the last quarter — has $640,299 on-hand(which includes more than $260,000 in loans), while Mitchum has $6,424.
"It appears there will be a very competitive contest between the two Republicans as both failed to generate much support in the latest fundraising report," Capps campaign consultant Bill Carrick said in a statement. "Regardless of who runs, Lois will stay focused on getting our economy fully restarted, standing up for families against powerful corporate interests, and making sure seniors get the benefits they have earned."
Watson, in an email to supporters Saturday, said his family and other obligations outweigh personal desires at this point. "After consulting with my family over the last few months and considering my ongoing business commitments, it has become clear that the timing for another congressional run is not optimal. The time and effort required to mount a successful and credible campaign is significant and life has a way of inserting itself into one's plans."
He will be endorsing Mitchum on Wednesday at 5:30 p.m., at a primary campaign kick-off at Fess Parker's Doubletree.