Columns
M.D. versus D.V.M.
I'll Take the Vet, Thank You
Given a choice between dealing with M.D.s or with veterinarians, I'm thinking, when my time comes, that I'll be calling my vet for end-of-life care.
This isn't a slam on human doctors, many of whom are extraordinarily talented and dedicated. I can see that, watching the team of doctors that have been trying to manage my father's advancing cancer. His pain specialist is smart, compassionate, and knowledgeable. His internist comes by the hospital room early and late, listens to my father's endlessly repetitive stories of pain and frustration, and accommodates his needs without much objection. It certainly helps that my dad has buckets of money, not just to pay (although Medicare apparently covers a lot of this) but also to donate to medical causes. He's got friends in the health care system who are looking out for him – an advantage that the average insured American, not to mention the uninsured, can't claim.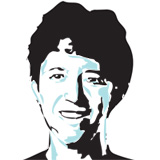 That said, it's still a messy, uncooperative system. The pain specialist talks about having my dad rely more on his morphine pump, while the internist talks about him using oral pain medications – and the outcome of the mixed messages has not been a success. When my dad was hospitalized last weekend for extreme pain as a result, the real weaknesses of institutionalized human medicine became screamingly clear. First, the nurse failed to properly connect his intravenous line, so his desperately-needed hydromorphone simply leaked onto the sheets, leaving him in horrible pain and convinced he was dying. (My stepbrother figured out what was going on by sitting on the bed and discovering soaked sheets.) That repaired, the hospital staff pretty much ignored him: When I arrived the following afternoon, it was at least two hours before anyone even bothered to stick a head in the door and say, "How's he doing?" When the "patient care representative" showed up to say hi (and stick her hand out for a donation), it took my dad threatening the hospital with a lawsuit, and me chewing her out re: the lack of nursing supervision, to see anything like quality care.
Nor can I lay it off on these particular practitioners: My mother was hospitalized last August and got the same minimal care. Because of my dad's donor status, the hospital CEO breezed in the next night to "apologize," in what was possibly the least sincere apology since Newt Gingrich's mea culpa for cheating on his ex-wives. (Politicians don't limit themselves to government work.)
It comes down to this these days: If you don't have a friend or family member in your room, watching you and chasing down nurses, you're on your own. The science of human medicine is incredibly sophisticated, but the delivery system for it sucks.
Now, veterinary medicine is not yet as advanced – although it's coming along at a good clip. There are facilities for MRI and CT; a variety of drug therapies (my mother and my dogs take several of the same medications, creepily enough); and, increasingly, specialty and 24/7 hospital practices that provide full service care for those pets whose owners can afford it. Now it's possible to save animals that, a few decades ago, would have been written off after an exam and a sad headshake from the family veterinarian.
I'm a pretty frequent consumer of this new veterinary medicine, because I foster and adopt special-needs animals. Maybe I find this system easier to navigate because it's smaller – there isn't such a wealth of choice about who to go to. Maybe it's because, after all these years of working with vets, I know several pretty well: I trust their judgment, and have their home phone numbers if there's an emergency. Certainly, I appreciate the greater flexibility where home health care is concerned: A veterinarian will send me home with a bag of lactated Ringer's solution, a veinous kit, and syringes, as well as injectable pain medication, for my dog. For my dad, not so much.
Of course, the elephant in the room of M.D. vs. D.V.M. comparisons is euthanasia. I could wax pretty irate on this one if my column space were larger. So I'll just say this: When my dog or cat is suffering irremediably from an uncorrectable condition, I can arrange for his peaceful, painless end. When my dad is struggling with capriciously intractable pain and fast-advancing cancer, that option doesn't exist – at least, not in the state where he lives. Somehow, Americans (and most of Western civilization) seem to think it's moral to keep people alive even when they have no future and want to die, and criminal to release them. I understand the "slippery slope" concern around physician-assisted suicide, but to those already at the bottom of their own life slopes, the real morality seems abundantly clear.