Dance
A Review of SonneBlauma's Final Show
S.B.-Based Company Morphing to "ArtBark"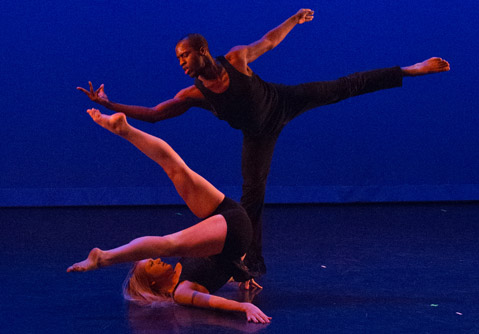 Even when the time is ripe for change, it takes courage to embrace it. But Santa Barbara's SonneBlauma Danscz Theatre is nothing if not brave. Last Tuesday, the company celebrated its 15th and final year by bringing together artists from Slovenia, Los Angeles, and Santa Barbara for a shared bill of cutting-edge contemporary dance and physical theater. The program heralded new directions for artistic directors Misa and Stephen Kelly, whose company will henceforward go by a new name — ArtBark — and whose mission is expanding to embrace more experimental and cross-genre collaborations with artists around the world.
For this program, SonneBlauma shared the stage with Los Angeles-based dance companies Rubans Rouge and Hart Pulse, independent artist Christina Suarez, and emerging S.B.-based companies Block & Block and Nebula Dance Lab. From the upbeat, indie surf-rock tunes of opening band Dante Elephante through to the casual invitation from the directors to "bark if you want to see more," a spirit of playfulness and possibility surrounded the evening.
Suarez's solo merged movement and spoken word for a frank and funny investigation of the joys and burdens of motherhood. She popped and locked to hip-hop, gave answers to unspoken questions, and lay on her back to narrate the film of her life as she imagined it. Rubans Rouge director Noelle Andressen-Kale explored sexual desire and emotional anguish in her works "Creation" and "Gethsemane," while mother/daughter team Melissa and Sarah Block captured the mixture of affection, competition, and conflict inherent in such a bond.
The newly launched Nebula Dance Lab presented Emily Wheeler's lyrical, brooding quintet "Swan Song," while Amanda Hart, director of L.A.'s Hart Pulse Dance Company, shared her passionate duet "Sensed" and also spoke to the audience about fostering future exchanges between S.B. and L.A. dance artists. That's a primary aim for the Kellys, whose works for this program pointed to their increasing commitment to collaboration. During the past month, they've been working intensively with Slovenian artist Mojca Majcen, who gave a riveting performance of both Misa Kelly's richly layered solos, "A Bao A Qu" and "Moki's Wedding." Majcen's the kind of dancer you can't stop watching: Her exquisite technique is matched by a spellbinding presence. Whether she's slapping the floor or firing off an above-the-head jeté, she's in complete command. It's only when other dancers join her onstage that you realize she's hardly more than five feet tall.
Misa Kelly's sibling-rivalry-inspired "Grit" (complete with flower-festooned swimming caps) and Stephen Kelly's understated comic trio "Flying and Falling" rounded out the program. No matter what ArtBark gets up to next, it's bound to be brave, expansive, and, above all, fun.