Food & Drink
Something 'Wichy This Way Wins
Amateur Knocks Off the Pros at the S.B. Sandwich Showdown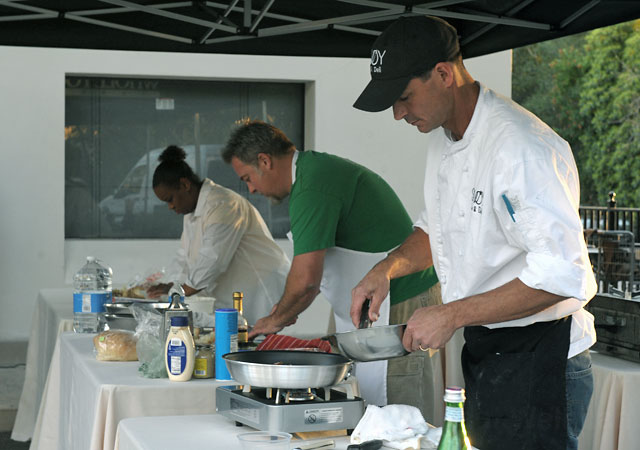 We've been into competition since Abel and Cain, but, fortunately, not all face-offs end so finally. Sometimes it just means we get great sandwiches, as was the case at the Santa Barbara Sandwich Showdown, held at Whole Foods Market on February 3. The trio of contestants was as follows: Clay Lovejoy, co-owner of Three Pickles; Paul Shields, owner of Savoy Café & Deli; and our amateur entrant, L.J. Washington, an ICU nurse by trade but a fine cook by way of New Orleans, too. Their job was to create a sandwich that would wow our judges: Roman Baratiak from UCSB Arts & Lectures, Joanie Hudson from The Santa Barbara Independent, and Monika Sowizral from Whole Foods. And wow they did, for as judge Baratiak put it, "The creativity and eclecticism of Santa Barbara's food artisans never ceases to amaze. Each of the sandwiches was a winner!"
That said, the judges did have to pick a single winner after a set-up similar to a Top Chef challenge, which only made sense as the contest was inspired by the upcoming appearance of Top Chef head judge Tom Colicchio (on Feb. 22 at UCSB's Campbell Hall), who owns a chain of sandwich shops, among other restaurants. The contestants had a pantry to work with but had to supplement that with a 15-minute spin through Whole Foods with just $35 to spend, and then they each had to incorporate a secret ingredient (pasilla chiles, blood oranges, crème fraîche). Plus, they only had 30 minutes to cook, which got nerve-wracking for Lovejoy as his grill tripped its breaker — he plated his dish with two seconds to spare.
That dish was a roast beef on ciabatta, slathered with a horseradish mayo, topped with grilled pasillas, and covered in some melted Gruyère. It certainly seemed like something Three Pickles–worthy — but I don't know for sure since I emceed and didn't get to taste.
Shields made what he joked was a ham and cheese, but it was one on creative steroids with top-of-the-line ingredients: cave-aged Gruyère and Fra' Mani ham. He also snuck a salad into the middle of the 'wich, featuring arugula, teardrop tomatoes, blackberries, bleu cheese, and a blackberry, blood-orange, Dijon-mustard vinaigrette. As if that weren't enough, he also incorporated candied walnuts and crispy bacon, knowing some pork-on-pork action never fails to please the taste buds.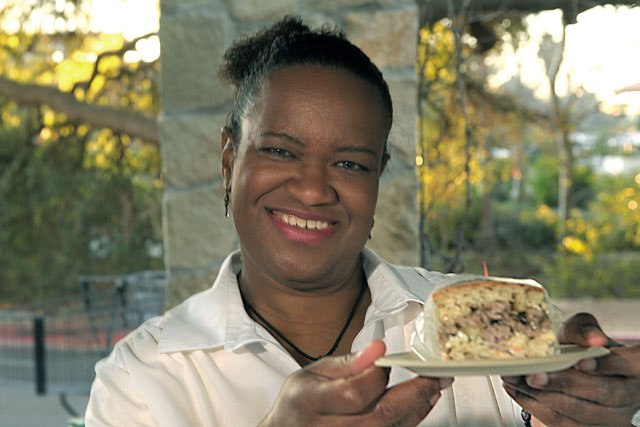 Despite the deliciousness of the above sandwiches, the victory went to our amateur contestant. Washington cooked up a pork sloppy joe with apples and apple slaw. It got its name late in the game, for she says, "As I was building the sandwich on the bread, I said to myself, 'I hope it doesn't look too sloppy.' Then I thought, 'Hmmm, sloppy … sloppy joe.' I felt it was a good cover-up." The judges certainly thought so, with Hudson asserting, "That sandwich knocked my socks off! That was such an interesting take on a classic, with the sweet-salty combo of apples and blue cheese. So delicious."
As for Washington, who won a $250 shopping spree at Whole Foods, tickets to see Colicchio, and one of his cookbooks, well, she's still getting over the triumph, saying, "It was an amazing feeling when my name was called as the winner. It was like I won on American Idol."