Bottles & Barrels
Life on the Liquid Farm
Nikki and Jeff Nelson Get Married with Their 2011 Chardonnay Vintage Looking On
As Nikki Pallesen rode a tractor toward her wedding ceremony last year, she joyfully gazed at her future, as all brides do on their wedding day. But for Pallesen, that future lay not only in husband-to-be Jeff Nelson's loving gaze, but also in the ripening chardonnay grapes that hung in clusters on the vines that lined their aisle at Kessler-Haak Vineyard in the Sta. Rita Hills. That's where they exchanged their vows surrounded by family, friends, and the fruit that would be part of their third vintage of Liquid Farm, the couple's chard-focused label.
With the help of winemakers Brandon Sparks-Gillis and John Dragonette of Dragonette Cellars, Liquid Farm's 2009 debut featured four barrels that formed two chardonnay cuvées, White Hill and Golden Slope, which were bottled into fewer than 100 cases. "The four barrels went through the exact same winemaking regime," says Nikki Nelson, "but two of them were markedly leaner and more mineral-driven than the more voluptuous nature of the other pair, thus the decision to make the two cuvées."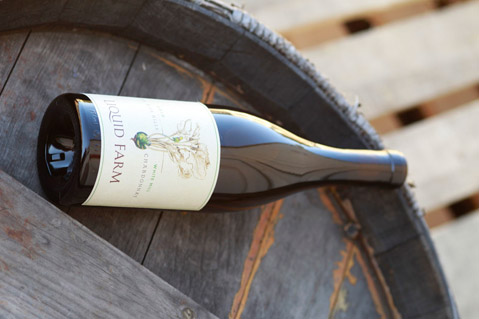 Generally speaking, chardonnay's Richter scale ranges from California's rich and buttery style to the leaner and lower-alcohol European style from Burgundy. "We found ourselves drinking only Old World wines rather than supporting local producers as we preferred the results of a cooler climate — more earth-driven as opposed to a riper, more fruit-driven wine," said Nikki. "We decided to make what we most love to drink: chardonnay with less oak influence and lower alcohol." That decision led them to sourcing fruit from the Sta. Rita Hills, whose cool climate lets natural minerality shine.
Currently on sale are the 2010 versions of White Hill (13.7 percent alcohol, 370 cases, $38) and Golden Slope (14.1 percent, 240 cases, $50), as well as a 2011 mourvèdre-based rosé from Happy Canyon's Vogelzang Vineyard (12.5 percent, 100 cases, $24). The next vintage will also feature "Four Chardonnay," which will be the premium blend from the best four barrels. Altogether, current production is up to roughly a thousand cases, thanks to ongoing contracts with Kessler-Haak and newer ones with Clos Pepe, Rita's Crown, Zotovich, Radian, and Huber.
"Our goal is to continue to forge relationships with amazing growers in the Sta. Rita Hills," explained Nikki. "The challenge lies in that the region is only planted to about 15 percent chardonnay."
Future plans may include production of a blanc de blanc sparkling wine aged on its lees for added richness and complexity. So what about reds one day? Nikki smirked at the question, but answered, "Never say never, but the plan for now is to only produce those four wines moving forward."
See liquidfarm.com.