News
Dueling Trajectories at Vandenberg
Fifteen Protestors Arrested During Nuke Missile Test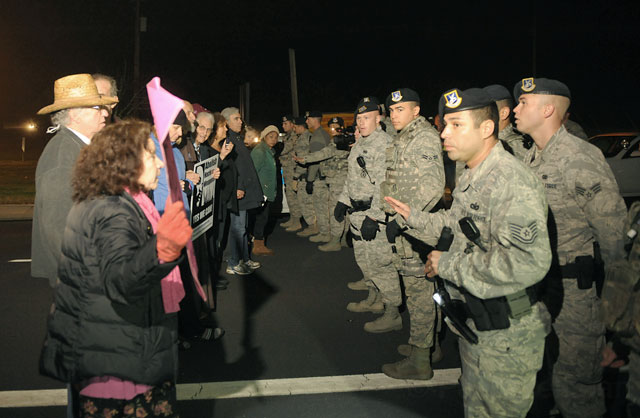 The misty weather that briefly delayed the test launch of a nuclear-capable missile from Vandenberg Air Force Base early Saturday morning didn't discourage more than 70 activists from gathering at the facility's main gate to protest what they said was another example of unconscionable and potentially catastrophic posturing from an overreaching military industrial complex. Fifteen members of the group, including prominent antiwar activists Daniel Ellsberg and Cindy Sheehan, made the symbolic decision to cross from the designated protest area onto base property, where they were arrested for trespassing.
Similar preplanned demonstrations and acts of civil disobedience are a regular event at Vandenberg. A small group of Santa Barbara activists often turns out for military launches from the base, but Saturday's protest saw a bigger crowd than normal — dozens caravaned from Northern California and Nevada — drawn by the presence of the big-name peaceniks. Ellsberg, a former government military strategist, sent U.S. officials scrambling when he leaked the "Pentagon Papers" to the press in 1971. Sheehan generated headlines and controversy when she camped outside George W. Bush's Texas ranch in 2005 to object to the Iraq War after her son was killed in action.
"This protest is a success even if the test goes off because it shows you can't test first-strike weapons in this country without having to arrest Americans to do it," Ellsberg announced to the crowd Saturday before he was arrested, repeating a statement he made in 1983 during a Vandenberg launch demonstration where he was placed in custody. He's argued for decades, in speeches and literature, that rather than deterring overseas attacks, America's intercontinental ballistic missile (ICBM) fleet provides a target and motive for a first strike.
Despite the activists' effort and opposition this week, a Minuteman III intercontinental ballistic missile ICMB took off from Vandenberg at 2:46 a.m. and flew 4,200 miles to a test range in the Marshall Islands. Reaching a top speed of 15,000 mph, it took the dummy warhead around 30 minutes to reach its mark. The last Minuteman III launch, carried out in July 2011, failed when flight technicians detected an "anomaly" and detonated the missile over the Pacific Ocean. Another was scheduled for this Thursday, but it's been delayed. Three more are planned throughout year. Saturday's successful launch, meant to assess the weapon system's accuracy and reliability, was overseen by the base's new boss (and the first female commander of the 30th Space Wing) Col. Nina Armagno. Each test launch reportedly costs around $20 million.
Nearly three hours before takeoff, the crowd of protesters gathered on a patch of grass across the street from the base's main gate. Some carried signs that read "Pray for Peace" and "No Nukes, No Drones." Others held small cardboard coffins. All the while, Vandenberg airmen kept close watch nearby and a few in plain clothes walked among the protesters.
Sheehan, standing in the middle of the circle that formed and speaking through a bullhorn, announced her intention to be arrested. "I am going to do an act of civil disobedience," she said. "I am going to fulfill my responsibility as a human being." Explaining that the U.S. needs to do away with the idea that war is a viable tool in the arsenal of foreign policy, Sheehan said politics and party affiliation should take a backseat to appreciating the value of all life. "It doesn't matter if Bush or Obama or McCain or whoever is president," she went on. "The military industrial complex rules this country."
Pauli O-toko of Micronesia, where the Marshall Islands are located, said he and his family came to Vandenberg to plead with officials to stop the tests, saying they harm the country's environment and people. Judy Talaugon, a Chumash descendant, prayed to the Creator to stop Saturday's launch and all others. And David Krieger, head of Santa Barbara's Nuclear Age Peace Foundation, read two original poems denouncing the military's lack of morality and judgment.
As a drum played and a few protesters began singing, 14 members of the crowd separated themselves into a huddle for introductions and a short briefing. One man hesitated on the edge of the group for a moment before handing his sign to a friend and joining in. "I gotta do it," he said. "I gotta go."
Arm-in-arm, the group stepped into the road leading directly into the base. As they crossed a thick green line painted on the pavement that separates the designated protest zone from off-limits Vandenberg property, a bullhorn rang out. A line of airmen with a convoy of patrol cars and vans behind them began walking up the road toward the protesters, who were signing, "Stop the missile launching, we will not be moved." When the activists made it approximately 50 yards down the street, the airmen ordered them to stop. "Stop the launch!" one protester yelled in response. "We are here tonight to enter the base," Father Louis Vitale, a former Air Force pilot and longtime Vandenberg demonstrator, told the security personnel.
At that, the order was given to arrest the group. "Take them," an officer said. The protesters were told to turn around as the airmen slipped plastic cuffs around their wrists. "You're handcuffing a national hero who stopped the Vietnam War," Sheehan said as Ellsberg was taken into custody. When it was her turn, she said over and over, "My son was killed in Iraq, and you're inhibiting his mother's freedom of speech." Turning to Ellsberg a few moments later while they were led to the nearby vans, Vitale said, "Well, Dan, here we go again."
Before that a protester with her small dog in tow began crying when an airmen took the leash from her hand. He explained her dog would be looked after and returned as soon as she was released. "Jimminy!" she wailed as she was lead away. "Oh, Jimminy!" After they were processed and cited, the 15 protesters were released at around 4 a.m. All will appear in front of a federal magistrate to pay the fine or fight it.
A couple of miles away at an outdoor viewing site in the heart of base, members of the media and dozens of Vandenberg airmen, some with their wives and children, gathered to watch the launch. They stood around stamping their feet and lighting small campfires to keep warm as word came that the launch would be delayed by 45 minutes. The sound of country music and the thumps of tossed horseshoes lead up to the rumble of the rocket as it flew from its underground silo, the only visible evidence of it in the air a quick flash of light in the thick fog. As the ICBM lifted off, the airmen shouted and clapped. "Go bitch!" someone yelled. "Hell yeah!" hollered another. "America!"
While Vandenberg is the only base that conducts test Minuteman III launches—their path over the ocean minimizes potential damage if things go wrong—there are 450 on-alert ICBMs at military bases in Wyoming, Montana, and North Dakota. One arm of the U.S. nuclear triad, they're the United States' only way of delivering nuclear warheads from the ground. "This force fulfills a critical role in deterring potential adversaries while maintaining global stability," said Megan Meyer of Air Force Global Strike Command, which manages the fleet.
But they may be causing instability elsewhere. Deborah Manase, head of the Marshall Islands Environmental Protection Authority, told The Independent before Saturday's launch that the U.S. military's permit with the Marshallese government to drop dummy nukes into one its atolls expired in 2010 pending an updated Environmental Assessment Report which hasn't been published. She also expressed concern that depleted uranium and beryllium—reportedly found in the test missiles' guts—harm sensitive ecosystems and threaten human health when they fall into the ocean. Representatives of U.S. Army Kwajalein Atoll, which Vandenberg and Global Strike Command directed The Independent to speak with, couldn't be reached for comment by press time.