Living
Infant Intervention
UCSB's Koegel Center Assesses Early Signs of Autism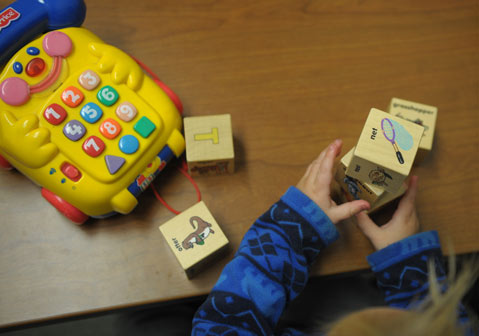 Most stories about autism do not begin with a proposition by a strange blonde woman in a coffee shop. But there I was at Java Station early on a rainy Saturday morning, hanging out with my 5-month-old infant and letting my wife catch some precious z's, when Jessica Bradshaw sidled up to me and asked if I would be interested in participating in a study at the Koegel Autism Center.
It turned out Bradshaw is a graduate student at UCSB who studies the social development of infants. Her advisor and the namesake of the autism center, Dr. Robert Koegel, is devising interventions for babies who show possible warning signs of autism.
Koegel made his mark by pioneering a therapy called Pivotal Response Treatment (PRT). When he began his career, autism therapy relied heavily on repetitive exercises. PRT instead uses motivational techniques to teach children new skills. Dr. Ty Vernon, director of the center's new assessment clinic, demonstrated PRT on his (non-autistic) 13-month-old son, Noah, for me recently. He held up a plastic egg until Noah reached for it. Before handing over the egg, he said the word "egg" out loud and then asked that Noah repeat it. Noah eventually did say something that did not necessarily sound like "egg" but was a definite attempt, at which point his father handed over the toy.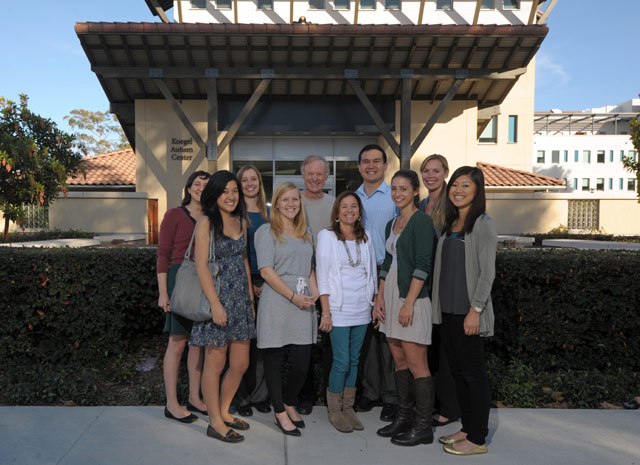 While the Koegel Center has been offering therapy for people with autism spectrum disorders for years, it recently moved into brand-new digs and, in December, launched a new assessment clinic. When Vernon came to UCSB to open the clinic, it was a homecoming of sorts. He earned his doctorate there, studying under Koegel and his wife, Lynn — codirector of the center — before heading off to complete a postdoctoral internship at the Yale Child Study Center, where he learned the most current diagnostic techniques. The assessments at UCSB comprise parent interviews and an examination called the Autism Diagnostic Observation Schedule (ADOS). The ADOS includes observational cognitive tests, including storytelling activities, construction tasks, and make-believe play.
I got a taste of the ADOS when I took Bradshaw up on her offer. At 5 months, my son couldn't say a word, let alone tell a story. But Bradshaw could still observe aspects of his social development by testing to see if he responded to his name or if he diverted his attention from a toy when she squeezed a second, squeaky toy. Bradshaw also videotaped him playing both by himself and with me, looking for cues like eye contact and facial expressions. Diagnosis: My son doesn't show signs of autism.
A month or so later, an intern here at The Santa Barbara Independent asked me if I had a baby son; she had watched a video of him in her autism class with Koegel. Surprised at just how quickly my son had become a gift to science, I decided to head back to the Koegel Center to meet Vernon.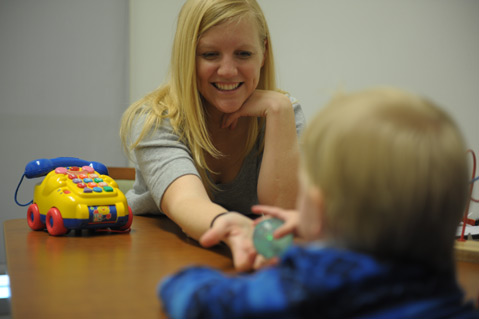 Vernon explained to me that the three main features of autism are difficulty communicating, underdeveloped social skills, and repetitive behavior. (Asperger's is like autism but without language delays.) Autistics may avoid contact or rock back and forth, but so may those with other psychological disorders; or their symptoms may be completely undetectable on the surface. So despite the fact that the ADOS test offers a neat scoring system, diagnosis takes a lot of work on the part of the clinician. "There is no classic autism," Amber Miller, a graduate student who performs assessments, told me. "It's like doing detective work."
Vernon explained that the assessments can be stressful for parents who worry that a diagnosis is like a jail sentence. "The kids also have tremendous strengths," he said. "It's important for parents to hear that, too." He also emphasized that autism is not caused by poor parenting. The sooner a child is diagnosed, though, the more likely interventions are to be successful.
When someone comes to the center for an assessment, Vernon said, they are initiating a "partnership." They get immediate feedback after the assessment, which takes up two half-days and is usually performed on two consecutive mornings or afternoons. The clinicians then follow up with a detailed report that they mail to the parents within four to six weeks with specific suggestions on what skills to work on, treatment options, and even school recommendations. The Koegel Autism Center also tries to help provide "bridge treatment," which fills the gap of time after a diagnosis has been reached but before services begin.
An assessment costs $2,000, which, although expensive, Vernon said is less than half the price of similar assessments at similar facilities. Some insurance plans will reimburse, and the center is in the process of getting its assessments added to more plans. More information is available at education.ucsb.edu/autism/assessment.html.