Columns
Bigger Is Sometimes Better
The Nova Left Fewer Students at the Bus Stop
There was a new bus in Isla Vista for a month. A big blue bus, 62 feet long, with a 112-passenger capacity, ferried students from Isla Vista to Santa Barbara City College and back during February and March.
But don't go looking for the Nova bus, as it is named, back in the area before next year, if then. It was on loan to the Metropolitan Transit District (MTD) so that it could see whether the bus could be the solution to a growing transportation challenge. The trial period ended March 22.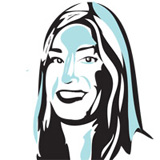 David Damiano, MTD's manager of transit development and community relations, said the test has been successful. "It actually has been excellent." While he had expected some opposition, he said that everyone has been very supportive. "It's been very well received by every community group I've met up with."
Kate Schwab, assistant manager of marketing and customer service, said MTD used Facebook and Twitter to communicate with its clientele to see what they thought about the new bus. She said students posted comments when it first hit the streets in February, and the response was positive. If you visit MTD's Facebook page you'll find pictures of the bus; you can read what passengers had to say and find out the latest on your favorite route.
Damiano said MTD representatives are in the process of compiling a report to analyze the results of the Nova's test run, to be presented at an upcoming board meeting. If the report describes the trial as a success, he said, the board could vote to buy as many as three buses. Two would run along the 15x line regularly — that's the SBCC/UCSB Express — and one would be held in reserve.
The buses cost about $650,000 each and would be bought using a state grant, Damiano said. Even if the board approves the purchases soon, however, it will take 10 to 12 months before the buses hit the roads in Santa Barbara, he explained.
The buses are part of a plan to meet a growing need for transportation from I.V. to SBCC. Even though buses currently run every 15 minutes during peak times, there are still times — lots of times — when passengers are left behind.
In fact, there were 88 instances of denied boardings during October 2011, Damiano said. Each denied boarding refers to an instance in which a passenger or passengers couldn't get on a bus because it was already full. In other words, Damiano explained, the 88 denied-boardings tally does not reflect the number of passengers who couldn't be accommodated; just one person or as many as 20 people could have been turned away in each instance. MTD compiles statistics on passenger usage every October.
With 43,052 passengers taking the 15x route in October alone, the MTD has its eye on this growing challenge. "It's where we have the most issues," Damiano said. There was a 34.6 percent increase in the number of passengers from October 2010 to the same month in 2011. "During busy times we have three buses trailing each other" along the 15x route, he said. While a regular bus can take on about 60 passengers, a Nova bus can accommodate almost twice as many. "It is more efficient. We can use one vehicle," he added.
"One thing we are noticing is that as UCSB builds more housing … it allows more City College students to move to I.V.," he said.
The MTD is trying to meet growing needs in other ways as well. In addition to the Facebook and Twitter pages, you'll find that the MTD's home page is changing with the times. There is a Google Transit Trip Planner that allows you to type in a starting and ending point and, like magic, your bus route appears. It takes the guesswork out of planning a trip.