Living
An Urban Retreat
Alchemy Arts Center Is a Haven of Restorative Treatments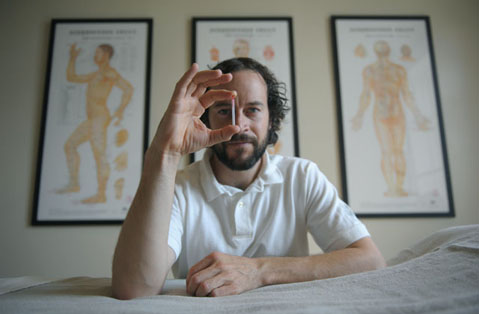 Just to the side of State Street's bustle, an architecturally pleasing three-story building anchors the corner of Chapala and West Haley. Inside its doors is an oasis of calm, a haven of restorative treatments to help scrub away the psychic soot of today's face-paced lifestyles. The refuge is called Alchemy Arts Center (AAC), and it's an urban retreat that offers wellness-promoting classes and therapies such as reiki, acupuncture, aromatherapy, yoga, massage, and facials. Recently I spent the day at the center, eager to experience its offerings.
Due to my own misremembering, I arrived a half an hour late to my appointment. Needless to say, I was a bundle of stress when I entered and so was doubly in need of relaxation sessions. My first meeting was with owner Emma Narachi, who opened the AAC with the express desire to help city-folks achieve a higher-quality of life by affecting their inner world. "My passion is energy medicine and supporting others to find their own balance with their own energetic systems, which is really balance and harmony with life," said Narachi.
The idea for the AAC germinated during a trip to Southeast Asia. "I had traveled to Thailand and spent two weeks at a beautiful retreat there," said Narachi. "I felt so amazing and wondered why there was not somewhere like that near where I lived to support me in this new way of being — acupuncture, exercise, alternative therapies, food — all in a beautiful setting." Narachi returned to Santa Barbara and got to work bringing her vision to fruition. In March 2011, the AAC was born.
Narachi, who is originally from Sussex, England, is a cranialsacral practitioner and reiki master; it was a cranialsacral remedy she performed on me. First developed in 1899 by an American osteopath named William Garner Sutherland, the method consists of light, steady placement of the therapist's hands on your (fully clothed) body. Narachi held my feet for a bit to start while I relaxed into the comfy massage table. Soothing music filled the room, and Narachi "tuned in" to my craniosacral rhythm with what Sutherland called "thinking fingers." She correctly informed me of my stress-holding areas—jaw, abdomen, neck—and set about helping release the congested energy.
Unlike massage, there is no direct pressure or kneading of the muscles to dissipate knots. Even so, the calm atmosphere and gentle touch succeeded in putting me into a lovely state of relaxation. After an hour with Narachi, I was pleasantly drowsy and ready for my next session—the I-Sopod Floatation.
I don't love small, dark spaces, and so was apprehensive about climbing into the contraption — a giant egg-shaped, soundproof, lightproof, tank filled with nearly a foot of Epsom salt-saturated water. Narachi showed me to the private room where the gapping maw of the I-Sopod waited invitingly. Left alone, I donned my bathing suit (you can go au naturel, but one challenge at a time, I thought) and crawled into the pod. The water was a delightful body temperature and I quickly became accustomed to the enclosure. It was more like my very own hidey-hole — warm, safe, and quiet. I floated in the supine position and fell asleep in no time. The cleansing effect of the Epsom salt and the feeling of being suspended in air was heavenly; I wanted to stay in the pod forever. That was not to be; after an hour, music began to play, signaling the end to my float. I groggily showered off, dressed, and headed to the AAC cafe for lunch.
The AAC cafe sports a vegan menu with myriad tasty sounding selections. Chef Michael Glazer "has a wealth of experience with local organic seasonal produce," Narachi noted, "and is helping us to initiate weekly farm-to-table dinners, as well as integrating further our healing foods with our clinical programs to assist people achieve their optimum health." I chose the Pinon Kale salad (pine nuts, balsamic currants, avocado, shallots, carrots, olive oil and lemon dressing) and a Yellow Emperor smoothie (banana, tahini, coconut water and flesh, cinnamon and vanilla), both of which were delicious.
Satiated and happy, I headed to by last appointment of the day — acupuncture. I'd never partaken in the ancient healing art and wasn't sure what to expect. After a thorough going-over of my medical history, acupuncturist Eric Baumgartner started placing needles on my head, neck, back (my areas of tension), and heels (which were sore). Once I was pinned, Baumgartner left the room, and I lay there letting the needles do their thing. I didn't notice much change in my well-being after the session, but my heels didn't hurt anymore.
As for the AAC's aim? Narachi said, "My goal for the community is to create an urban retreat which offers a resource for anyone looking to find freedom from stress and balance in their lives — and for Alchemy to be available on a day-to-day basis to anyone who feels their quality of life can be improved with just a little care of themselves."
After a day at the center, I'd say Narachi has achieved her goal.
4•1•1
Alchemy Arts Center, 35 West Haley Street. The cafe is open to the public Monday-Wednesday, 8 a.m.-4 p.m.; Thursday-Friday, 8 a.m.-8 p.m.; Saturday-Sunday, 10 a.m.-3 p.m. For more information, call (805) 899-8811 or visit alchemyartscenter.com