Food & Drink
Carp High Cooks Up a New Kitchen
New Facility Funnels to SBCC, Teaches the Community
Carpinteria High School's Culinary Arts Institute (CAI) had a struggle on its hands: Each station of its stuck-in-the-'60s teaching kitchen looked like one you might find on the set of The Brady Bunch and was about as useful. To prepare students for the current work world, the facility needed an upgrade, especially since CAI features dual-credit culinary courses in conjunction with SBCC's School of Culinary Arts and Hotel Management. Today, that new professional teaching kitchen is open, but the school is still looking for $300,000 or so in donations to cover the $1.5-million price tag.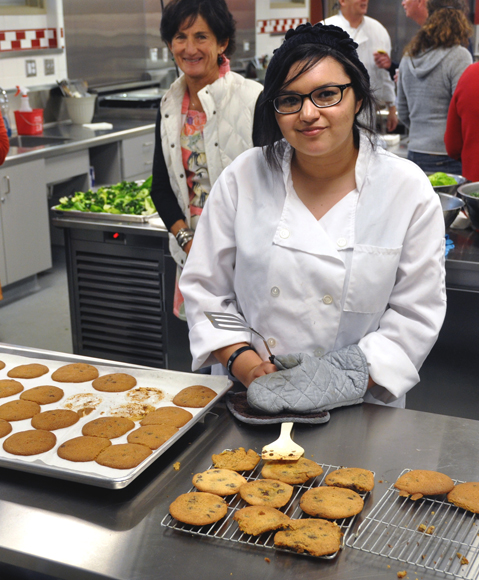 "This is much more professional, much bigger," said Betsy Ayala, a junior at Carp High who has taken four classes in CAI. "It gives students who want to go on to culinary school the chance to get to use professional equipment. It's a great learning experience." That experience also provides focus. "I didn't know what I wanted to do before I took these classes, but, maybe by the second, I thought I wanted a culinary career," admitted Ayala. "This new kitchen makes me more sure."
While there are about 150 students in the culinary program, any Carp High student can take one of the introductory classes, learning everything from nutrition to cultural and international foods. Beyond that, the space will also be used by parents in the evenings and on weekends. "We surveyed our community and asked what courses they'd like, when they'd like them, how much they could pay," explained Marianne McCarthy, kitchen coordinator for the Carpinteria Education Foundation. "We really want to address what our community is after." Those courses will include things like cake decorating and cooking farm-to-table menus. Added McCarthy, "Since SBCC's extension courses have had budget hits, we're trying to fill in."
Even with the majority of the kitchen completed — including a teaching station that faces the students and an entire refrigerated room for storage, rather than the former collection of three old fridges — there's still what Carp High counselor Darcie Campbell calls "the Island of Money: where the rather expensive equipment we hope to get will go." That means things like the $5,400 Garland 24" charbroiler or the Cleveland Range 30-gallon tilting skillet-braising pan for almost $13,000.
"In 2006, a dozen of us sat around a table to design what a culinary arts program would look like," recalled McCarthy, "and we realized a home-ec kitchen wouldn't do." Six years later, they've got a professional kitchen designed with input from top chefs and funded with help from numerous foundations. Summed up McCarthy, "It's been a community effort, and it is a community asset."
4•1•1
To learn more about or support the Professional Teaching Kitchen at Carpinteria High School, see carpeducationfoundation.org.