News
Soulful Frame-Building
Mind, Hand, Heart
Want a new bike — or a chair? Most of us go to a local shop, browse Craigslist, or inherit a used one from someone we know. The bike will fit okay and the chair will be comfy if not long-lived — or vice versa. Maybe you want more, a bike that fits your personality and riding style, or a chair made for you that your great-grandkids will enjoy.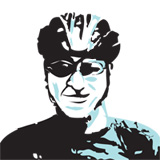 If so, it's time to find a handmade bike-maker or furniture-maker who can find the soul in these common utilitarian objects, and, through craftsmanship, turn them into art.
Sam Maloof was a woodworker who crafted chairs and tables that have soul. Sam died in 2009 at the age of 93. For over 60 years, he built wooden furniture to last a lifetime. His chairs have the gentle curving grace of a growing tree, the embracing comfort of loving arms, as well as warmth and sensuality.
They look and feel like living creatures, not pieces of wood connected by dowel and glue but seamless waves of wood. Sam's chairs have soul. They have humanity. They are places where hand, head, body, and heart meld.
If you're looking for a handmade bike made by a Santa Barbaran, talk to Aaron Stinner, Lyle Harlow, or Karl Swanson. Each of them lives in the Santa Barbara area, and their aesthetic ranges from Bauhaus to art deco. They create frames that reflect their personalities and sense of craft. Each of these builders creates beautiful bikes with their hands and mind.
Aaron Stinner: Aaron Stinner builds classic steel handcrafted road, mountain, and cross frames in a garage shop in Goleta. He loves riding bikes and raced as a junior, but more importantly, he enjoys the challenges and rewards of building bikes that are designed perfectly for each customer. Aaron's grandfather was an engineer and encouraged him to always keep learning and to find pleasure in working with his hands.
Aaron's first road bike was a steel-framed LeMond Zurich. "I loved that bike," he said. "I cleaned it after every ride and quickly learned to be my own mechanic. It was the first time I felt the love between man and machine." After college at UCSB, Aaron knew that he wanted to be passionate about what he was doing, and it had to involve bicycles. There is a pleasure, he realized, in building bikes "that I knew would fit the rider, and last a lifetime. I wanted the rider to get on the bike, ride it anywhere, and trust the machine they were riding."
Aaron remembers his grandfather's words as he works. There is always something new to learn, whether it's building a different type of bike or using new materials or construction techniques. Aaron may be new to frame building, but he has over a decade of experience as a mechanic. He started out sweeping the floor at Bicycle Bob's and just kept on learning. Wanting to go beyond wrenching, he attended the United Bicycle Institute (UBI) in early 2010 to learn how to braze frames. At UBI he found his passion, and Stinner Frameworks was born. Check out Aaron's bikes.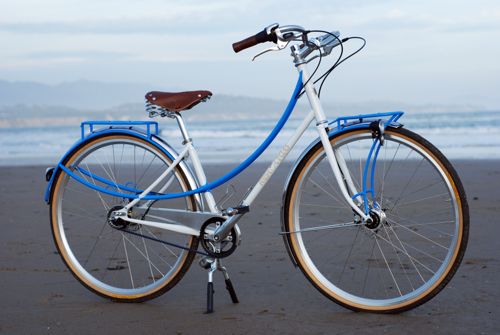 Lyle Harlow: Lyle Harlow builds sensual, curvaceous retro-styled city, cross, touring, and mountain bikes. The Mezzaluna Mixte is a perfect example of Lyle's sense of design. "Mezzaluna" is Italian for "crescent moon," a name reflecting the curve of the two sloping top tubes. The Mixte is designed for a comfortable upright riding posture and features flowing curves and integrated front and rear racks. The bike has a classic steel ride that is constructed from a custom blend of double-butted, single-butted, and aircraft-grade 4130 steel tubing. Lyle learned to weld machinery growing up on a farm in southeast Oregon. Those early welds may have been crude and functional, but he has spent hours perfecting the TIG-welding and silver- and bronze-brazing techniques he uses to build frames.
Today, creating bikes with an aesthetic flow is Lyle's passion. At first, he built a couple of straight-tubed frames but quickly realized that to express himself, he had to start bending the tubes. One of his current projects, based on a Dutch cargo bike, will be a way to take his 13-month-old daughter on her first ride. If you want to see some of Lyle's bikes, stop by Cranky's on downtown State Street. Owner Jim Cadenhead has two hand-built Muse cycles, including the Mezzaluna Mixte, on display. If you want more information, go to musecycles.com.
Karl Swanson: Karl Swanson calls himself a metal manipulator. He's not interested in mass production frame building. His passion is in bringing together the customer's vision and his own metal-working skills and creativity to create a one-of-a-kind bicycle. Like Sam Maloof, who was proud to be known as a woodworker, Karl finds manipulating metal to be "a beautiful process." Building bike frames is part of Karl's life as someone who works with materials. He started out as artist. Painting became sculpture and eventually functional sculpture — furniture. A bike was furniture that you could ride, an interface between our bodies and the realm of motion through space. More than a utilitarian object, a bike, to Karl, is a piece of art that reflects the personalities and needs of both rider and creator.
Whether Karl is cleaning old Campagnolo hubs, repairing a derailleur, replacing a head tube, or thinking about how to solve a tricky cable-routing problem, he is at peace with what he does. He's built carbon fiber and steel frames for road, recumbent, and tandem bikes. Karl builds bikes from his soul. Contact him at karlcycle@gmail.com if you have a concept for a bike or just need some repairs. He is a modest metal worker who will have the patience to turn your dream into steel tube to braze, bend, and miter until your bike is rolling on down the road.