News
Wee Doggies Need Homes
Animal Shelters Celebrate "Chihuahuas de Mayo"
f you have visited an animal shelter in California recently, it will come as no surprise to hear that there is an overpopulation of Chihuahuas in our shelters. In Santa Barbara County alone, Chihuahuas and related mixes currently represent 40 percent of dogs that are up for adoption; because of this abundance, county animal shelters will be celebrating "Chihuahuas de Mayo" in May 2012.
The owners of the first 300 Chihuahuas and Chihuahua mixes who register and live in Santa Barbara County will be able to get their dogs spayed or neutered for free during the month of May. Owners can call one of the following organizations to schedule an appointment:
S.B. County Animal Services, Santa Maria Animal Center: (805) 934-6968 (S.B. County residents only)
Santa Maria Valley Humane Society: (805) 349-3435
Santa Ynez Valley Humane Society: (805) 688-8224
Santa Barbara Humane Society: (805) 964-4777, ext.20
Care4Paws: (805) 968-CARE (2273)
As part of "Chihuahuas de Mayo," the major shelters in Santa Barbara County are also offering half off adoption fees for Chihuahuas and mixes adopted during the month of May. "The fact that all of our shelters have chosen to collaborate on this promotion is an indication of how serious we feel the problem is," says Jan Glick, Santa Barbara County's director of animal services. "We want to help pet owners who might not have the money to get their dogs fixed, as well as encouraging prospective dog owners to bring a fun, affectionate dog into their lives."
If you are wondering why there is such a large number of Chihuahuas in Southern California animal shelters, you don't have to look any further than Hollywood as experts place most of the blame on the breed's status as a pop-culture icon. From the famous Taco Bell dog to Paris Hilton's dog, and the stars of Beverly Hills Chihuahua and Legally Blonde, Chihuahuas are everywhere in Hollywood — even drawing the label of "the Paris Hilton syndrome."
The high demand for Chihuahuas resulted in an increase in the number of dogs being bred in California, sometimes ruthlessly. According to Deb Campbell with San Francisco's Animal Care and Control, "A lot of breeders feed into whatever dog is in the media and crank them out to meet demand. But they went overboard. Backyard breeders also jumped on board, and pretty soon, the number of dogs out there had gone past the demand."
Another reason why Chihuahuas seem to end up at shelters is that sometimes people decide to buy a Chihuahua based on its cute appearance and may not research the breed ahead of time. Additionally, people may also think that because Chihuahuas are small, they don't need space to run and play. In fact, many experts recommend that you provide your Chihuahua with a fenced-in backyard that allows it to run around freely, and that you walk the dog every day. Another thing to consider, Chihuahuas are dogs who don't like to be left alone; they prefer to be around people or other Chihuahuas.
I don't want to discourage anyone from adopting a Chihuahua, as they are wonderful dogs who love to give and receive attention, will follow you everywhere, and enjoy nothing more than cuddling on your lap while you're watching television. But just like you would with any other potential dog, make sure to discuss personality and health issues with trained shelter employees before adopting. If you are looking to add a Chihuahua to your family, please adopt. There are so many loving animals that are homeless in shelters patiently awaiting new homes. And the month of May is the perfect time to adopt a Chihuahua in Santa Barbara!
Adoptable Pet of the Week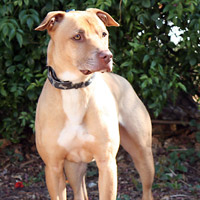 Sammy, a 4-year old, 50-pound neutered male is quite handsome, nicely socialized, friendly, and loves to run and play. Sammy has never met any person that he didn't like and knows about all the good behaviors required of living in a home. He excelled at a recent Open Paw training class sponsored by K-9 PALS as he is very treat-motivated and has a very good "sit" and "stay." He is also quite good at catching a ball tossed to him.
If Sammy sounds like the perfect dog for you, stop by the Santa Barbara County Animal Shelter, 5473 Overpass Road, Goleta, and complete a no-obligation adoption application and get it approved. We'll then set up a time to meet Sammy. Read more about Sammy and view photos at www.K-9PALS.org.
Do you love dogs, but can't have a pet? Volunteer at the shelter or for K-9 PALS, or make a donation to K-9 PALS to help pay for the medical expenses and prescription foods for the homeless dogs of Santa Barbara County.