Columns
Ay, Chihuahuas?
Speaking Up for the Little Dog
Ten years ago, if you had told me I'd working to promote Chihuahuas, I'd have laughed you out of town. Then again, ten years ago our animal shelters weren't hip deep in little dogs – in fact, when people called looking to adopt one, we'd say, "Sorry, we don't get them here." Now . . . Chihuahuas have equaled, and may soon surpass, pit bulls as the top type of dog in Santa Barbara County's animal shelters.
Necessity is the mother of – a change of opinion. Until recently, I had never understood the appeal of small dogs. I mean, they're not big enough to be good protection, and they're vulnerable to being eaten by everything from an aggressive big dog to a large, pissed off cat. I figured, if you wanted something small to cuddle, get a cat. If you want a companion out in the world that will also stand guard over you and yours, get a dog big enough to do the job.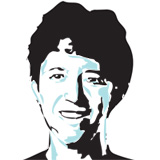 And of all the small dogs – a Chihuahua? To my untutored eyes, they were ugly, ill-tempered, rat-like things, known for being nippy and barky. Yes, I too was guilty of Chihuahua racial profiling.
As our shelters have filled with these dogs, and I have had repeated occasion to interact with them, my opinion has changed. And if you have been equally misinformed about the breed, I hope I can help to change your mind – because we really need people to start liking these dogs and adopting them.
The first Chihuahua I fostered was, I admit, butt ugly: bug eyes, huge ears, translucent skin, pug nose, snaggle teeth, long skinny legs. She looked like what you'd get if a potato bug, spider, and bat had had a three-way. But what a sweetheart, and what a tough chick! She was hilarious in how she'd burrow under the covers in bed, all the way to the bottom, then sleep in an oxygen-deprived state for hours. (This may explain a lot about her, in retrospect.) And protective – she barked at anyone who walked in my door, including me. No one was going to slip by her eagle-eyed sentry!
For those who think, "See? That's exactly the stereotype and I don't want it," fair enough. My next foster was Annie, a much prettier, smaller version of the breed, quiet as a mouse, infinitely patient and gentle. She had a broken leg and had to be confined for six weeks, so I bought a little dog purse (God, yes, I walked around with a tiny dog in a bag) and took her with me everywhere, so she'd have a life. She was perfect: I had her next to me on the banquette at a restaurant, at my feet in a movie theatre, under the seat at a Board of Supervisors meeting. She was agreeable to being taken out and petted by small children to distracting them at fundraisers, and allowed my cats to sit on her without complaint. She may not have been of any use in the protection department, but as a companion, you could not ask for better.
So, it turns out that there is much variety to this breed called Chihuahua – more so when you see all the Chihuahua mixes that are coming in, the result of who knows what accidental or intentional breeding practices taking place in backyards across Santa Barbara County. Come to any of our shelters and you can admire the variety for yourself.
And this leads up to why I'm promoting the month of Chihuahuas de Mayo. During our "the Whole Enchihuahua" campaign, the members of the Responsible Pet Ownership (RPO) Alliance are working on two complementary tasks: to promote adoption of the Chihuahuas and Chihuahua mixes jam-packed into all the county's shelters; and to get owners of these dogs to please, please, spay/neuter their dogs so we can stem the flood. This means: half off adoption fees for all Chihuahuas and mixes at all three county shelters and all three humane societies all month (a hell of a deal, since the dog comes already "fixed" and vaccinated); and, free surgeries for the first 300 or so Chihuahuas or mixes whose owners call to sign up.
if you know someone who needs to get their dog "snipped" (as we like to say), tell about this chance to get it done for free. All the phone numbers for who to call can be found here. And if you have ever toyed with adopting a Chihuahua or Chihuahua mix, act while the Whole Enchihuahua is half off.
Ay, Chihuahua!