News
Y is a Lie, Opponents Say
Veronica Meadows Foes Make Voices Heard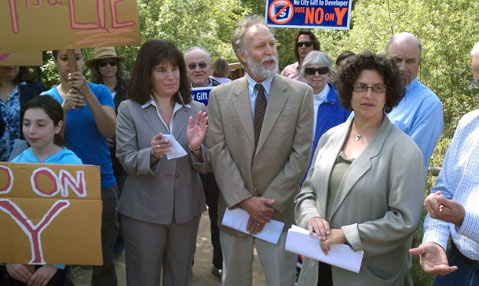 High profile opponents of Measure Y gathered this morning to make their case against the ballot initiative which would allow for a bridge to be built over Arroyo Burro Creek, enabling the construction of a 25-house development called Veronica Meadows. In a counterpunch to a similar gathering of the measure's proponents last week, Mayor Helene Schneider lent her voice to the opposition along with Supervisor Janet Wolf and City Councilmembers Cathy Murillo and Bendy White at a press conference on the banks of the creek which would be altered by the project.
Unmitigable impacts of the project would be the blockage — by the bridge's abutments and a dead zone under the bridge — of the wildlife corridor along Arroyo Burro Creek. The two most affected species would be western pond turtles and dusky-footed wood rats.
Government officials, environmentalists, and nearby residents can list a litany of complaints about the project, however. Foremost might be the reason Y is on the ballot in the first place. The city charter requires that if public land will be encumbered by a private project, the voters must approve the use of that land. And the bridge spanning the creek would pass over a sliver of public parkland. A yes vote on Y, opponents say, would set a dangerous precedent that would open the door to petitions for development all over the city.
Moreover, they say, the measure, which is being sold as a creek restoration project, is completely disingenuous. Attorney Marc Chytilo, who successfully sued to get Y on the ballot, explained that the maps on "Yes on Y" mailers create the impression that more creek will be restored than in actuality. Not that the creek is in terrible danger according to him. It houses a self-sustaining ecosystem and has water 12 months of the year.
After the press conference, Alan Road resident Dan McCarter invited activists and media to his home whose backyard runs into Arroyo Burro Creek. Besides concerns that a new development would degrade the creek, were Veronica Meadows to get built, a bike and pedestrian paths would run from the bridge on Las Positas on through the Alan Road subdivision. Many neighbors are turned off by the idea of increased traffic. And McCarter, a retired fire chief, also believes that the turn onto Las Positas from the bridge would be dangerous because the sweep of the road prevents visibility of 55 mph traffic.
While some environmentalists have been won over by developer Mark Lee who would pay out of his own pocket to fix erosion on a swath of the creek, Chytilo argues that a creek cannot be improved piecemeal. Any future improvements — such as the removal of a concrete dam on McCarter's property — would undo any of Lee's improvements.
Mayor Schneider argued that Measure B bed tax funds can be leveraged to restore the creek as they were for the Arroyo Burro Estuary and Mesa Creek Restoration Project. Murillo agreed that the city would do a better job of restoration than Lee. "I don't just say no to Y," she told her audience. "I say hell no to Y."