News
Flashing Lights and Restriping for Milpas Street
Teen's Death Sparks Unanimous Council Vote
Eight months after 15-year-old Sergio Romero was killed by a hit-and-run driver while attempting to cross Milpas Street, the Santa Barbara City Council unanimously approved a package of traffic improvements designed to increase pedestrian safety at its intersections with Ortega and Yanonali streets that will dramatically alter the face ​— ​and feel ​— ​of one of the city's busiest thoroughfares.
From Canon Perdido down to Ortega, Milpas will be restriped to eliminate one of the street's four lanes ​— ​a "road diet" in the lingo of traffic wonks. That cannibalized lane space will allow for the creation of bona fide bike lanes on both sides of the street ​— ​for a length of three blocks ​— ​wider traffic lanes, and wider parking lanes. Currently, Milpas Street boasts the narrowest parking and traffic lanes state law allows. By Milpas and Ortega ​— ​where young Romero was struck ​— ​an elevated concrete median island will be installed in the middle of the road, creating a safe haven for pedestrians crossing from one side to the next.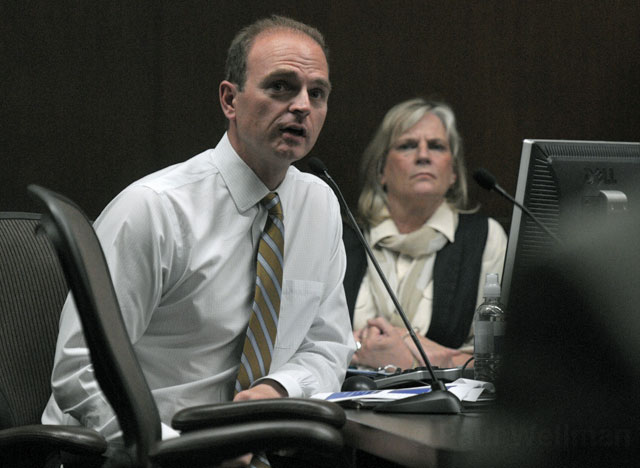 Three flashing yellow pedestrian-activated beacon lights will be installed ​— ​one on each side of Milpas and one on the elevated median ​— ​to warn oncoming motorists to slow down. A similar configuration, though without the island, will be created at Yanonali Street ​— ​a far busier intersection than Milpas and Ortega ​— ​but there will be only two flashing beacons. Installing three and the island would have required more space, which in turn would have cost nearby businesses seven on-street parking spaces.
The council's vote culminated a lengthy process of 15 meetings with neighborhood organizations and community advisory groups, all of which agreed that traffic safety concerns along Milpas went far beyond Romero's death. These groups ​— ​which included the recently formed Neighborhood Advisory Committee, the Transportation and Circulation Committee, and the Milpas Community Association ​— ​loudly demanded action immediately after Romero's death and never let up, bringing to obscure government meetings large numbers of neighborhood residents rarely seen at City Hall functions.
While opinions differed, many speaking for the neighbors strongly advocated for stoplights rather than the flashing yellow lights and median islands. Eight out of the 10 intersections on Milpas have stoplights; to have anything but at Ortega and at Yanonali would confuse motorists, they argued. Red lights, they insisted, mean stop. Several Eastside residents took offense over being described in previous meetings as "emotional." One objected at what she described as "the whiff of paternalism." Sylvia Uribe with the Latino Democrats added, "The emotional part comes when the city ignores repeated demands and lies about it."
Making a dramatic cameo was Republican congressional candidate Abel Maldonado, who just opened a campaign office on Milpas in the past month. He urged the council to listen to the neighbors and approve traffic lights. Guada­lupe Romero ​— ​the mother of the killed teen ​— ​urged the council to approve "a traffic light of some kind," adding ​— ​through an interpreter ​— ​"for all the children that we all have, let's have a Santa Barbara that is safe." She distanced herself from any partisan camp, stating, "I'm in the party of all mothers."
If the relentless community mobilization played a major role, so, too, did the city's new traffic engineer, Derrick Bailey. In Santa Barbara politics, few issues have been as predictably divisive as traffic policy, and few positions as distrusted as that of city traffic engineer. But Bailey, new to town, quickly won the trust of many warring factions, establishing himself as a cool-headed professional with no hidden agenda. Still, the Milpas assignment hardly proved easy.
In the wake of Romero's death, passions ran high. At a recent meeting, one Neighborhood Advisory Councilmember, frustrated with Bailey's insistence that traffic signals would cause more safety problems than they would solve, told the new engineer he should be fired. Little wonder Councilmember Bendy White would opine that Bailey had "been thrown in the deep end of the pool." Bailey noted that traffic collision counts at all the Milpas intersections demonstrated that there were far more car-on-car collisions at those intersections with traffic signals than without. Installing new traffic lights, he argued, would replace one traffic safety problem with another. But by installing the meridians, the restriping, and the flashing yellow lights, he said pedestrians could be made safer without risking the collateral damage of increased collisions.
When it came time for the councilmembers to decide, it was Bailey's professional judgment they all deferred to. Speaking directly to the mother of Sergio Romero, Councilmember Cathy Murillo stated, "I wish I could put in a traffic signal for you if it would relieve your pain. But I have to rely on the expertise of our staff."