Columns
When Dogs Attack
Canine Teeth
If you are a dog owner, you have definitely had this experience at least once. One day, as I was walking my dog, Ivy, near the beach, a tall black dog running off-leash beside his owner jumped on my dog and started to bite her. It was a completely unprovoked attack. In keeping with her nonaggressive nature, Ivy, a super-chubby brown Labrador, didn't try to defend herself but attempted to roll over and submit.
I started to scream as the dog continued to try to kill mine. And the owner did nothing, just watched from a distance. With my husband's help, we managed to extricate my dog. As I dragged Ivy away, the owner never said he was sorry or tried to explain.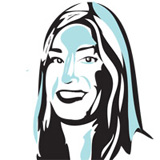 A few weeks later, my husband watched as, again, a tall black dog — presumably the same one — attacked another dog along the bluffs. Again, the owner stood back and didn't get involved. Again, his dog was off-leash. And, again, he made no apologies to the group of people that had to fight his dog to free their own.
This is a really unpleasant experience.
Just imagine, however, what this scenario would be like if the target were a person instead. This is exactly what happened to a friend of mine when she took a walk at the beach a few weeks ago. She walked down the steps at the end of Mesa Lane in Santa Barbara, commonly called Thousand Steps, on a sunny Saturday afternoon and looked out at the ocean. Moments later, a large dog, which she described as a shepherd mix, lunged at her and went for her jugular. She held the dog off by putting up her arm to fend off the attack. The dog sank its teeth into her arm. She screamed, but it was several excruciating minutes before anyone came to help.
A young surfer, about 15 years old, came out of the water and pushed the dog back with his surfboard. He was able to get the dog away from her, but this was not the end of the incident.
The dog then ran down the beach and attacked another woman. This woman was luckier; her husband fended off the dog by throwing rocks, and the injury was relatively minor.
After the attack on her, my friend sat down at the bottom of the steps, disoriented and bleeding. Just then, her niece came walking down the stairs with a friend. The police were called, and my friend was taken to the hospital in an ambulance. She is still trying to recover mobility in her arm and feels traumatized after the event.
But what happened to the shepherd mix that attacked her? This is where the story gets interesting. The dog wasn't caught and quarantined. It was sent home with the person who brought it to the beach. This person was not its owner, but a man who had taken his girlfriend's dog to the beach and left it roaming loose while he surfed.
Even if the police officers had wanted to take the dog in, however, this would have been problematic. Animal Control representatives only work during office hours. If you need assistance at night or on the weekend, you are out of luck.
According to animal control regulations, an aggressive dog can be required to be kept on a chain or confined, or turned over to authorities to be destroyed. In the case of the dog that attacked the people near Mesa Lane, the owner was required to keep a muzzle on the animal when it was in public.
But as everyone knows, negligent dog owners may not always follow the rules. More than once I've heard a dog owner say, "My dog has never done this before." After you probe a little deeper, you find that their dog really has exhibited aggressive behavior in the past. For one reason or other, the owner is in denial.
While there are a lot of responsible dog owners in the Santa Barbara area, there are those who give the rest of us a bad name. These people allow their dogs to terrorize animals and humans, and seem to feel no remorse. There has to be some sort of system set up, like a dog-offender website, to warn the public about vicious animals. Maybe then people would think twice before letting aggressive dogs run wild.