Food & Drink
Brews Meet Their Match
Brews Meet Their Match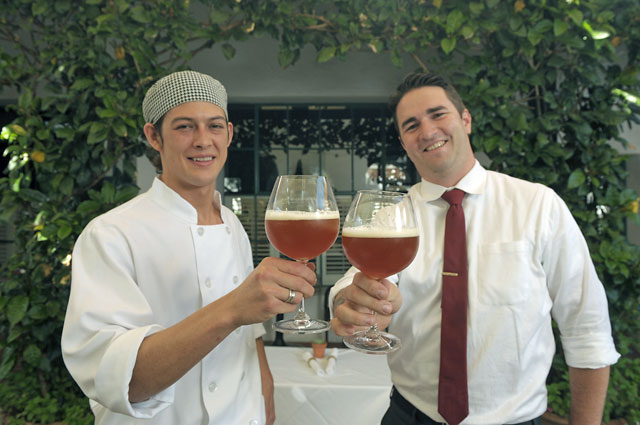 The surprising thing isn't that the Wine Cask is having a beer dinner on May 31 — they did one back in October, after all; it's that the five-course menu kicks off with Korean chicken-skin tacos with kimchi and Asian slaw. "We'd never serve that in the dining room," admitted Chef Brandon Hughes. "But when you think about it, everybody's favorite part of the chicken is the skin." It's a bit of crispy evidence that this meal is really a chance for the Wine Cask team to think out of the fine-dining box.
"Our passion for food isn't just limited to a seven-course wine dinner," Hughes explained. "When we make breakfast or staff meals for ourselves, it's way beyond what anyone would do at home. It's just that there's not one dish or ingredient that deserves any less respect. This dinner is a great opportunity to focus on the techniques — to make it really cool, you have to make it perfect."
That also means pairing the perfect beer, too, which is the job of Wine Cask's wine director, Branden Bidwell, who is a homebrewer, by the way. "We tried to pick beers where people might know the breweries but not the specific beer," Bidwell said. "For instance, people tend to know Anderson Valley beers — you can get them at Trader Joe's — but we're pouring the Boont ESB with the tacos. It's the brewery's favorite beer of their own, but it's the one they make the least of."
The menu did begin beer-first, with Bidwell suggesting 20 possibilities that Hughes's kitchen crew tasted through. "It's a really tough process," joked Bidwell, "as we could only taste three or four beers a night before you get stupid." Remembered Hughes, "For the last dinner, we sampled 40 beers, and it got unwieldy." Added Bidwell, "And then we lost our notes."
This time, with more restraint, they fashioned a menu with those tacos and Boont ESB to start; mussels (cooked in beer, of course) and house-cut fries with a rock shrimp velouté, paired with Allagash Curieux; pork poppers, which "look like fish sticks, something familiar, but then wow people with flavor," according to Hughes, paired with Green Flash Saison Diego; a pork jowl en croute, what Hughes bills as "a play on a nice English porkpie," with house-made mustard and an over-easy egg, paired with Coney Island Brew's Human Blockhead; and then a dessert that deserves its own paragraph.
"Who doesn't want foie gras for dessert?" asked Hughes, who's developed an apple and foie fritter with rose jelly and candied hazelnuts to go alongside Telegraph's Rhinoceros rye wine ale, which just won a bronze medal at the World Beer Cup. "It was one of those things where we said, 'Wouldn't it be cool if we did this? Oh, we can!'" explained Bidwell. "It's amazing. The best thing I've had in a long time."
4•1•1
Enjoy the second-ever beer dinner at the Wine Cask (813 Anacapa St., [805] 966-9463, winecask.com) on Thursday, May 31, 7:30 p.m. Reservations are recommended. The dinner costs $60, tax and gratuity not included.