News
Don't Forget Your Bike
Fun Summer Events are Best with Pedal Power
I love summer in Santa Barbara, especially for the biking opportunities it brings. The cloudy marine layer makes for crisp, cool morning rides and the long days mean more hours of light for riding.
So many of the summer events in Santa Barbara are best gotten to via bike. Why? For starters, parking for events can be tricky and often expensive. Then there is the sheer pleasure of being out in the fresh air – the ride to and from the event is part of the fun!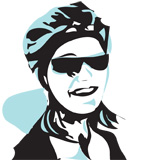 Last August I wrote about Stress Free Summer Bike Rides Stress Free Summer Bike Rides. The rides themselves were the destination in that article. As summer 2012 begins, I thought it would be fun to highlight some of my favorite bikeable Santa Barbara events.
Summer Solstice Parade: As this article goes to print, the Summer Solstice Parade and ensuing festival at Alameda Park will be in full force. As most of you know, the State Street corridor is closed down for many blocks and the entire downtown core fills with thousands of revelers. I live about 15 blocks away from the heart of the parade, and every year I'm impressed by the number of people I see parking their cars near my house and walking all that way. By bike you can find a parking space a block or two away from the heart of the action.
Local's Tip: Don't try to walk with your bike in that crowd. It will drive you crazy. Find a central location to lock it up (Alameda Park is usually my choice) and join the swarms of others by foot).
Fourth of July Fireworks: Cabrillo Boulevard is closed to car traffic from about Garden Street to Castillo Street for the fireworks show at the breakwater, and the mighty thoroughfare is reclaimed by walkers, bikers, and pedicabbers. Throw a blanket and some extra layers in your backpack or panniers and head down to see the display from right below it. You'll love the mobility your bike provides at this fun event.
Old Spanish Days (Fiesta): Again, I can't imagine arriving to any Fiesta events without my bike. There are huge bottlenecks for car drivers around De La Guerra Plaza, the Sunken Gardens, the Mission and the parades. By bike, you can get right into the heart of the action, with ease and style.
Concerts: The Santa Barbara Bowl's 2012 season is well underway. Biking to the Bowl has never been easier thanks to valet bike parking offered right at the entrance, courtesy of the Santa Barbara Bicycle Coalition. Dedicated volunteers will securely store your bike during the show, then fetch it for you after the show ends, for free. (You won't find that service at the adjacent car parking lots, which charge you money and fill up quickly.)
Local's Tip: Don't miss the Concerts in the Park [hyperlink: http://www.santabarbaraca.gov/Visitor/Things/Arts/Concerts_in_the_Parks.htm] happening on Thursday evenings, 6-8:30 p.m. starting June 28. Chase Palm Park fills with hundreds of music lovers of all ages. People pack blankets and picnics and you will be in good company when you arrive by bike. That's how most of the locals get there!
Picnics: Pack some snacks, drinks, a blanket, and a frisbee, throw them in your backpack or bike bags and head to one of our parks or beaches for a summer picnic. I recommend the Rose Gardens (that beautiful park across from the Santa Barbara Mission), Alice Keck Park Memorial Gardens, or Leadbetter Beach.
Exercise: Sure, bicycling itself is a form of exercise, but it is also a great way to get to and from other kinds of sports and exercise. Biking serves as a good warm-up before you jump into a hard workout, as well as a perfect cool-down. Although the summer months are pretty dismal for us surfers, the ocean does warm up considerably, and that means more opportunities for some great ocean swims. I love riding my bike down to the beach and getting a nice workout in the clear, calm summer waters. My favorite beaches for ocean swims are Leadbetter and Goleta Beach. I also have many friends who enjoy the summer months playing beach volleyball, soccer, and ultimate frisbee. Most arrive by bike to the pick-up games.
Your bike can be your trusty companion as you get out to explore the many events and activities going on this summer in Santa Barbara. Don't forget that the Independent offers a handy Calendar of Events that will keep your schedule full of fun in the sun. Enjoy!