News
Good News, Bad News for Casa Esperanza
New Detox Facility Opens, Shelter Blasted for Permit Violations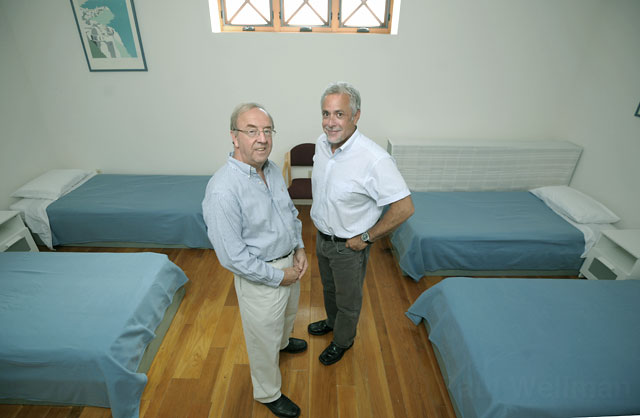 It was a week of mixed blessings for the Casa Esperanza homeless shelter on Cacique Street. At long last, the 12-bed detox facility in the shelter's two front rooms were finally closed down and the operation reopened last Friday in a bigger, better, and more therapeutic single family home on Placido Avenue in downtown Santa Barbara right off West Figueroa Street.
The relocation effort was many years in the making and involved a bureaucratically complex dance between many governmental entities. But the end result will provide 14-day detox accommodations for those without means far from the maddening crowd of the Cacique Street homeless shelter where drugs and alcohol are never hard to obtain. The new facility will offer a highly structured detox regimen with constant in-home supervision in a refurbished residence replete with a backyard. Mayor Helene Schneider described last Friday's open house as "fantastic," noting that the new location will provide a much better environment for those dealing with addiction issues.
The deal would not have happened had the City Council not voted a year ago to spend $865,000 of Redevelopment Agency funds to buy the home on behalf of the Santa Barbara Housing Authority, which in turn will lease the property to the Council on Alcohol and Drug Addiction, which will operate on funds provided by the county's Department of Alcohol, Drugs and Mental Health. Because there are more rooms in the new facility than at Casa Esperanza, there be greater flexibility in maintaining the sexual separation of the clients. As a practical effect, that means women seeking to detox will not have to be shipped to facilities in Lompoc and Santa Maria as had been the case when the facility was located at Casa Esperanza.
And for Santa Barbara's homeless shelter, it frees up two big rooms, one of which will be used to provide health services and the other for job and social-service orientation for new arrivals. In addition, it will allow Casa managers to redesign the shelter such that clients have only one way to enter and another way to exit. Currently, clients enter and exit at the same location at Casa, making it difficult for managers to know — or control — who's coming and going.
For supporters of the Casa, this signifies a marked improvement in the delivery of services at not one but two locations. But for the Milpas Community Association (MCA), long critical of Casa's collateral impacts on the surrounding neighborhoods, it's a case of too little too late. This Monday, MCA director Sharon Byrne dropped copies of a 170-page document written in the dense language of a land-use consultant alleging various ways the Casa shelter has violated the terms and conditions of its conditional use permit. Byrne and the MCA want the city's Planning Commission to hold a full scale hearing on the matter within 60 days, and not just issue a brief report.
Byrne contends that the Casa management has failed to do adequate outreach to neighboring residents and businesses to ensure its clients don't disrupt the neighborhood. She claimed, for example, that a recently adopted program to release homeless jail inmates to Casa has led to violent encounters between shelter guests and local business owners. "We're not just talking about peeing in the doorway," Byrne said. "We've beyond that. We're talking assaults." Likewise, Byrne said Casa managers have failed to provide clear enough direction to guests as to what conduct in the neighborhood will be tolerated. She acknowledged Casa does have a "good neighbor" policy but said it was too squishy and wordy for the average person to know what's expected.
Casa executive Mike Foley said the good neighbor policy extends along Milpas Street all the way from Canon Perdido to Cabrillo Boulevard and includes the possibility of expulsion. He said the jail-release program is hardly exclusive to the Casa. And he added that two clients are required to patrol the area for trash and report on any offensive behavior by street people they encounter. Casa personnel, he added, regularly meet with neighboring business owners to ensure due security precautions are being taken.
That being said, Foley stated he hadn't had time to digest MCA's bill of particulars and could not properly respond. Likewise, city Community Development chief Paul Casey said his office will thoroughly investigate the allegations before deciding the appropriate course of action. Whether the Planning Commission holds a special hearing on the shelter within the next 60 days, as MCA demands, has yet to be determined. But every two years, the Planning Commission reviews the shelter for compliance with the terms of its conditional use permit, and that hearing is scheduled to take place this September.