Sports
Play Ball
For the 20th Time, S.B. Foresters Head to Kansas for the National Baseball Congress World Series
It seems to be business as usual for the Santa Barbara Foresters. They sit atop the California Collegiate League (CCL) standings with a 22-9 overall record, and 13 of their players were chosen for the CCL All-Star Game on Wednesday night at the Major League Baseball Academy in Compton.
The Foresters will be making their 20th consecutive appearance in the National Baseball Congress World Series at Wichita, Kansas, in early August. They are the defending champions and will be seeking their fourth title, having also won in 2006 and 2008.
That's all easier written than done. The NBC series is a double-elimination affair involving 32 teams from across the country. You have to win seven games to claim the pennant, but lose just twice, and you're out. It takes a deep pitching staff, timely hitting — and some luck — to go all the way.
"We've always been pitching-and-defense guys," said Bill Pintard, in his 19th summer as the Foresters' manager. Those qualities were on display in their last game before the all-star break, an 8-2 victory over the Southern California Halos. Pintard used six pitchers, five of whom were lights-out. Nick Palewicz of Washington got the win after pitching two scoreless innings. He recorded his 31st strikeout of the season, and he has walked only one batter. UCSB's freshman sensation Andrew Vasquez, a 6′6″ left-hander, mowed down three batters in the seventh inning on 10 pitches, nine of them strikes.
The left side of the infield produced two defensive highlights. Third baseman Shane Hoelscher of Rice made a diving stop and threw out the runner by half a step. A spectator voiced the ESPN riff: 'Dah-dah-dah, dah-dah-DAH." Even more spectacular was the play by shortstop Richy Pedroza of Cal State Fullerton. He retrieved a grounder deep in the hole and fired a long strike to first from the outfield grass.
At 5′6″ and 150 pounds, Pedroza reminds one of David Eckstein, the pint-sized infielder who played short for the Angels when they won the 2002 World Series. Pedroza seems to have more snap in his arm than Eckstein did. "He plays with attitude," Pintard said. "He'd better play with attitude at that size."
Another play worth noting was made by Mike Kwan, the Halos' starting pitcher from Westmont College. He was staggered by a line drive off the bat of Hoelscher that hit him in the upper thigh, but he recovered the ball on his knees and made the throw to first.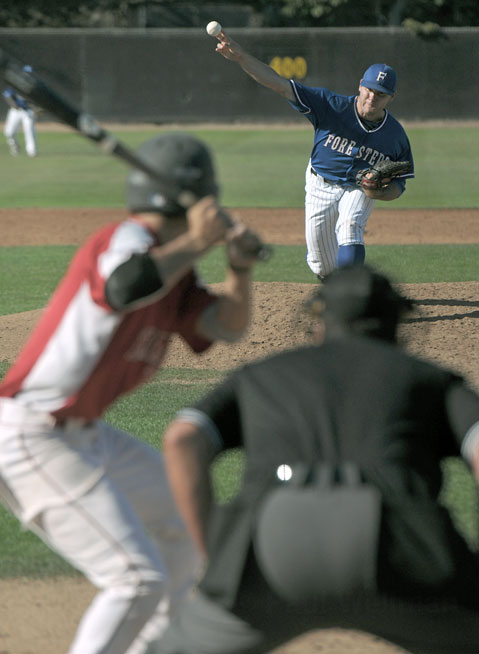 The Foresters' hitting has been inconsistent. They have been shut out five times, including an 8-0 loss to the Conejo Oaks on July 4. Through four innings against the Halos, they were tied 1-1 and had wasted several scoring opportunities. But in the bottom of the fifth, Robert Vickers came up with the bases loaded.
Vickers, a former County Player of the Year from Dos Pueblos High, promptly unloaded the bases with a drive to the wall in left center. He sprinted around the bases to third, showing he has recovered from a sprained ankle that kept him out of action for several weeks.
Vickers is optimistic about the Foresters' prospects heading into Wichita. He hit 0.333 for last year's team and knows what it takes. "It's all about going on your runs," he said. The club will play nine of its last 15 regular-season games at UCSB's Caesar Uyesaka Stadium — a three-game CCL series against the Orange County Pioneers this weekend (July 13, 14, and 15), and a stretch of six consecutive games against the Bakersfield Braves and Team Vegas (July 24-29).
Vickers wants to make the most of it. "This is my last year of summer ball," he said. He is coming up on his senior year at Long Beach State, after which he hopes to be drafted and signed by the pros.
Santa Barbara has been a fruitful landing spot in the careers of 26 Foresters who have gone on to play in the major leagues. Pitcher Ryan Cook of the Oakland A's became the club's third big-league All-Star selection this week. Previously, infielder Morgan Ensberg and pitcher Jamie Shields were so honored.
Brett Vertigan, the Foresters' dynamic leadoff hitter last summer, continued his stellar play for the UCSB Gauchos — leading the Big West in hitting (0.381) and stolen bases — and he has begun his professional career in the Oakland organization after being drafted in the 10th round.
Riley Moore's long season with NCAA champ Arizona prevented the former San Marcos High star from joining the Foresters this summer. The freshman catcher started 62 games and was behind the plate for 561 innings out of 586 pitched by the Wildcats. He was named a freshman All-American by Baseball America and also was on the College World Series All-Tournament Team after hitting for a 0.412 average in Omaha.