News
Car Dog
Keep Your Canine Safe While Riding in Your Car
The National Association of Professional Pet Sitters (NAPPS), a non-profit organization dedicated to promoting the welfare of animals, is urging pet parents to consider their pets' safety and be careful when taking their furry friend along for a car ride. "Pet parents often think that dehydration and heatstroke are the only risks associated with transporting an animal in a vehicle," said John D'Ariano, president of NAPPS. "Lack of safety restraints can put both the pet and other passengers in serious danger as well."
In a 2010 AAA survey of 1,000 pet parents, more than 300 drivers admitted to being distracted by their dog while riding together in the car. California alone reported over 150 accidents from driver inattention caused by animals in the vehicle in 2010, leading to 58 injuries. According to the American Society for the Prevention of Cruelty to Animals, a 50 pound pet (a medium to large-sized dog) that is in a 35 mph car collision can be thrown with the force of 1,500 pounds.
Some lawmakers feel so strongly that dogs shouldn't be allowed to ride in drivers' laps, that they're sponsoring bills trying to get the practice banned. However, passing these types of laws is harder then you might think. More than half a dozen states, including California, Maryland, and Pennsylvania, have considered laws banishing dogs from riding in the driver's seat, but none have passed.
How should you travel with your dog?
Pets should always be placed in a carrier while traveling in a vehicle. If this isn't possible, harnesses can be purchased to ensure your pet stays safe while you drive.
You should never allow your dog to ride in the bed of a pickup truck. If you travel with your dog in the open bed of a pickup truck, not only are you putting your dog at risk, but you're endangering the lives of other motorists. The State of California prohibits unsecured animals from traveling in an open truck. If you must travel with your dog in your pickup truck, you can secure him in a crate in the truck bed or secure him to a cross tie in the open truck bed so that the dog can't reach the sides of the truck. It is my belief that if a dog doesn't fit inside your car, they should stay at home. When I was a manager at the Michigan Humane Society in Detroit, a deceased dog was brought in by a grieving owner. The owner told me his dog had been tied up in the bed of his pick-up truck and while rounding a corner, the dog went flying out and hung himself instantly. This proves that even securing your dog with a cross tie (as California law allows) isn't fool-proof.
Aside from car travel dangers, always remember that you should never leave a pet in a car on a hot day. On an 85-degree day, the temperature inside your car can reach 102 degrees in 10 minutes. According to veterinarians, a pet can only withstand a higher body temperature for a very short time before suffering irreparable brain damage or even death. Cracking windows on a hot day isn't enough to keep your pet cool. Not only can dogs get overheated in hot cars, but also on steamy summer days. Make sure your pet stays cool outside by always providing shade and cool water. The ASPCA says you should be especially careful with dogs that have short, pushed-in faces (e.g., bulldogs, pugs, and Boston terriers), puppies, and elderly pets.
According to the American Red Cross, an overheated dog can suffer brain and organ damage after only 15 minutes. Some signs of heatstroke include excessive panting, bright-red tongue and gums, vomiting, diarrhea, lethargy, and body temperature of 105-110 degrees. If your pet gets overheated, you can give immediate first aid by getting him out of the heat, laying him on cool shaded grass, and pouring cool water over him. You can also give small amounts of water or ice cubes. Call your veterinarian immediately.
So remember: if you can't stand the heat, neither can your pet!
Announcements
Free Adoption Day
ASAP will be having a free adoption event August 18-19
Last year's free adoption event was a huge success–76 cats and kittens found homes over the course of a single weekend! If you've been thinking about adopting a cat, the time is now. All adoption fees for adult cats (six months and older) will be waived. To encourage the adoption of kittens in pairs, ASAP will be offering 2-for-1 kittens.
Animal Shelter Assistance Program (ASAP) is a volunteer-based, non-profit organization that takes care of the cats and kittens at the Santa Barbara County Animal Shelter. ASAP provides humane care for these animals and works to eliminate the practice of euthanizing them for reasons other than serious health or behavior problems.
For more information, visit ASAP at the Santa Barbara County Animal Shelter, 5473 Overpass Rd. Adoption hours are Monday-Friday, 9 a.m.-4:45 p.m.; Saturday, 10 a.m.-4 p.m. For more information, visit www.asapcats.org or call (805) 683-3368
The following is included in the adoption fee at ASAP: Spay or neuter surgery, flea treatment, vaccinations, microchipping, health evaluation, including testing for feline leukemia (FeLV) and feline immunodeficiency virus (FIV). Cats thought to be 10 years or older receive a full blood panel evaluation, thus assuring that the cat is indeed healthy and adoptable, medical and drug coverage through ASAP's vet for two weeks beyond adoption, if necessary, temperament evaluation and cat carrier (you can save the county money by bringing your own).
Chihuahuas Need Homes!
In Santa Barbara County alone, Chihuahuas and related mixes currently represent 40 percent of dogs that are up for adoption. Because of this abundance, county animal shelters celebrated "Chihuahuas de Mayo" in May 2012. Throughout the month of Chihuahuas de Mayo, there were over 350 spays and neuters completed for free. Even better, the program saw 50 adoptions of Chihuahuas and Chihuahuas mixes! While this was helpful, there are still so many pups that need a home–including the seven little mixes that came to the shelter together having been rescued from farm workers' trailers. If you are interested in adopting a Chihuahua or Chihuahua mix, contact one of the Animal Services area shelters today!
Animal Services
Santa Barbara: 5473 Overpass Rd., Goleta, (805) 681-5285
Lompoc: 1501 West Central Ave., Lompoc, (805) 737-7755
Santa Maria: 548 W. Foster Rd., Santa Maria, (805) 934-6119
Saturday Summer Spectacular dog adoptions promotion at SB Shelter
The Lompoc Animal Shelter will be bringing highly adoptable dogs to the Santa Barbara shelter at 5473 Overpass Rd. this Saturday, July 21, 11 a.m.-2 p.m., for the first of three Summer Saturday Shelter Spectaculars. Lompoc's shelter is in the middle of a remodel, making it a less appealing place to adopt, even though it is still open to the public. In addition, Lompoc gets some great dogs that we see less commonly at the Santa Barbara shelter, so this is a chance for people looking to adopt to come meet some new dogs of desirable breed types.
In addition, any Lompoc dog adopted during these Spectaculars will receive a free microchip (worth at least $60)! For more info, call the Lompoc shelter at 737-7755.
Adoptable Pet of the Week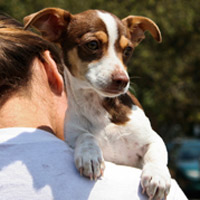 Frodo has two brothers and a sister and they are all friendly young pups with a super sweet, happy and energetic nature. Playful, confident, and sassy, they get along very well with each other and will most likely be good with other dogs. They are very cute with their long slim bodies, waggy tails, and a nice coat of short, soft hair. They have such sweet faces with soft, floppy ears.
Frodo has a mostly white body with big round chestnut colored spots all over his body. He has a pink nose and very pretty hazel colored eyes. Just like any young pups, these doggies will benefit from some puppy obedience training to teach them the basics of becoming well behaved dogs. They are already spayed/neutered but still need a round of shots. To inquire about adopting a dog, visit DAWG in Santa Barbara.
DAWG (Dog Adoption and Welfare Group) is a no-kill not for profit dog rescue/adoption organization located at 5480 Overpass Road in Goleta. For more information, call (805) 681-0561. You can view more adoptable dogs at: www.sbdawg.org. The public is invited to stop by and look around every day from 9 a.m. to 4 p.m. DAWG relies on volunteers to take care of all the dogs, so if you love dogs, think about volunteering! Students are able to fulfill their volunteer community service requirement by volunteering. Volunteer orientations are generally held every other Saturday at 10 a.m. Contact DAWG for the next meeting.