News
Capps Chided for Unreported Income
Received $41,480 in Rent Money from One of Her Staffers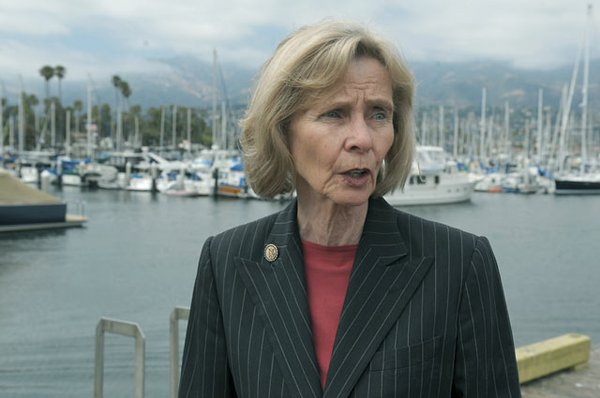 Rep. Lois Capps — whose campaign spends a lot of time talking about her opponent Abel Maldonado's issues with the Internal Revenue Service — didn't report more than $40,000 in income from a rental unit on her property until earlier this year, more than a decade after she first started to receive the revenue, and six years after her accountant publicly acknowledged the income.
In 2006, accountant David Powdrell sent a letter to the Legislature Resource Center — which is home to all public disclosure information filed by members of the House of Representatives — informing them he had just been made aware Capps received income from a studio she rented on her property from 2001 through 2005. She previously had not reported that income on Congressional Financial Disclosure forms.
During the five-year period, Capps received $41,480 in rent money from one of her staffers, Jeremy Tittle, who now works for 1st District County Supervisor Salud Carbajal. Powdrell, in his letter to the center, said there was "never an intentional misstatement of facts, simply an oversight by Congresswoman Capps."
But that income was not reported to the IRS in 2006, and an amended return was only filed earlier this year. The Capps campaign said in a statement late Wednesday that "as soon as we became aware of this, Lois immediately filed an amended return and cleared it up right away." She has also paid the money, the spokesman said.
In an amendment to her 2002 tax return statements posted on her website, it says in handwriting, "Taxpayer omitted rental income on single room at residence. Tax preparer neglected to file amended returns when omission was discovered on February 13, 2006." A similar statement was made for 2001, 2003 and 2004, though the wording was a bit different.
The news was first reported by a Washington, D.C., conservative-leaning newspaper, the Daily Caller, where Maldonado spokesman Kurt Bardella used to be employed.
"At first, it appeared as if Congresswoman Capps was pointing fingers at Abel Maldonado in an attempt to avoid talking about issues like jobs and the economy," the Maldonado campaign spokesperson said in a statement. "Now it's clear that Congresswoman Capps, who at this very moment is running a campaign commercial called 'trust,' was really playing a game of misdirection, hoping that her financial arrangement with a member of her own staff would not come to light. The fact of the matter is that Congresswoman Capps failed to report income she was receiving from a member of her own staff, who was being paid both by her campaign and her congressional office, [and who] was renting a room in her own house. How does 10 years go by before you get around to disclosing that to the IRS?"
The National Republican Congressional Committee was also quick to seize the chance to chide Capps. "Lois Capps is currently running an ad called 'Trust,' but how can she expect Californians to trust her when she spent a decade hiding portions of her income and hoping it never came to light?" said NRCC spokesman Daniel Scarpinato in a statement.
Just before the primary election, reports surfaced that Maldonado was disputing what could be up to $4.2 million in tax deductions his family farming business reported. The Los Angeles Times reported that the IRS had challenged deduction by the farming business that didn't appear to benefit the business, including memberships at a golf club and the cost of horses on the farm. Parties at the Maldonado house and bathroom tile and outdoor deck work were also questioned as improper business deductions.
In June, Capps posted on her website all of her tax returns for every year she's been in office, challenging Maldonado to do the same. Maldonado agreed to release his 2011 return, but later said he could not because he had filed an extension for his 2011 return pending the resolution of his ongoing dispute with the IRS.
Capps spokesperson Jeff Millman, noting that Capps caught her unreported income and paid it on her own, while Maldonado still hasn't resolved his case, said this recent news is "exactly why it's so important for Maldonado to publicly release his taxes for every year he's been in public office, to make sure that he has properly paid what he owes. Unfortunately, we already know he owes $4.2 million in back taxes for 2006-08, and refuses to pay it, and now has been sued by the IRS for making improper deductions for his country-club membership, home remodeling, and other personal expenses."
Friday morning, the Capps team fired another shot, releasing Maldonado's own filings from 2006-2008, which were public records from the U.S. Federal Tax Court. In a statement Friday, the campaign said they felt "compelled" to release the records, since Maldonado wouldn't.