Business
The Ultimate Second-Hand Tech Store
Inside Goleta's Network Hardware Resale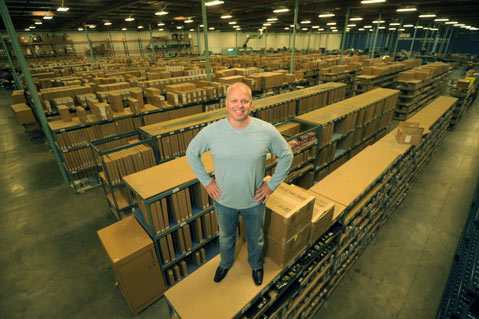 [EDITOR'S NOTE: Network Hardware Resale changed its name in 2014 to Curvature. See Curvature.com.]
On the second floor of Network Hardware Resale's headquarters in Goleta, up the big and sunny staircase just past reception, there sits a red couch, an old and incredibly unattractive pullout prominently displayed for all to see. In 2011, Network Hardware topped $230 million in revenue, a number that marked yet another year of profit growth for the family-run, industry-leading tech company, their beautiful office space at 6500 Hollister Avenue looking every bit the part of the multinational, multimillion-dollar business headquarters that it is. The couch, however, endures.
The Internet, as you have probably heard, runs on bandwidth, the ubiquitous term for the amount of data that can be transmitted from one device to another in a set period of time. In short, bandwidth is the backbone of the information superhighway, and when it comes to providing bandwidth and the various networks of servers, switches, modems, and such that allow bandwidth to flow more easily, there is no bigger name in the world than San Jose's Cisco Systems. Interestingly enough, when it comes to selling actual Cisco Systems, there is no one who sells more of them (including Cisco itself) than Network Hardware Resale (NHR).
And the couch, well, the couch has been there from the beginning. "Everyone always asks about the couch," laughed NHR President and CEO Mike Sheldon recently, himself a smiley and casual sort of guy who seems to know the name of everyone he employs. "Years ago, back when my father and brother started the business, my dad, who commuted up here from Hermosa Beach, slept on it four nights a week. I guess we like to keep it around to remember where we come from."
A Family Affair
Network Hardware, with more than 350 employees and offices in Amsterdam, Singapore, and London, started out as a modest little run-from-the-garage sort of operation headed up by Sheldon's brother, John, and their father, Chuck, back in the mid '90s. At that time, shortly after John graduated from UCSB, the father-and-son team joined forces to evolve Chuck's existing Strand Computer Resale. Chuck, the once-upon-a-time mayor of Hermosa Beach, had worked in sales with IBM for the better part of two decades, a job that, at the time, gave him an inside track on the just-born business of reselling used computer equipment.
To hear Mike tell it, his dad had been buying and selling used modems and mainframes as a sort of side gig since the mid '80s. After John graduated from UCSB, the two decided to combine forces, relocating Strand to Goleta, and by 1996 (when they opened their first bit of actual office space on Shamrock Avenue), they had renamed it Network Hardware Resale. Their revenues, driven primarily by sales of used Cisco goods, topped $1 million for the first time that same year.
From there, the history of Network Hardware reads like, as Mike put it, "your classic story of a UCSB start-up like Kinko's or Deckers or something. My brother hired a buddy from school, and then another one, and then another one, and another one, and the company just kept growing." By 2000, NHR was doing more than $20 million in annual business and was named by Inc. Magazine as one of the "Fastest Growing Privately Held Companies in the United States."
"From early on, my dad just latched on to Cisco stuff [to sell]," explained Mike, who came on board with NHR more than a decade ago, after a career as an investment banker for UBS and Barclays, and took over the CEO reins from his father in 2006. (Brother and cofounder John retired in 2005.) "So it didn't hurt when [Cisco] became this $40-billion company that overwhelmingly dominates the market. Basically, everyone uses Cisco and it's rather expensive, so it is a really wonderful product to be selling on the secondary market."
Even more wonderful, of course, is the fact that the world's ever-increasing appetite to stream videos and music, share movies, update their Facebook pages, log time on YouTube, and tweet about it all from their phones has exploded in recent years. You see, all this stuff requires bandwidth, more bandwidth often requires more equipment ​— ​or "network hardware," if you will ​— ​and more equipment means more sales, and as a result, more used equipment ready to go to market. And all of this means more business for NHR at virtually every turn in the road. "No doubt it has been a huge tailwind to our industry," said Sheldon about the social-media invasion. "Facebook has probably done more to cause bandwidth congestion than anything else, and that's great for us."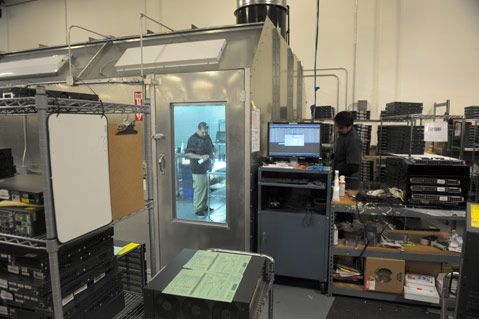 Top-Notch
Spend even five minutes inside NHR's warehouse on Coromar Drive, just a few short blocks away from its Hollister Avenue HQ, and you are immediately impressed by the scope of the operation. First off, the space, which Sheldon calls "the place where business actually gets done," is 60,000 square feet of highly organized productivity that was responsible for shipping a half-million orders last year alone. There are aisles upon aisles of carefully labeled routers, circuit boards, computer cords, phones, and virtually every other aspect of network architecture.
There are inspection stations where incoming products (typically, a couple thousand a day from large telecommunications corporations like AT&T and Verizon, as well as Microsoft) get assessed before being sent to the refurbishing department. There is the shipping station where outgoing goods get NHR's standard brand of packaging: a spit shine ​— ​which they call "delighting the customer" ​— ​so classy and thorough you would be hard-pressed to know that the item you are opening is actually secondhand. "These are the sort of things you have to do when you are the underdog," summed up Angelique Davis, NHR's director of marketing, about the company's aim-to-please attitude.
It is also in the warehouse, thanks to the extensive work done there by quality inspectors and refurbishing peeps, that NHR is able to extend its famous warranty policy ​— ​a set of guarantees that, at least for most products that they sell, often goes beyond the scope of the warranty attached to the very same items when they are sold brand-new by someone else. Add to this the fact that NHR, unlike folks who sell Cisco stuff new, are able to stock and thus immediately ship their goods, and you begin to understand the secret to the company's success and the unique appeal it holds for prospective customers.
Take, for example, Santa Barbara's Sansum Clinic, the largest outpatient medical outfit on the South Coast. This past year, when Sansum, which serves more than 150,000 patients and sees more than half a million office visits a year, rolled out its new comprehensive electronic health-care system, it did so exclusively with Network Hardware–bought equipment, service, and support. According to Donovan Wade, Sansum's technical services manager, the decision to use NHR for the clinics' major overhaul was essentially a no-brainer after a few previous dealings with the company.
Historically, explained Wade, Sansum had a hard-and-fast policy of only using brand-new hardware; however, after having an emergency need a few years back for a switch replacement on their network at the Pesetas Lane clinic, they quickly learned the joys of doing business with NHR and have since changed that policy. "Normally, we would have to wait a month or two months or even three for something we needed if it was high-end," explained Wade recently. "But they just had it on the shelf. It was pretty mind-boggling really."
Since then, Sansum has gone with NHR for a variety of its needs, culminating with the aforementioned electronic medical records rollout that required, among other things, replacing all the core switches on its network. "It had the potential to be very, very disruptive for us, but in the end, [thanks to NHR], it wasn't." Even better, said Wade, NHR saved Sansum "more than 60 percent in some cases" compared to its competitors and roughly $2 million overall. "Those guys are just top-notch, and it's not just with their hardware," gushed Wade earlier this summer. "We have also started to use them for all our wireless network support, and that, too, has been top-notch."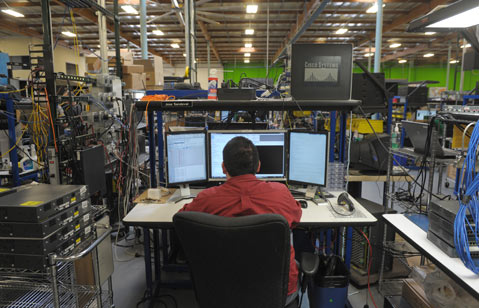 MultiDimensional
As for the future, Mike Sheldon confidently sees more growth on the horizon for NHR, a forecast he makes more from a tech futures perspective than an economic one. Explaining that the company exists in a "middle ground" of the modern technology landscape, Sheldon says that NHR's continued success will be dependent on being able to go in both directions. That is to say, growing toward the top and the bottom of the technology spectrum simultaneously.
He sees things such as the further evolution the company's Netsure program ​— ​the four-year-old in-house maintenance and tech-support service that had Wade raving ​— ​and its hands-on fixing of broken-down older equipment (and, perhaps, eventual electronics recycling services) as being equally important to its growth as the company's emerging focus on selling new, state-of-the-art equipment from Cisco's competitors like Dell-Force10, Brocade, and Juniper.
Then, of course, adds Sheldon, there is the slow and steady push NHR is sure to continue receiving as bandwidth demands grow and massively populated countries like India and China and Brazil start to open up to foreign tech providers. "There is a whole world out there where I think our business will play great. I mean, anyone who desperately needs networking equipment and wants to save money is a prospective customer for us, and, well, that is virtually everyone we talk to," he summed up.
Then, after a brief pause where his eyes seemed to literally light up, Sheldon added, with a telling chuckle, what the next chapter in social-media fads might look like. "I also hope people start transmitting 3-d stuff soon; that would be pretty cool and obviously pretty great for us."