Sports
Profiles in Excellence
Talking Training and Dedication with Two Santa Barbara Triathletes
Amy Bassett and Sebastian Hoenig swim, bike, and run for the fun of it, but a casual approach to the triathlon is not in their brains and veins.
They both have PhDs ​— ​Bassett's in musical performance, Hoenig's in astrophysics ​— ​and they know how to apply themselves to a task. She has spent hours trying to bring out the eloquence of a Beethoven passage on the bassoon. He has devoted long nights to peering into distant galaxies for evidence of black holes. The triathlon gives them another avenue of expression and exploration.
"It's an outlet, and an inspiration to keep striving," said Bassett, the director of education for the Santa Barbara Symphony.
Bassett and Hoenig have been training with Killer Tri in the months leading up to the Santa Barbara Triathlon. She will be doing the long-course race (one-mile swim, 34-mile bike, 10-mile run) on Saturday, and he will go for the sprint (500-yard swim, six-mile bike, two-mile run) on Sunday.
"I love Killer Tri," said Bassett, 31. "I needed a coach, a structure, a solid training program. I didn't have the knowledge to do it on my own. You need to know what your plan is."
Bassett started running as an adult. "I liked going on long runs," she said. "Endurance sports help if you play wind instruments. You need stamina and drive."
Her job with the symphony includes outreach to schoolchildren. "I've worked with 4,500 Santa Barbara County kids," she said.
Some of them join the Youth Symphony program, and Bassett is pleased to see many of them also are physically active. "When I'm doing my triathlon training on the track, I see a lot of the Youth Symphony kids out running," she said.
The Massachusetts native earned her doctorate at Ohio State. When she moved to Santa Barbara, she started swimming with the masters group at the Los Baños pool. "It was very humbling," she said. She took up cycling and "fell in love with it," and early this year, she decided to pursue the triathlon.
Bassett has not yet adapted to the running motion taught by Kyle Visin and Bob Wilcher. "I'm going to switch after the triathlon," she said. "I know I can feel so much better doing it another way."
Hoenig, 33, said he was ready for a change after running competitively for eight years. "I was pretty decent ​— ​under 34 minutes for the 10k" he said, "but my times were plateauing. I knew if I wanted to improve, I had to take a step back and change something. I became a forefoot runner. It took three months to feel natural. It's a pretty good thing. I want to run longer and older."
He had a role model in his mother. "She was a forefoot runner and was never injured," he said. "She ran a 3:30 marathon at age 55."
Hoenig moved from his native Germany in 2010 to do postdoctorate research in astrophysics at UCSB. "I'm studying black holes and how they grow," he said. His work took him to an observatory in Chile. "I did some running at 8,000 feet altitude, and when I came back to sea level, I felt superhuman."
The ability to train year-round in Santa Barbara's climate made Hoenig aspire to do the triathlon. "It's a big benefit to be able to go swimming in the ocean here," he said. "I'm just an average swimmer but a good runner and biker." He did the sprint race in the Goleta Beach Triathlon last month and finished second.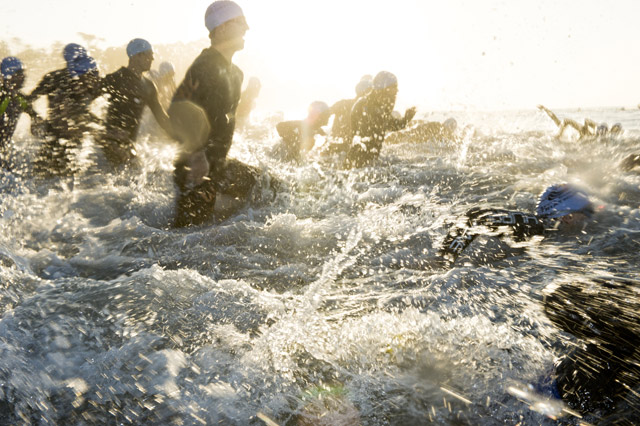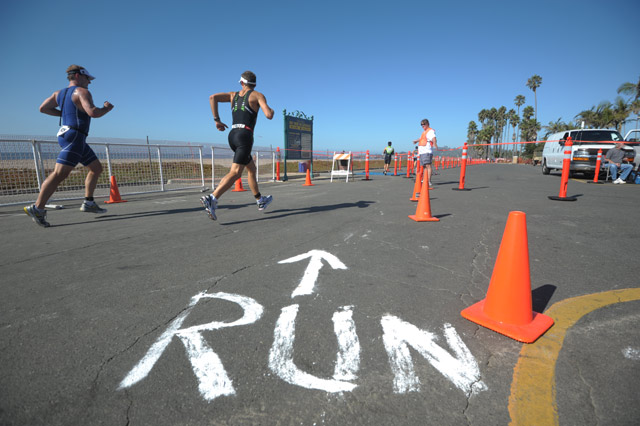 His favorite athlete is the German professional cyclist Jens Voigt, because "he is always fighting through the pain," and also because Voigt's performances in the grueling Tour de France indicate he is not caught up in the doping scandals of his sport. "He's human," Hoenig said. "One day he's in the top five, and the next he can barely make it to the finish line."
Hoenig felt the pain of cycling himself last year. "I was cruising home from work, hit a bump, lost control, and crashed face first," he said. "I had all the wounds. My lips were stitched together at Urgent Care. They said, 'We can't believe you did not lose any teeth.' My hands were scraped." This happened three weeks before the 2011 Santa Barbara Triathlon, but he still managed to finish seventh in the elite division of the sprint race.
Although he wants to run longer triathlons in the future, Hoenig is sticking to the sprint this year. He and his wife, Mareike, have a 10-month-old daughter, Julie, and he must keep his training in balance with work and family. He is ambitious about Sunday's race, though. "Santa Barbara is very competitive," he said. "My goal is top five."