Arts & Entertainment
Get to Know ESP
L.A.'s Dreamy New Three-Piece Makes Their Santa Barbara Debut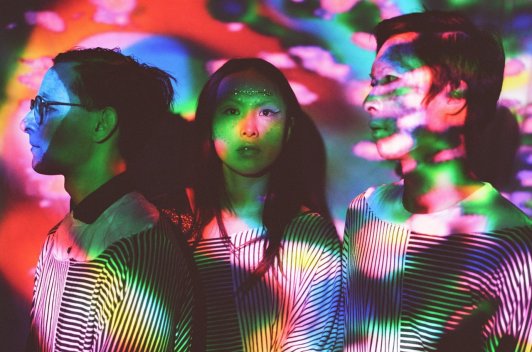 Meet ESP. The newly formed Los Angeles trio, made up of brother and sister Aska and Seiya Matsumiya and drummer Bobby Evans, has only been playing together for a year, but their vision is already surprisingly realized. On their debut self-titled EP, which they self-released earlier this week, tripped-out and dreamy synthesized soundscapes get layered with syncopated electronic drums and pulsing tribal beats. Add to that Aska's breathy vocals — a cross between Brigitte Bardot and an Asian Siouxsie Sioux — and you've got the makings for something special.
During ESP's June residency at The Echo, the band won over fans with their dazzling mix of lights, sounds, and otherworldly costuming. They also pulled in a couple of very special guests, including remix master Boom Bip and Red Hot Chili Peppers bassist Flea. This Thursday, ESP plays SOhO Restaurant & Music Club with A.A. Bondy. Below, Aska answers a few of our questions about the band, the live show, and the future.
How and when did the band form? Two of the members came from the same womb, and we recruited Bobby, our drummer. We've been playing together for about a year.
Were you guys involved in any other music projects prior to ESP? Bobby is in a rap group called Widows, and I am in a bowl band called UFO 2012. Seiya was in Berkeley studying music theory.
How would you describe your sound? Asian melodies, strong rhythms, and multicolored visuals.
Are there any artists you cite as influences? Yellow Magic Orchestra, 2 Live Crew, and Lee "Scratch" Perry.
What's up next? We are recording some electronic reggae songs inspired by summer heat and writing our full length. We also have a project with a professional surfer, Kassia Meador. We have been composing sound for her surf shorts and will be working on the movie soundtrack for them in the winter.
You guys recently completed a month-long residency at the Echo. How did it go? It was the best time EVER.
I heard Flea showed up to play with you guys. We did a Miami version of "Serenade," which is a song off of our EP, with Flea.
Can you describe the ESP live show? You have to come experience it yourself!
4 •1 •1:
ESP plays SOhO Restaurant & Music Club (1221 State St.) on Thursday, August 30, with A.A. Bondy and UFO 2012. The show starts at 8 p.m. For tickets, visit clubmercy.com. For more on ESP, visit espesp.net.