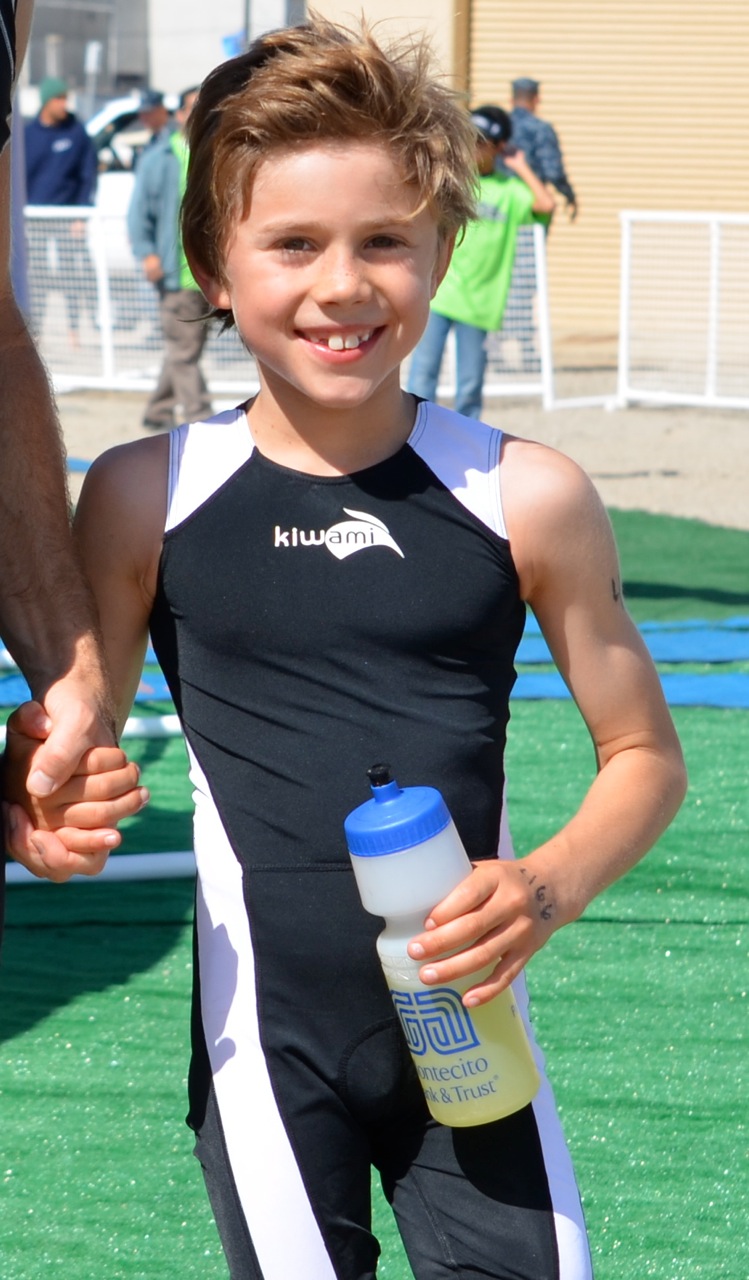 One of the youngest participants in this year's Santa Barbara Triathlon, taking place August 24-26, Jacob has set a fundraising goal of $4,000 for the organization – and is getting close to the mark.
Jacob first established a relationship with the Foodbank of Santa Barbara County earlier this year when he volunteered at the Foodbank warehouse. Jacob helped to fill backpacks with fruits, vegetables and other nutritious food for the nonprofit's BackPack Program that focuses on helping homeless and transient children get the nutrition they need during the weekend, when they may not be receiving meals elsewhere.
"As a long time community activist, the biggest challenge is to get young people involved. This young man's actions personify exactly the sort of selfless contributions to the welfare of the community that gives me hope for the future," says Ken Palley, a friend of the Mansbach family and environmental advocate.
With a kid's natural love for biking, running around and playing in the ocean, Jacob found this year's partnership between the Santa Barbara Triathlon and Foodbank of Santa Barbara County an ideal opportunity. He set two goals immediately: raising $4,000 for Foodbank – and crossing the finish line in the sprint course.
"Jacob's lust for life and his unbridled energy, excitement and enthusiasm to 'go big' are immediately obvious," says John Herzog, an avid triathlete and Ironman competitor. "I'm so impressed when kids do triathlon. It's a tough sport and requires a lot of character."
"We're inspired by Jacob, who has picked up the torch to help make our community a better place for us by fundraising for Foodbank of Santa Barbara County, this year's nonprofit recipient selected by the community," said Joe Coito, Founder of Santa Barbara Triathlon. "It is amazing how a few key individuals can make a difference and build momentum, like Jacob. He embodies what the Santa Barbara Triathlon is about."
Naturally athletic, Jacob's approach to preparing for the Triathlon comes naturally through his enjoyment of being active and outdoors with his parents and younger brother – swimming, biking, surfing, hiking, stand-up paddleboarding and more.
"The most important part is having a good time" says Jacob about the upcoming triathlon. "I also want to inspire kids my age to be interested in triathlon because it's super fun!" Jacob will be participating in the triathlon's Sprint Course, on August 26th.
"Jacob's energy is contagious and with it, he has been able to rally his community together to help Foodbank," said Jacob's mother, Jennifer. "What a great learning opportunity — that with focus and desire he can help others by being who he is — a passionate, enthusiastic kid."
With the help of family, friends, and the support of the community, Jacob has successfully raised over $3,500 of his $4,000 goal. To follow Jacob's progress and contribute to Foodbank, please click here.
Volunteers are also needed for the 2012 Santa Barbara Triathlon taking place this weekend. There are many exciting, supportive and fun positions available such as helping with registration, timing, course directions, packet stuffing, monitoring bike and swim courses, being at the finish line and more. Those interested in volunteering can register here and select "Foodbank" as the group affiliation when signing up.
About the Foodbank of Santa Barbara County
The Foodbank is a non-profit organization that works to eliminate hunger and food insecurity by distributing nutritious food, education, and other resources through its own programs and to a network of 290 member non-profit agencies and programs in Santa Barbara County. In 2011, the Foodbank distributed 11 million pounds of food, of which fully half was fresh produce. This served over 102,000 unduplicated people from Carpinteria to Santa Maria, an amazing 1 in 4 people. More information here.