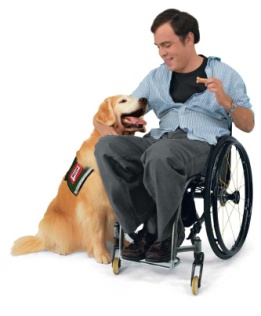 What
Canine Assistants is a non-profit organization that provides service dogs to people with various disabilities, at no cost to the recipient. It takes up to two years to train each dog with the cost and care of these specially trained dogs exceeding $20,000! The organization runs entirely on individual and corporate donations, such as those from the Milk-Bone® brand.
"Oliver is looking forward to his seizure response dog assisting him during and after his seizures by retrieving his medication and/or cell phone and obtaining help in case of an emergency," explains Helena, his mother.
Where
Ralphs
5170 Hollister Avenue
Goleta, CA 93111
(805) 692.0022
When
Thursday, September 13, 2012 11 a.m.
Why
The Milk-Bone® brand believes in giving back to the community and the "It's Good To Give" initiative is taking steps to help people with special needs by partnering them with a Canine Assistants service dog. Through the Milk-Bone® Canine Assistants program, the Milk-Bone® brand and their retail partners together have donated hundreds of service dogs nationwide over the past 14 years.
Oliver and his new best friend will go home together after they have both attended a two-week training camp at the Canine Assistants location in Alpharetta, GA.
The media and public are invited to attend the event, meet Oliver and his family, and learn more about service dogs and how they enhance the quality of life of those they serve.