News
Retrospectives that Pedal On
Howard Booth and I have been writing this Pedal On column for a year now. It has been a joy to cover so many different topics, all relating to the mighty bicycle. I'd like to thank my editor and the other supporters of this column over at The Santa Barbara Independent. I have also heard a lot of positive feedback from many of you readers. Thank you.
Looking back over the past year of articles, I noticed that a number of my favorite topics have undergone some interesting developments that make them worth revisiting. This round, I'd like to update you on the Open Streets movement and share another heartwarming story about a stolen bike. In future columns I'll do the same about on-street bike parking plans possibly coming to Santa Barbara, youth bike culture, and more.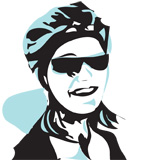 CICLAVIA: I continue to be ever more enthusiastic about open-streets events, which are becoming more popular around the world, including right here in Southern California. These events can be infinitely flexible depending on the needs of the community hosting them, but most events close down sections of urban centers to cars for a day, and open them up to bikers, skaters, walkers, revelers — in short, to people.
I've written two articles on the topic: "Ciclovia Inspires Active Community" and "Ten-Mile Block Party." The latter article was my firsthand account of a trip that a crew of us S.B.-bikies took to Los Angeles to experience CicLAvia on our own two wheels.
The next CicLAvia in downtown Los Angeles will be on Sunday, October 7, just a few short weeks away. A group of Santa Barbara biking enthusiasts are heading down to check out the event, and you, dear reader, can join us.
SBCAG Traffic Solutions, the Santa Barbara Bicycle Coalition, and COAST are planning a day-long field trip to L.A. to participate in the event. Santa Barbara Airbus has generously sponsored a bus to take us to L.A., with bikes, to check out the 10-mile block party. There will also be the opportunity to meet with event organizers, for those interested, to learn more about how to bring such an event to a community like Santa Barbara.
The details about the trip, as well as the link to register, are all here. See you on the bus!
BIKE THIEVES BEWARE: As cycling becomes more popular, it makes sense that bike theft would also be on the rise. Although I can't cite any hard numbers to support this correlation, there do seem to be ever-more notices of stolen bikes from friends on Facebook and from fellow riders posting flyers at our local bike shops and at Bici Centro. This is a sad trend for those of us who love our bikes dearly, especially when we depend on them for transportation.
I thought my article "My Bike Was Stolen, And I Got It Back" was just about the only stolen-bike story with a happy ending. Certainly, it's rare for a bike to be returned to its rightful owner but, as Christine Bourgeois's story will show, it does happen — especially when the owner is well-connected in her community and knows some important protocols. For those of you who don't know her, Christine is the education coordinator for the Santa Barbara Bicycle Coalition and a tireless leader in Santa Barbara's bicycle world.
She recently shared her story with me via email:
This summer, my Jamis bike was stolen, in the middle of the day, in downtown Santa Barbara. It was taken during a COAST (Coalition for Sustainable Transportation) meeting. The main topic of the meeting: bike sharing, with Lee Jones from Trek Bicycles!
I went immediately to the police station and provided a detailed description of my bike. Unfortunately, as is the case with many of us who get our bikes stolen, I didn't have the serial number. I took a bus home and wrote Facebook postings with a photo of my bike to my friends and biking groups in town, imploring folks to keep their eyes open and to let me know if anyone saw it around town. I was devastated to lose my main mode of transportation, and a bundle of money, and I feared my bike would be taken apart to sell the different components. But I kept hoping I might get it back because it is a unique bike, and many people around town would be able to recognize it as mine.
My friends and colleagues came to the rescue. Karen Blakeman at Bici Centro had a Craigslist alert on her phone for any Jamis bike being sold in Santa Barbara, Ventura, or San Luis Obispo counties. Thomas Matthias brought me a Peugeot that he built. I was back in business, but I still missed my Jamis.
Five days later, another friend, Aubrey Spilde (who has a twin white Jamis like mine) called from Trader Joe's on Milpas. She was pretty sure that the Jamis locked up in front of the store (the frog speedplay pedals still on it) was mine! She also called the police. The police and I arrived at the same time that the guy (let's call him "Dude") was unlocking it. Dude had bought my bike for $100 along the beach, a couple of hours after it had been stolen. Dude played stupid and ignorant (didn't know anything about bikes but used the term "truing a wheel"). Police did a great job. They didn't arrest him but told him: "Don't buy nice, 'cheap' stuff off the street, and help us find the crook." It seemed that the police and Dude knew the thief. Dude had traded his mountain bike for mine and bargained the thief down from $150 to $100. It seems like there was a bike operation going on down on the beach (renting stolen bikes to tourists, selling "cheap" bikes) and the police seemed aware of it. The police officer was going to call Dude back to the station and show him photos to identify the thief. I hope they did find him.
In reflecting on my roller-coaster week, I feel fortunate to live in such a wonderful community of people that watch out for each other. The two lessons I learned from this experience: I use a U lock and I have the serial number of my bikes on file.
The part of Christine's story I find most heartening is how a group of friends were on the lookout for her bike, and that is how she got it back. My stolen bike story also taught me the importance of registering stolen bikes with the police and keeping serial numbers on file at home. Howard wrote a great follow-up column, "How Not to Get Your Bike Stolen," that goes into the nitty-gritty of how to secure your bike in a way that will keep it safe. With this great bag of tricks, I hope we can all work together to make bikes harder to steal, and easier to get back.
It is rewarding to write about bicycling in a regular column because the topic seems endlessly diverse. It is gratifying that the topics we are covering often merit follow-up columns. The world of bicycles is dynamic. Bicycles are at the heart of building more livable communities and bringing us closer together.