News
Canines Need Home
October Is Adopt a Shelter Dog Month
October is national Adopt-a-Shelter-Dog month, and Santa Barbara County Animal Services will be celebrating by offering 20 percent off adoption fees all month at all three of their county shelters — Santa Barbara, Lompoc, and Santa Maria. When you adopt from Animal Services, the adoption fee includes all applicable vaccinations, a complimentary health exam, spay or neuter, as well as a free bag of Science Diet dog food.
Santa Barbara County Animal Services will be holding a special showing of adoptable dogs on October 6, 11 a.m.-2 p.m. at Valley Pets, 225 McMurray Road, Suite G, in Buellton. The dogs will be available for adoption, along with merchandise for sale and fun for the entire family!
If you are interested in adopting a dog, visit one of the three Santa Barbara County Animal Services locations: the Santa Maria Animal Center is located at 548 West Foster Road in Santa Maria; the Santa Barbara Shelter is located at 5473 Overpass Road in Santa Barbara; and the Lompoc Animal Shelter is at 1501 West Central Avenue in Lompoc. The shelters are open for adoptions Monday-Friday, from 10 a.m.-4:30 p.m., and Saturdays, 10 a.m.-3:30 p.m.
If you've decided that you and your family are ready for a dog, there are some things to consider before you adopt:
• Make sure you are willing to make a 10-15 year commitment to the dog. This means if you change jobs, add to your family, or move out of state, your dog stays with you.
• Decide who will be the primary caretaker of the dog. Even though all the family members should share in doggie duties, there should always be one adult who is ultimately responsible for the dog. Make sure this is agreed upon before adopting.
• Make sure all the family members are present when a dog is selected. This experience should be shared with the whole family and shouldn't be a surprise to anyone. You should especially bring young children to ensure compatibility.
• Make sure you are able to provide the essentials for your dog. For tips on getting what your dog needs, read a previous Pet Chat column.
According to the American Society for the Prevention of Cruelty to Animals, approximately 5 million to 7 million companion animals enter animal shelters nationwide every year, and approximately 3 million to 4 million are euthanized (60 percent of dogs and 70 percent of cats). Adopt a Shelter Dog Month helps focus attention on the pet population problem we face in this country. Help make a dent in this problem and adopt a dog today! Don't forget, if you don't see what you're looking for at your local animal shelter, you can still rescue an animal by going through www.petfinder.com.
ANNOUNCEMENTS
DAWG Fundraiser
The Santa Barbara Dog Adoption and Welfare Group (DAWG) will be holding its annual event to promote adoption and education on Saturday, October 13, 11 a.m.-4 p.m. Year-round, DAWG provides free spay/neuter, free vaccinations, and free Home Again microchips to pit bulls and pit bull mixes. DAWG is a no-kill nonprofit dog rescue/adoption organization located at 5480 Overpass Road in Goleta. The public is invited to stop by and look around every day from 9 a.m.-4 p.m. DAWG relies on volunteers to take care of all the dogs, so if you love dogs, think about volunteering. Students are able to fulfill their volunteer community service requirement by volunteering. Volunteer orientations are generally held every other Saturday at 10 a.m. Please contact DAWG for the next meeting. For more information, call (805) 681-0561. You can view adoptable dogs at www.sbdawg.com.
Blessing of the Animals Saturday
The blessing of the animals event will be at the Santa Barbara Mission Saturday, October 6, from 10 a.m.-11 a.m. This annual event, which celebrates the Feast of St. Francis of Assisi, will be held on the lawn in front of the church at 2201 Laguna Street, Santa Barbara. Nonhuman guests have included horses, fish, pigs, rabbits, gerbils, parrots, snakes, lizards, a meerkat, and a variety of cats and dogs. For more information, call (805) 682-4151 or (805) 682-4713.
Adoptable Pet of the Week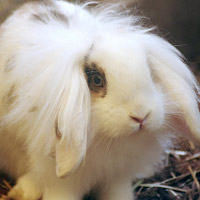 Adonis is a beautiful American lop bunny who is already neutered and housetrained! He has a very long coat, which will need frequent brushing. If you are interested in seeing Adonis, hop on over to BUNS today!
Bunnies Urgently Needing Shelter (BUNS) is a volunteer organization that cares for abandoned rabbits. BUNS is located at the Santa Barbara County Animal Shelter, 5473 Overpass Road, Santa Barbara California. BUNS works to find bunnies permanent homes and educates the public on caring for a companion rabbit. You can call the County Shelter at (805) 681-5285 or call BUNS at (805) 683-0521 and leave a message for someone to call you back. For more information, visit www.bunssb.org
Lisa Acho Remorenko is executive director of Animal Adoption Solutions, www.animaladoptionsolutions.com