Sports
Serving It Up
San Marcos Girls Volleyball Defeat S.B. High for the First Time in Seven Years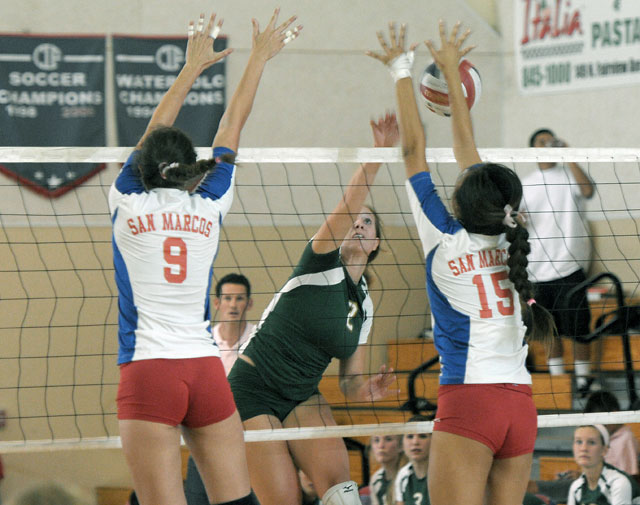 Cinderella's hour finally arrived in the steamy ballroom known as the Thunderhut at San Marcos High School last Thursday at 9:28 p.m. Carly Yarnell fit the glass slipper — her well-placed spike nestling to the floor on the other side of the net — and the San Marcos Royals defeated the Santa Barbara Dons in a varsity girls volleyball match.
"That hasn't happened in a while," Yarnell said, and it's understandable that she could not be more precise. It had been seven years since the Royals' last victory over the Dons. They were the odd girls out in recent years, as Dos Pueblos and Santa Barbara were the pretty stepsisters battling it out for the Channel League championship, and San Marcos was scrubbing the floors.
Mirroring the NFL, parity has come to the league. San Marcos and Dos Pueblos, both 5-2, are tied for first. Santa Barbara sits in third at 4-3. The Royals are in the fast lane, as they close the regular season at last-place Buena next Tuesday (Oct. 30), while the Dons will visit Dos Pueblos.
All three area schools will be playing Friday and Saturday (Oct. 26-27) in the Santa Barbara Tournament of Champions, which has attracted nationally ranked teams from San Diego to the Bay Area. Matches will be played all day at Santa Barbara's J.R. Richards Gym, with some consolation matches taking place at Dos Pueblos.
San Marcos coach Erica Downing knew her team had the talent to contend for the title this year. The players had developed skills in club volleyball, but they were young and lacked experience in pressure-cooker high school matches. They passed their first Channel League test with flying colors, sweeping Dos Pueblos on their home floor, but their immaturity showed in two road matches. They suffered a letdown defeat at Ventura two days after the DP win, and they were swept by Santa Barbara on a night their senior star, Kristen Berlo, was sidelined by an injury.
"They believe they want to win," Downing said of her team. "Their biggest obstacle is believing they can win." The Royals lost their early October match against the Dons by scores of 25-23, 27-25, and 25-13. They squandered four set points in the second game. The Dons got some inspiration from their assistant coach, Jane Hinkel. She was a sophomore on the San Marcos team that knocked off Santa Barbara in 2005, and then she transferred schools. "We haven't lost to San Marcos since I transferred," Hinkel said. "I said, 'Come on, guys, you can't lose now.'"
"Playing in their gym is hard," Downing said. "The great thing is that we get to play them again. It will be different at our place."
After that night, Dos Pueblos played a pair of five-set barnburners against the rival schools, winning at Santa Barbara and losing to San Marcos. And so the stage was set for the Royals to shoot for the top of the league last Thursday.
The tension was palpable in the Thunderhut moments before the match. Courtside announcer Matthew Berlo waxed eloquent in introducing the home team. Setter Andie O'Donnell: "She always sets the oven for maximum heat." Yarnell: "She'll stuff your shot like grandma stuffs the Thanksgiving turkey." Kristen Berlo (Matt's younger sister): "Her spikes are so hot they start fires in the mountains." Freshman hitter Chloe Allen: "If you're not careful, she'll spike your drink."
The Berlos moved to Santa Barbara from Florida two years ago. Kristen, a 6′1″ powerhouse of an athlete, had already committed to play softball at UCSB. She intends to play volleyball, as well, for the Gauchos. Her brother Matt is a pilot at Spitfire Aviation. "I'd come to watch the games, and I thought I'd get involved," he said. If he becomes a commercial airline pilot, passengers can expect to be entertained.
After all the pre-match buildup, San Marcos fell flat in the first game, and the Dons went one-up, 25-19. Then the Royals served notice that this night would indeed be different. Anika Wilson served them to a 5-0 lead, and they cruised to a 25-14 victory. The match was even.
The third set was a doozy. San Marcos sophomore Emily Allen ripped several crosscourt kills as the Royals went up 16-10. Some long rallies ensued, and the Dons closed the gap. Trailing 21-23, Santa Barbara's steady senior Emma Mascari went for broke, but her serve to the corner was long, and San Marcos had set point. But the Dons came back with a block by Caroline Anderson and two kills by Sydney Riegert, and it was 24-24. The Royals wilted a bit under the pressure, and Santa Barbara closed out a 27-25 win.
San Marcos responded just like the San Francisco Giants would in the National League Championship Series. The Royals jumped out to a 6-0 lead in the fourth game, and when Santa Barbara came charging back again to 22-20, they went to their big girls, Berlo and junior Katie Kim. The pair's hitting and blocking made the score 25-22. to eventhe match.
Yarnell's serving got the Royals off to a 4-0 start in the deciding fifth game, and they kept the pedal to the metal. With some crushing hits by Berlo and Kim, they closed out their long-awaited triumph, 15-9. "Are we at Burger King?" Matt Berlo announced, "'cause that was a whopper."
Santa Barbara coach John Gannon said the Royals succeeded in playing to their strengths. "Our game plan was to put pressure on them," he said. "But it came down to our lack of physicality. When they pass the ball to the net, they're too physical for us."
Dos Pueblos is still in the running for its fifth consecutive Channel League crown. The Chargers kept pace with San Marcos by winning a marathon match at Ventura, 23-25, 25-23, 25-16, 19-25, and 16-14. After previous wins over Santa Barbara and Ventura, DP's Colleen O'Connor was named the Santa Barbara Athletic Round Table Athlete of the Week.
The Tournament of Champions will be a step up in competition for the area teams. The favorites include Torrey Pines, Marymount, and Archbishop Mitty, all of them ranked in the state's top five.
COLLEGE VOLLEYBALL: UCSB is in the middle of the pack in the Big West Conference. The Gauchos play host to Cal Poly at the Thunderdome on Saturday night (Oct. 27). Freshman defender Taylor Formico tied a school record with 41 digs in a victory over UC Riverside last weekend. Junior Katey Thompson has been hitting up a storm for the Gauchos. … Westmont College is ranked No. 14 in the NAIA with a 21-5 overall record, but in the tough Golden State Athletic Conference, the Warriors are 4-4. … SBCC ranked 16th among California community colleges. The Vaqueros are vying for a perfect record in the Western State Conference. They will host Cuesta on Friday night at the Sports Pavilion, where they have won 34 of their last 38 matches.
FOOTBALL FRENZY: Santa Barbara High and Dos Pueblos have some work to do before their November 2 Channel League football showdown. They have home games Friday night, the Dons against Ventura, and the Chargers against Buena. … It is showdown time for Bishop Diego. The No. 2-ranked Cardinals (CIF Northwest Division) face No. 1 Nordhoff on Saturday night at La Playa Stadium. Both teams are 8-0. … In football of another sort, UCSB's soccer team faces Stanford on Friday night at Harder Stadium. The Gauchos are trying to bounce back from last week's devastating 2-1 overtime loss to Cal Poly in front of 13,467 fans, the largest college attendance of the year.