Living
The Quiet of Qigong
Movement and Meditation as Medicine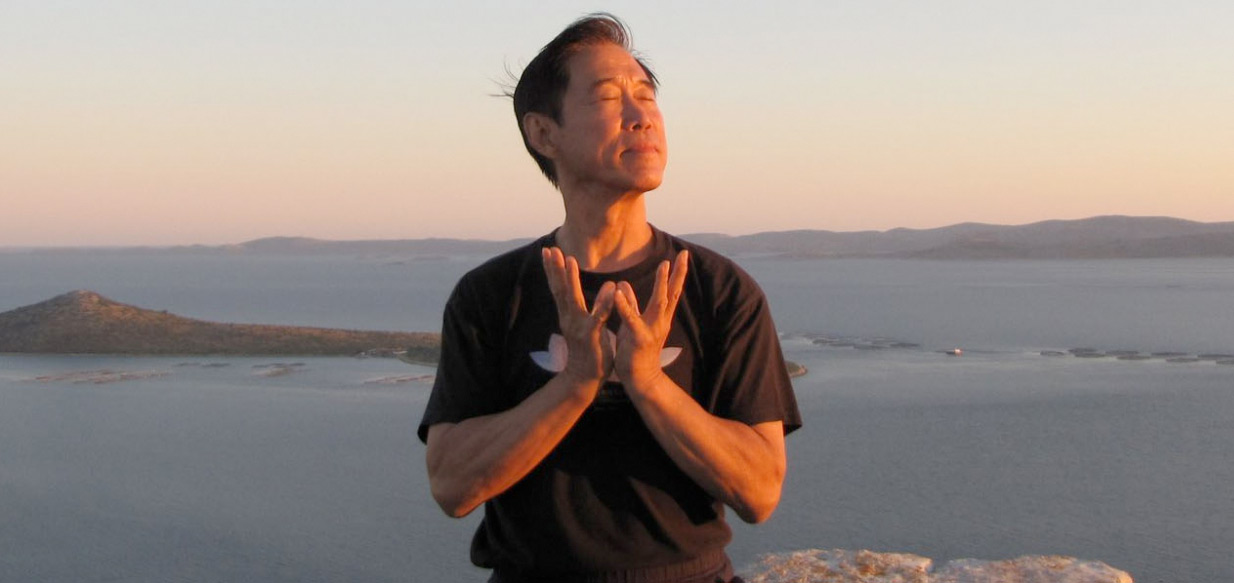 I have spent my life in pursuit of being the best I could be: Harvard College, Harvard Medical School, Massachusetts General Hospital, and National Institutes of Health. Over the years, my journey has taken me from Boston to Bethesda, from Bali to Burning Man.
The path to healing was through evidence-based knowledge with a tincture of wisdom and experience. I came to Santa Barbara to use the best-trained mind Western medicine could produce to care for people with various infectious diseases. And then along came AIDS. It was seat-of-the-pants medicine with long hours, suffering patients, and distraught loved ones. There was no instruction manual included.
Western medicine clearly did not have the answer. There was no magic bullet to stop the inexorable progression to death. There was no cure. And yet, some found a peace that was beyond understanding. Desperation drove patients to complementary therapies. The benefits were surprising, particularly to me. Quality of life and troubling symptomatology both improved from treatments and potions and remedies beyond my comprehension. I could not wrap my Western-trained left brain around these observations.
I knew that there is an essence of life that is unique to each of us and yet the same in each of us. I saw it in the eyes of a newborn baby. I saw it in the eyes of the men dying of AIDS when they had surrendered to their destiny. I so longed for a cure and, in the process, began to appreciate that it was really about healing, quality, and compassion. Pieces of the puzzle could be found in the needles of the acupuncturist, as well as the prayers and meditations of the devout. What is this energy that is accessed by such disparate means yet is all the same?
My patients have been my greatest teachers. One elderly Indian woman dying of cancer shared her practice of early-morning meditation, and I incorporated that into my routine. In Bali, we prayed continuously. From Hawai'i, I learned H'oponopono, the practice of "I'm sorry, please forgive me, thank you, I love you." I tried shamanism, neurofeedback, acupuncture, channeling, psychics, and medical intuitives. I would experience a glimpse of an open heart, but with Monday morning and the return to my day job, the feeling was not sustained, and it would fade away.
A few weeks ago, another patient suggested I try something called qigong. He explained how it helped his meditation practice as a Buddhist. A few days later, a friend told me that a master teacher of qigong, Li Junfeng, was giving a seminar in Utah. I just happen to have a screen saver that reads, "Expect Synchronicity." So off I went to Moab.
Qigong, I learned, is an ancient practice of movement and meditation that helps heal the body, improve flexibility, balance the emotions, and lift the spirit. The practice involves simple movements and coordinated breathing. Compared to Master Li, my efforts were crude and uncoordinated, but I was the only one comparing. My judging mind kept interrupting, but the group rhythm, movement, and energy encouraged and supported my efforts. I felt myself letting go. Step by step, the movements allowed me to feel an energy that filled the room. The Chinese call it chi, but it felt like love to me.
Watching Master Li do his practice was the integration of ballet, poetry, beauty, and grace. Tears of joy welled in my eyes. His form of qigong, Sheng Zhen Gong, is unique. Sheng Zhen means unconditional love, and somehow these seemingly simple movements produce a profound peace, a feeling of joy, healing, and wholeness. The weekend was a sacred experience for me in that it took me out of my head and into my heart. My intention is to make this a way of life.
Master Li will be in Santa Barbara next weekend at Pacifica Graduate Institute, at the Ladera Lane campus. So will I.
4•1•1
Workshops take place Saturday, November 3, 9 a.m.-5 p.m., and Sunday, November 4, 9:30 a.m.-5 p.m., at the Pacifica Graduate Institute (801 Ladera Ln.). For more info on this event, call (805) 957-1773 or visit shengzhensb.com. Preregistration is required.