News
Sprint to the Finish
With Election Day Fast Approaching, Feinstein and Boehner Visit S.B. as Votes and Money Quickly Roll In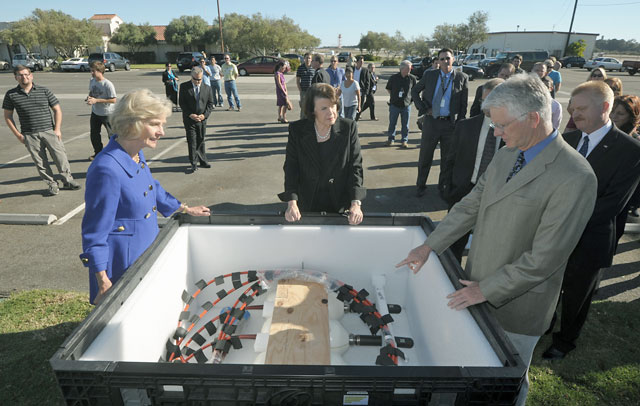 With a little more than a week to go until Election Day, both campaigns for the 24th Congressional District are picking up speed in a race to the finish line with big names and big money making their way to the district.
Monday, women's rights activist Sandra Fluke was in town for a fundraiser for incumbent Representative Lois Capps, while Congressmen Pete Sessions and Greg Walden, chair and deputy chair, respectively, of the National Republican Congressional Committee, came to visit in support of her challenger, former lieutenant governor Abel Maldonado. A sold-out Capps fundraiser Friday evening featured Senator Dianne Feinstein, who herself is an incumbent but in no danger of losing reelection. Victoria Kennedy, the widow of senator Ted Kennedy, will be at a Capps fundraiser in Avila Beach on November 2, and social activist Dolores Huerta will be campaigning Saturday with Capps.
Meanwhile, Speaker of the House John Boehner will be on hand at a Maldonado fundraiser Monday evening at the La Cumbre Country Club in Hope Ranch. It's his second stop in Santa Barbara to fundraise on behalf of Maldonado. His last was in August, part of a four-week, $4 million fundraising effort on behalf of Republican candidates.
Speaking of Boehner, his unofficial official Super PAC, the Congressional Leadership Fund (CLF), dumped another $200,000 ad buy into the district with a commercial released Friday called "Twinkle. Set to the tune of "Twinkle, Twinkle Little Star" and showing in Spanish and English versions, the ad pins part of the nation's debt on Capps's voting. "Lois Capps has supported trillions in debt that is being passed on to future generations," said CLF spokesperson Brook Hougesen. "We have to stop Capps to stop the spending."
CLF is also funding a mailer to 50,000 "likely swing voters" throughout the district. In its filing with the Federal Election Commission Thursday, CLF reported it received $2.5 million from Chevron — 80 percent of the $3.1 million it received over a two-and-a-half-week span. The $500,000 CLF has invested in the race is part of the more than $3 million in outside funding spent on the race so far.
Of that $3 million, $2.39 million has been spent in support of Maldonado or opposing Capps, while $605,479 has been spent supporting Capps or opposing Maldonado. According to Bloomberg, residents in the 24th have seen 8,580 television spots in the last 30 days, or 286 a day. That's the second-most out of all 435 Congressional districts throughout the country, according to the report.
Individually, Capps once again outraised Maldonado in the latest campaign filings, which cover October 1 through October 17. But more important than that, Maldonado reported just $102,387 left in his coffers with three weeks to go in the campaign, while Capps had $885,226. In total, Capps has raised $2.9 million while Maldonado has brought in $1.6 million.
"Mr. Maldonado is running out of money, out of organization, out of ideas, and now running out of time," said Capps spokesperson Jeff Millman, explaining his campaign has noted an emphasis on television advertising by outside groups. "The Super PACs and Mr. Maldonado's campaign are not competing with our extensive grassroots field program. We have opened six field offices, have registered many thousands of new voters, and have hundreds of volunteers working to get out the vote. We've been running the same grassroots program since 1994 and have improved on it in every election. Central Coast voters can tell that Lois and our campaign have an extensive knowledge of the important local issues in every community in the district."
Said Maldonado spokesperson Kurt Bardella: "Abel is incredibly grateful and humbled by the amount of support he has received throughout his campaign, and he has the resources he needs to communicate his message of creating jobs and growing the economy to the people of the Central Coast. Congresswoman Capps has enjoyed the advantages that come with being a Washington incumbent of 14 years, including Democrat-controlled Super PACs spending hundreds of thousands of dollars in TV ads, yet for all of these resources, Lois Capps has yet to communicate what she'll do to address the real issues people care about, like creating jobs and growing the economy."
With voting by mail two weeks along, many of those ads will be seen by people who have already cast their ballots. According to elections offices in San Luis Obispo, Santa Barbara, and Ventura counties, 68,315 vote-by-mail ballots had been returned as of Friday afternoon. Of those, 28,245 were from registered Republicans; 26,758 from registered Democrats; and 10,921 from people with no registered party preference, a group that tends to lean Dem in California. More than 11,000 new voters were registered out at UCSB and Isla Vista, which also tend to be Dem strongholds.
In the midst of it all, Maldonado released a plan with eight specific initiatives he says would remove government barriers to job creation. The timing is curious, just two weeks prior to Election Day, while Maldonado has been a candidate for 20 months. "Shouldn't the question be: Lois Capps has been in Congress for 14 years and is the incumbent, where's her plan?" Bardella said. "What are her ideas? Isn't that what people would be interested in hearing rather than week after week of attacks against Abel Maldonado and his family?"
Here's what Maldonado is proposing:
— A bill repealing sequestration.
— A bill to reduce taxes on small business by more than $45 billion over 10 years.
— Legislation that would "provide a one-year extension of all current individual tax rates, as well as the 15 percent top rate on capital gains and dividends. The proposal would also extend for one year the estate tax rates at their current levels, the $1,000 child tax credit, marriage penalty relief, and certain educational tax credits."
— A bill to repeal a tax in the Affordable Healthcare Act on medical device manufacturers.
— Legislation that would "create and modify programs that provide employment and training services to veterans and service members separating from active duty."
— A bill requiring the economic impact of regulations be known prior to implementation.
— A bill putting a freeze on all regulations deemed "economically significant" until unemployment gets below 6 percent.
— A bill putting a sunset on all new regulations not "specifically authorized or enumerated by Congress."
Millman said the Capps campaign had "not closely examined Mr. Maldonado's so-called plan. … However, we've noticed that one of his 'new' ideas has already become law, and most of the others have been proposed by the same right-wing ideologues that are raising money for Mr. Maldonado and have opposed President Obama's and Lois's plans to create jobs, help the middle class, protect Medicare and make college more affordable."
Prior to the Friday evening fundraiser, Capps and Feinstein took a tour of L-3 MariPro, a high-tech firm that makes undersea cable sensor systems out of Goleta. After having a look at some gadgetry, the two spoke to a small gathering of employees. "I've always been impressed with companies like MariPro," Capps said. "They're so critical to our local economy." The company was recently awarded a multi-year contract with the U.S. Navy to create infrastructure for an underwater warfare testing range.
Feinstein chose to focus her comments on Capps. "Lois, I think, is one of the best we have in the U.S. House of Representatives," Feinstein said. "She has served this district very well, day after day and year after year." After their comments, the two took a tour of the facility that was closed to the media.