News
Apps with Which to Pedal On
Top Choices
What did we do in the Dark Ages before bicycle computers and phone apps changed the way we ride? I don't know about you, but I tracked my rides in spiral-bound notebooks, relied on street maps designed for motorists, and asked my local bike mechanic for advice or went to the library to copy pages from bicycle repair manuals.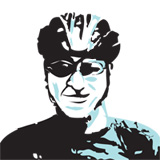 I'm going to confess right here and now that Strava and BikeMap are the only bicycle apps I'm using regularly. I ride several thousand miles each year, and I've spent time playing with and exploring others, but they haven't found their way to the home screen on my phone. Here are my thoughts on some cycling apps.
Bike Repair HD: When you got on your bike this morning to ride to UCSB, were the gears clanking and not shifting smoothly? Are your brakes rubbing on the front wheel or making loud squealing noises every time you stop at a crosswalk on State Street? You're late for Bike Moves – front tire's flat and you have no idea what to do? Bike Repair HD is a user-friendly app for phone or tablet that takes you step by step through many basic bike repairs. At your fingertips are 73 of the most common bike repair problems with over 250 photo illustrations.
Click on the problem area – wheels, rear derailleur, chain, or handlebar/headset – and in plain English (no jargon!) you'll find short, simple instructions that will guide you through diagnosis and repair. With some simple tools (check out my previous column Tools: Here Are the Ones You Need) you'll be back on your trusty two-wheeler in no time at all. Other similar repair apps include Bike Doctor and Emergency Bike Repair.
Bike Gears: This app isn't designed for the weekend cyclist. Bike Gears is for the serious road warrior or dedicated bicycle builder. You can use it to quickly calculate gear ratios, gear inches, or development and gain ratios based on your bike's measurements. The app has over 200 preset tire sizes, and it also lets you enter your own custom tire size for personalized measurements.
Designed by a cyclist, for cyclists, this is the app if you're building a new bike from scratch. You can test out possible gearing configurations and get it right the first time. With Bicycle Gears you can find equivalent gearing configurations to reuse components you already have or even to save weight by using smaller gears. If you're doing some early holiday shopping, Bicycle Gears is perfect for bike mechanics, bike builders, coaches, and serious riders! You can also check out Bicycle Gear Head.
Strava: A San Francisco start-up, Strava can best be described as a GPS-enabled social network for cyclists and runners, allowing you to add other riders as friends and track their progress as well as your own. Strava does this by tracking segments of your ride such as a favorite local hill. You can then compare your performance riding up Gibraltar or San Marcos Pass with that of everyone else who has ridden the same section. Every time you upload a ride, Strava automatically checks if you included any segments and then lets you know how you rank – showing your position on the segment's leader board. Reach the top of the table and you get a King or Queen of the Mountain award and a natty little gold crown on your upload. A number of professional riders have signed up, so if your club run takes you along one of their training routes, you can even compare yourself against the big boys. Strava provides basic GPS tracking, speed or route and distance data, and is free.
iBiker: It rocks to be able to support local businesses! Founded in Santa Barbara, Digifit, the first app developer to bring heart-rate monitoring to the iPhone, now features a suite of apps that can track your cardio, running, and cycling workouts. ibike is a free download, but you'll have to buy additional hardware to turn your phone into a full-feature cycling/fitness monitor. Digifit has a handlebar-mounted case for your phone and plug-in sensors available so that you can track your cardio workouts using, for example, a heart-monitor belt, speed and cadence sensor, or power meter. Digifit can also use GPS to map your routes and provide pace, distance, and speed without sensors.
Cycle Tracker Pro: There are a lot of apps that allow you to track data from your daily rides. I haven't looked at all of them, so I can't swear that this is the best, but it has all the basic features and is intuitive to use. Whether you are cycling for leisure or training for a race, Cycle Tracker Pro will track your route and help boost your performance.
As you ride, you can see your time, pace, speed, calories burned, training intervals, and splits; view maps in real time; take photos; listen to music; and receive audio feedback. After your ride, you can view your history with stats, route map, splits, and cumulative graphs for distance and calories burned. You can also share photos and share your rides with friends on the Cycle Tracker Pro website. Other similar apps include: The Bike Computer, Cyclemeter GPS Bike Computer for Road & Mountain Biking, and Cycastic GPS.
BikeMap: A lot of my daily riding is around town but I'm always looking for new local cycling routes. If you are bored with the same old weekend ride down the coast to Carpinteria, then BikeMap is perfect for you. Use this free app to search for rides near your current location or choose from more than 600,000 biking routes worldwide. The app shows your current location and route. You can search for a new ride by entering a city or place, using your current location (GPS), or entering a name of another Bikemap user.
There are lots of other cycling apps. Click on "Add Comment" and tell us about some of your favorites. If you're already making your gift lists, some of these apps may be perfect for the cyclist in your life. Or drop a hint!