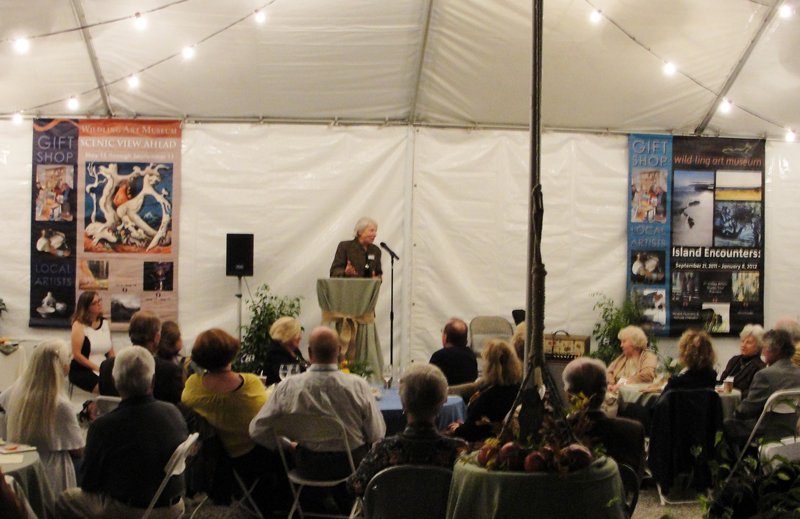 The Wildling Museum proudly presented its Wilderness Spirit Award to its founder Patti Jacquemain at a special event Saturday evening in Los Olivos. Santa Barbara resident and artist Patti Jacquemain initially conceived of a museum that would use art to celebrate wilderness and raise awareness of the need to conserve natural spaces back in 1997. Jacquemain enlisted the help of friends and others sympathetic to her idea and soon the museum was born. The Wildling first opened its doors in 2000 in the Keenan Hartley House behind the historic Mattei's Tavern and is currently located at 2928 San Marcos Avenue next to Corner House Coffee.
Since its founding the Wildling has hosted over forty exhibitions of historic and contemporary artists from all over the United States. The museum also organizes a wide range of programming for all ages. In its 12 years as a museum thousands have visited and been enriched by its programming.
At the event, Patti shared many stories of the evolution of the museum. Former museum director Penny Knowles was also in attendance and shared her deep admiration for Patti's ambitious goals for the museum and her own life. "It was a beautiful evening," said executive director Stacey Otte, "and the affection that our supporters have for Patti was very much in evidence."
The Wildling Museum board and staff felt that Patti was quite deserving of the award she conceived of many years ago, not only for her devotion to the museum but because of her mosaic and wood cut block prints that celebrate the "wildlings" and wild places in nature she deeply loves. In addition, Jacquemain is an active resident and participates in many nonprofits for the betterment of her community. The Wildling Museum Board has also honored Jacquemain with a director emeritus status for the board and welcomes her ongoing participation in the museum as it plans its relocation to Solvang this winter.
Past award winners include artist Ray Strong, Ansel Adams (bestowed posthumously), The Land Trust for Santa Barbara County, Bob Kuhn, Dick Smith, Fred and Nancy Emerson, Peter C. Howorth, and environmental writer Gretel Ehrlich.
The Wildling Museum offers visitors a unique perspective on the importance of preserving our natural heritage. Through the eyes of artists, education, and field experiences, guests can renew their relationship with the wilderness and understand its fragile nature – hopefully leaving more committed toward ensuring those spaces remain for future generations. Normal hours are Wednesday through Sunday, 11:00 a.m.-5:00 p.m., the Museum offers 3 major exhibitions each year, 8-10 smaller exhibitions, a gift shop, a variety of programming, and Saturday morning children's craft classes. For more information, please visit 2928 San Marcos Avenue, Los Olivos, or wildlingmuseum.org.