News
Veteran Has His Day
Student Trustee Joel Negroni Speaks Up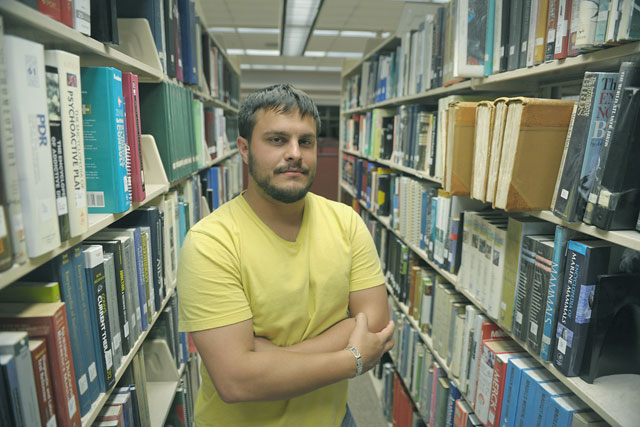 Comparing the spitballs of venom flying back and forth at City College board meetings to the crossfire in a combat zone would be disrespectful to Joel Negroni's military service. It would also belie the fact that the 26-year-old Marine veteran can't really talk about much of his service, many of his missions being confidential. What he can say is that before finding himself as the student trustee at SBCC, he traveled to Guantánamo Bay, Indonesia, Malaysia, Guam, the Philippines, Japan, and Burma, some of that for tsunami relief. Before joining the Marines, the Puerto Rico native lived in Massachusetts and Florida before finishing high school in P.R.
Three and a half years ago, Negroni turned in his boots and fatigues for the scholarly life. That was far from a foregone conclusion, though. Negroni originally figured he'd spend his whole career in the military. A participant in ROTC, he decided at the age of 14 to join the Marines, and then followed through as soon as humanly possible, enlisting a week short of his 18th birthday. But when his contract ended, he decided to take a break. He'd spent so much time learning to be a warrior, he felt it was time to learn how to be a healer. Now he aspires to become a doctor, an idea that first appealed to him when he provided security for a medical detail.
Negroni was last stationed at Camp Pendleton and lived in the San Diego area for a while after discharge, but he moved to Santa Barbara when a buddy promised to hook him up with a job for the Transportation Security Administration (TSA) at the airport. At the last minute, however, the TSA declined to hire him, Negroni said, because they were wary of a leg injury ​— ​doctors surmise nerve damage ​— ​that has dogged him since basic training. He had already enrolled at Santa Barbara City College (SBCC), however, so he packed whatever he could fit in his motorcycle's saddlebags and headed north. SBCC's advisor for veterans, Magdalena Torres, found him a couch to crash on while he established his footing in the area. The college estimates that 400 veteran students attend and that 180 take advantage of benefits such as counseling and priority registration.
Majoring in business administration and currently working on applications to four-year colleges, Negroni, a natural leader, said he considered running for student government president or student trustee after serving as a student senator. He settled on the trustee position because he wanted to work on a team, an experience that he hopes will pay dividends. There are many reasons one would be hesitant to take on that job, however.
The student trustee position is largely symbolic. She or he is not allowed in closed-door sessions and does not get to vote on agenda items. All the student trustee has is a voice. But faced with wizened trustees, a budget with more columns than the Parthenon, an anxious Adult Ed community that packs into public comment as if it were a Jimmy Buffett concert, and a board president so geeky he reads Robert's Rules of Order in his spare time, the student boardmember is often understandably cowed into silence.
What makes Negroni stand out is that he regularly speaks up in meetings to voice his concerns during a period of time when SBCC is undergoing seismic changes: a new president, a divided board, a reorganization with impending layoffs, and continuous budget cuts affecting enrollment. Despite all of that, Negroni doesn't mince words in criticizing his fellow trustees. Without singling out individuals, he says that the boardmembers' "lack of cohesion" and inability to detach themselves personally from their decisions "affects the whole organization." On the other hand, he does not feel the board is so dysfunctional as to merit the warning that has been issued by its accreditor for overstepping its defined role. "They could have been," he said, "but they aren't now." Still, he serves on the committee that's tasked with addressing those concerns.
On the demise of tuition-free Continuing Education classes ​— ​the original sin that two years ago led to the first contested race for board seats in decades ​— ​Negroni says, "I'm sensitive to keeping a good relationship with the community," but he goes on to say that Adult Education students "are not the future of the economy. They've lived. Some of them have had their educations. They've had their profession."
To that end, he also expresses anger at state budget cuts that continue to hobble higher education. But with military stoicism, he says that he is not fatalistic. "You adapt, you overcome, you do what you have to do."