Living
For the Birds
UCSB Grads Create Winning App Birdeez
Thomas Kuo was just 7 years old when he received his first birding book. His friend and fellow schoolmate at UCSB Jeff Simeon grew up in rural Virginia and found himself drawn to outdoor activity. Before finishing their graduate degrees (Kuo, a PhD in electrical engineering, and Simeon, a master's in environmental sciences), the two friends enlisted the help of a third, current UCSB undergrad and novice birder Patrick Toerner, and together, they developed their own start-up company, EcoLek. Their first project: an intuitive smartphone app that allows you to describe, identify, and catalog any and all bird sightings in your area, appropriately named Birdeez.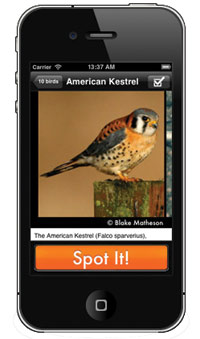 Each year, UCSB's technology management program holds a competition for new technological business ideas. Simeon and Kuo decided to enter their idea for the Birdeez app in the New Venture Competition, and formed a trio with Toerner. "[Toerner] is one of the reasons we are building this app to be so easy to use. He wants to get more into birding, and he wants to have this tool so he can start figuring out the birds around him." They took first place in the competition, and their company, EcoLek, was born.
Then Mike Panesis, head of the technology management program at UCSB, suggested they enter their winning app to DEMO, a national conference held in Santa Clara at which new technologies and innovations are presented (and possibly funded). "[Panesis] said that this would be a good event for us. It cost a lot of money to go, and we are still a pre-funding start-up, so it was out of our price range," explained Simeon. Fortunately, DEMO offered scholarships to promising candidates; EcoLek entered yet another contest, this one hosted by Startup America, in hopes of winning a spot on DEMO's grand stage. "We ended up being selected as one of four groups from the entire nation to go present," Simeon said. After two days of presentations by 77 up-and-coming innovators from around the country, EcoLek was named one of five DEMOgods for its impressive Birdeez app. "It's a little bit of bragging rights," said Simeon. "Personally, it's a validation that I can do a presentation. I still have a long way to go before I'm Steve Jobs, but I did alright."
During the team's DEMO presentation, they brought out a live falcon in order to demonstrate how easy their app is to use. The size, shape, and colors on the bird were enough information to view a drop-list of possible feathered candidates, with interesting facts and information about each species. "What we're realizing is that not everyone who might be interested in birds is going to start out wanting to identify birds," said Simeon. "They might actually want to start out just kind of exploring what is around their area locally." At the moment, the app only works in California and recognizes just 80 species.
Birdeez is the first version of their first product, but they are excited to expand upon their idea. "We'd love to take the killer app that we are developing for birds and translate it for plants, mammals, and different types of insects. We are branching out into other natural-world identification."
4•1•1
Download the Birdeez app at getbirdeez.com. View the presentation that earned EcoLek the title of DEMOgods at youtube.com/watch?v=qhSokInMo9A.