Cover Story
Local Heroes 2012
The Independent's Annual Awards for Outstanding Santa Barbarans
by Barney Brantingham, Aly Comingore, Jack Crosbie, Charles Donelan, Michelle Drown, Brandon Fastman, Tyler Hayden, Shannon Kelley, Matt Kettmann, Chris Meagher, Martha Sadler, Ethan Stewart, and Nick Welsh
In ancient Greece, a hero ​— ​also known as a demigod ​— ​referred to someone born from a mortal and a god (think Perseus). Over time, however, the definition of hero (and heroine) expanded to include anyone who displays courage, self-sacrifice, and altogether noble qualities ​— ​an ordinary person who fights the odds and prevails.
The folks selected each year as The Santa Barbara Independent's Local Heroes may not be demigods, but they definitely fit the current description of hero. Among the 20 chosen for 2012 are a woman who helped save the condor from extinction; someone who's raised thousands of dollars for the downtrodden through dancing; a man who instills a love of science into high school kids; and a couple who give voice and a new life to abused, abandoned pit bulls.
Read on to find out about the heroes living in our community.
Lana Bodnar – Music Maven
"When God gives you too much of one thing, he takes another away," Lana Bodnar said in an attempt to rationalize the fact that artists are often emotionally fragile, misunderstood, or stigmatized. While she can't offer a more concrete explanation, she can offer a solution. For 24 years, the nearly octogenarian piano instructor has been running the Santa Barbara Music & Arts Conservatory (MAC), where artistically inclined children can explore music, writing, film, painting, and theory in a safe and understanding environment with like-minded peers.
"If you treat them like human beings," Bodnar said of teenagers, "they are loyal, truthful, and many are talented." That's good, because although Bodnar loves children, this daughter of an opera singer hates mediocrity. ("There is no such thing as poor music, just music poorly played.") A natural teacher, Bodnar recalled that when she was 6 years old, she would gather children in a displaced persons camp near Munich to offer them lessons. Born in Ukraine, Bodnar spent five years in the camp after World War II before her family immigrated to the U.S.
Currently run at Girls Inc. in Goleta on Saturdays, MAC has lived on a shoestring budget ever since one of Bodnar's adult piano students gave her a check for seed money. While many children attend to hone their musicianship skills, Bodnar believes that a fully expressed musician (and person) should be conversant in all art forms. Most of all, however, they should be comfortable with themselves. Recently, she said, a student came to her for a piano lesson and "didn't play a note. She just needed to talk."
Successfully striking that fine balance of demanding rigor while exuding empathy has won Bodnar raves from her students, parents, and instructors, alike.
Mashey Bernstein – Outrageous Original
The OUTrageous Film Festival has been a fixture of the Santa Barbara LGBTQ scene for 21 years; Mashey Bernstein has been one for even longer. One of the original founders of OUTrageous, Bernstein has returned year after year to make sure the event provides both world-class entertainment and a safe space for the gay community to gather and express itself.
Bernstein described his role as "making sure all the bits and pieces are together," which is no small task, given the festival screens 10 feature films and numerous shorts and includes guest speakers. Bernstein, along with a dedicated force of volunteers and sponsors, run the four-day event on a budget of just $15,000.
Santa Barbara is not Bernstein's first home, but it has been for nearly 30 years. He enrolled at UCSB in 1971, finishing his PhD on Norman Mailer before leaving in 1977 for a stint in the Midwest ​— ​but not before establishing a Gay Student Union on campus. In 1990, he returned to take a teaching position in UCSB's writing department and quickly fell in with the organizers of the area LGBTQ community, participating in a gay book club that eventually sparked the idea of OUTrageous. "For me, it's not just coming to a town and living there," Bernstein said. "Community involvement is very important."
At the festival, he is everywhere at once, hosting Q&A sessions with directors and stars and making sure the weekend's numerous programs begin on time. Clad in a signature brightly colored dress shirt in the midst of a busy, stressful festival, it's clear Bernstein enjoys himself, enjoys the space and experiences he is able to share with the community. "To be honored in this way was really exciting," Bernstein said, "but you do what you love, and if you get honored for it, that's icing on the cake."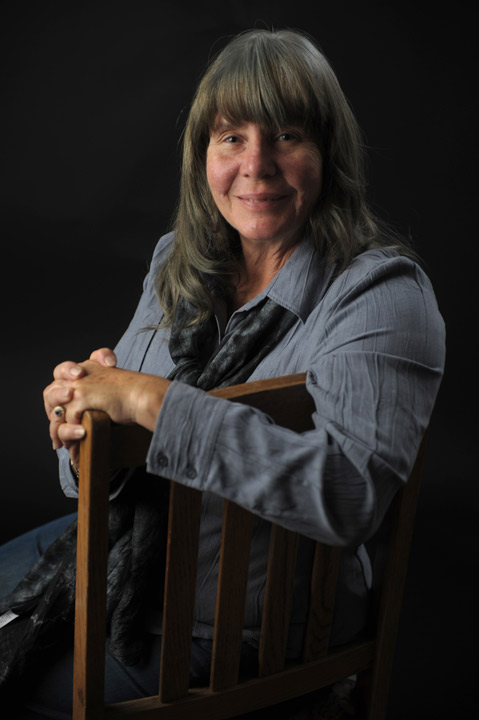 Carla Frisk – Environmental Activist
There are many flash-in-the-pan environmental activists ​— ​here today, gone tomorrow ​— ​but there's only one Carla Frisk. Frisk has dedicated the past 30 years to helping save Santa Barbara County's open space and protect its air and water. During her years as a staff member for state assemblymember, then state senator, Jack O'Connell, Frisk worked to shut down the Casmalia toxic waste dump and tackled a wide array of environmental issues, such as offshore oil and open-space acquisition at the Sedgwick Ranch, Wilcox Property (now the Douglas Family Preserve), Carpinteria Bluffs, Carpinteria Marsh, and Rancho Arroyo Hondo.
Now working with the Trust for Public Land, Frisk was project consultant on the Ellwood Mesa acquisition in Goleta, helping raise the necessary $20.4 million. And she threw her infectious enthusiasm into working out the Midland School conservation easement, protecting critical watershed and habitat at the base of Figueroa Mountain. Frisk's work helped assure that the commercially zoned Gaviota Village property near Highway 101 would not be the site of inappropriate future development. Now it's part of a park. In 2004, Gail Marshall, then on the Board of Supervisors and needing an experienced hand when it came to land-use issues, named Frisk to the County Planning Commission.
Frisk's volunteer résumé is a virtual who's who of county environmental organizations, from Get Oil Out! (GOO!) to the Community Environmental Council. Currently, she's working to transition the former Ocean Meadows golf course into protected wetlands.
"There is only one Planet Earth," Frisk said. "It is imperative that we work collectively to heal and protect this planet … It is the importance of this belief that moves me to do what I can to ensure that we have cleaner air and water and more parks and open spaces, for the well-being of both wildlife and people."
Direct relief's Holy Rollers – Bandage Makers
Every Friday morning, 16 women gather around a table at the Direct Relief International nonprofit and neatly roll bandages fashioned from hotel sheets. The volunteers, ages 55-92, are a friendly group, dubbing themselves the Holy Rollers, although they share no religious affiliation. Since 1988, when the group was founded by Susie Ardouin, its members have produced 350,000 bandage rolls to be used by the injured around the U.S. and in 19 countries as arm slings and emergency splints for broken limbs and to hold sterile bandages in place. "I do it to benefit the world, in my own way," said Ardouin. "I have for a long time done volunteer work on a local, county, and international level. We also exchange ideas as we roll bandages and enjoy one another's company." Working from laundered sheets Ardouin collects from the Four Seasons Resort The Biltmore Santa Barbara and the Bacara Resort & Spa, the women slit them into strips and wind the cloth tightly using tiny wooden dowel rods, turning out more than 250 bandages a week, sometimes working at home, as well. They're like a group of school chums, rolling and chatting, and when The Independent dropped in, they took a break for coffee and cake.
Last year, Direct Relief provided more than 20,000 Holy Roller bandages to 35 partner healthcare facilities abroad.
Jeff Henley – Oracle of Philanthropy
Earlier this year, UCSB welcomed the largest single charitable donation in campus history: $50 million to fund engineering research and advancements in energy efficiency. The gift made headlines across the state, but for Jeff Henley ​— ​the billionaire philanthropist, Oracle chairperson, Gaucho alum, and Hope Ranch resident who bequeathed the fortune ​— ​it was just the latest in a career of giving.
"I'm a big believer in science and engineering and what it has done for us over the last 100 years and what it will continue to do," said Henley, whose support has also helped UCSB win a Nobel Prize in economics, build the Mosher Alumni House, and erect the Henley Gate, which his wife, Judy, designed. "By doing this, it will help us continue to attract more federal grants, more talent, and give us more of a world-class facility, which is what we think we deserve, given all that we've accomplished in the last 20 years."
But Henley ​— ​who graduated from UCSB in 1966, moved back to town in 2000, and has also donated to the Santa Barbara Bowl, Sansum Clinic, Cottage Hospital, and the Scholarship Foundation ​— ​isn't just about the upper echelons of education: He's also been a supporter of the Boys & Girls Clubs of America for 30 years, currently sitting on the national board. "We also have a need to help a lot of kids get through life, graduate from high school, and find their way, whether that's going into college or into the service, or …," said Henley. "We have a big dropout problem, and our clubs are the largest organization in the country really trying to address that problem."
Janet Reineck – Dancing for a Cause
In the two-and-a-half years since founding World Dance Santa Barbara, Janet Reineck has gone from dance instructor to inspirational figurehead. A longtime humanitarian aid worker (and current development director at the National Disaster Search Dog Foundation), Reinick started World Dance as a way to incorporate her love of physical exercise with something bigger.
Nowadays, Reineck is teaching five dance classes a week to around 100 women of all skill levels at Santa Barbara Dance Center and SBCC Adult Ed. One hundred percent of her students' fees going directly toward humanitarian efforts managed through the Santa Barbara Foundation. In the past two years, World Dance beneficiaries have included everyone from Santa Barbara's Sarah House, Casa Serena, and Unity Shoppe to programs in Nepal, Uganda, Ghana, Kenya, and Guatemala. Currently, Reineck has teamed up with Santa Barbaran Betsy Kain of Goats for Life to help deliver goats, cows, and educational funding to Rwanda's Never Again Fellowship, a 300-household land co-op inhabited by three previously warring ethnic groups.
With an ever-growing community of dancers and supporters (and an email list of 1,100), Reineck is focused on keeping the World Dance momentum going, be it through classes, donations, or her annual "Thriller" flashmobs, which this year raised more than $10,000 for a struggling health facility in Liberia.
"We're just people, they're just people, and we're doing what we can to support each other and support them," Reineck said of her efforts. "I believe we're here on Earth to help each other and ease the suffering of communities struggling to survive."
Reineck takes a similar "check your ego at the door" approach to teaching dance. "People come to these classes because the community is so supportive," she explained. "It's not about you or how you look; it's about experiencing movement and music all together and with the world. We're dancing for the world."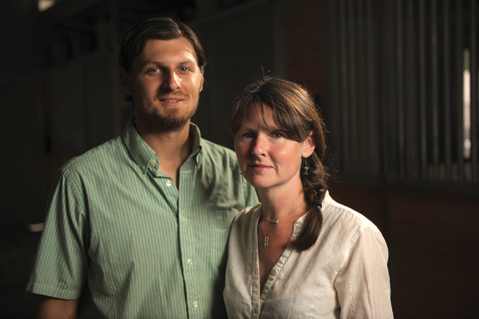 Jill Anderson and Cody Rackley – Canine Crusaders
"We didn't mean to become a pit-bull rescue, we just wanted to help the most vulnerable dogs," said Jill Anderson, cofounder of Shadow's Fund, an animal sanctuary located in the Lompoc hills. Anderson and her partner, Cody Rackley, began Shadow's Fund three years ago as an ode to their beloved, eponymously named pooch. Shadow was 15 years old when they found him tied to a tree with a note that read, "He's too old." Anderson and Rackley scooped him up and shared a "wonderful" year and a half together before their four-footed friend passed away.
Although Shadow's Fund began as a refuge for senior dogs, it quickly expanded to include pit bulls. "We get about 100 calls a day from people all over the state asking us to take in pit bulls that are about to be euthanized," said Anderson. Since its inception, Shadow's Fund has rescued nearly 400 pit bulls ​— ​an impressive feat, but with national statistics estimating that only one in 600 pits in shelters are adopted (the rest are killed), theirs remains an uphill battle.
So Anderson and Rackley work tirelessly to rescue these dogs ​— ​some are former bait dogs, some terribly injured from abuse, some abandoned ​— ​rehabilitate them, and educate the public about this breed, which was once the number-one family dog in the United States (think Petey from The Little Rascals). One way the pair are achieving that objective is through their annual Pit Bull Walk, which takes place near Halloween. "If we dress a pit bull up in a tutu or as a pumpkin, people aren't afraid of them," Anderson said.
A line from the Shadow's Fund website perhaps best sums up Anderson and Rackley's mission: "The purpose of Shadow's Fund is to provide a spark of light and hope for seniors, pit bulls, and other high-risk dogs in shelters, and to share a little of Shadow's very big heart."
Nancy Kapp – Safe Parking
Nancy Kapp moved sight-unseen from Texas to Santa Barbara in 1987 with a 4-year-old daughter, refugees in the diaspora of domestic violence. For the next four years, Kapp and child found themselves homeless, shifting from flophouse motels to couches to shelters to vans. Kapp, now 54, availed herself of any and all available help. But she also gave back, volunteering at the Salvation Army and the Unity Shoppe. It was a smart move, allowing Kapp to trade hours of work for free food. It also maintained her spirits. For a while, Kapp moved to San Luis Obispo, earning a degree at Cal Poly. For the past six years, however, Kapp has been working for New Beginnings Safe Parking Program, which offers about 150 vehicularly endowed homeless individuals safe parking stalls in about 20 parking lots throughout the South Coast. It's Kapp's responsibility to make sure participants are duly registered and have insurance and a driver's license, that they're up and out by 7 a.m., that the rules are followed ​— ​and that there's no undue melodrama during the hours they're allowed to call the respective lots home. "It's a place for people to unwind for 12 hours where they don't have to worry about getting ticketed or having a flashlight shined in their windows," she said. Kapp has a waiting list 55 names long, the most she's ever seen. "There's an epidemic taking place," she said. "It's called homelessness." As a result of the recession, Kapp said, a striking number of middle-class people ​— ​"with résumés that would knock your socks off" ​— ​have found themselves on the street. Kapp offers a place to stay and what she calls "street counseling" on how to get by in such an expensive town. "I know how difficult it can be," she said. "It never leaves you."
Kellam de Forest – Historic Preservationist
Kellam de Forest doesn't merely talk about preserving Santa Barbara's historic architectural tradition; he personifies the very traditions he's been fighting to protect. His father, noted landscape architect Lockwood de Forest, designed many of Santa Barbara's most iconic gardens and landscapes, his grandfather was an equally noted landscape painter, and his mother was a force in civic affairs. Initially, de Forest ​— ​born in 1926 ​— ​got involved in preservationist politics to protect his father's legacy. He lobbied, albeit unsuccessfully, to open up Montecito's Val Verde gardens to the public. When the Botanic Garden's former director wanted to redesign the historic Meadow there ​— ​also designed by de Forest's father ​— ​Kellam jumped feet-first into the fray. That time, he had the satisfaction of being on the prevailing side. Since then, de Forest ​— ​who ran a successful business consulting on Hollywood films ​— ​has immersed himself in the procedural nitty-gritty needed to be an effective advocate. For a while, he attended as many as three governmental committee meetings a week, bearing witness for the Pearl Chase Society, where he sits on the board, speaking his piece. De Forest played a major role in the successful push to include a historic element in the City of Santa Barbara's new general plan, imposing protective buffers that inoculate historic structures from encroachment by new development. In Santa Barbara's land-use politics, such efforts are not without controversy or blowback. Setbacks are inevitable, but throughout it all, de Forest has maintained a collegiality that's both determined and impish. His eyes still twinkle, as one friend put it, "like he just got away with robbing a bank." For his part, de Forest expressed satisfaction. "Santa Barbara still has its own feel," he said, "its own ambience, and its own identity."
Ginny Brush – Arts Advocate
As executive director of the Santa Barbara County Arts Commission, Ginny Brush has ushered in an era of unprecedented cooperation, innovation, and prosperity for the arts in a community long known for its rich heritage in this area. Soft-spoken, determined, and preternaturally aware of the political landscape in which she operates, Brush has distinguished herself by consistently bringing home the bacon, even as federal and state support for the arts disappears.
A UCSB graduate with degrees in art and English and a certificate in teaching, Brush has made a life out of understanding and appreciating the myriad nuances of both the county's art scene and its bureaucracy, making her quite the anomaly in a typically procedure-challenged field. She described the efforts required to keep the arts funding flowing to organizations in Santa Barbara as "not for the faint of heart," even while painting herself as just "part of a great team," a group of longtime associates she describes as "the arts posse" and defines as the ones who are "willing to roll up their sleeves."
After several years of teaching, several decades of making her own art, and a highly successful stint running a private design firm that created marketing materials for such clients as Cottage Hospital, Brush emerged onto the political scene in time to shepherd a new wave of artists and arts advocates through the public-funding approval process. "I see so much altruism and potential for leadership among the people I work with," Brush said. "With programs like 1st Thursday, or Pianos on State, people are fighting for these things, and it is so clear that it's not all about them." The same could be said of Brush, who continues to put her considerable expertise in the service of others every day.
Planned Parenthood Book Sale Volunteers – One for the Books
Though the event itself only lasts 11 days, Santa Barbara's annual Planned Parenthood Book Sale is a year-round endeavor for a core team of volunteers, motivated by a love of books, a belief in the work Planned Parenthood does, or some combination of the two. The sale, which originated in 1973, spent years as a roving pop-up shop, happening whenever and wherever an adequate ​— ​and empty ​— ​space appeared. In 2003, it moved to Earl Warren Showgrounds, where it's been ever since; this year it was renamed the Mary Jane McCord Planned Parenthood Book Sale in honor of the founding member, who passed away this year. "[She was] the heart and soul for 30 years," said former chair Nancy Davidson. "Our Energizer bunny," added current chair Peggy Nicholson.
The sale is impressive both for its size and organization. Donated books are given a "rough sort" into categories as they arrive throughout the year, but they're refined before the sale, resulting in what amounts to a real-life, easy-to-shop bookstore. And there are gems to be found ​— ​sometimes at a serious bargain: Last year, an early-edition Hemingway slipped through priced at $2; the buyer resold it for $3,000.
At the sale's start, the books fill three full-size moving trucks ​— ​a volume that generates significant revenue (grossing $685,000 over the past five years), all of which goes directly to tri-county clinics. And that money is critical, sometimes shockingly so; in 2009, when the state couldn't pass a budget and was issuing IOUs, they emptied the till and ran the cash to the clinics each day.
It's a Herculean effort, but thanks to the volunteers ​— ​nearly 5,000 volunteer hours went into this year's event ​— ​and like that famous bunny, the sale shows no signs of slowing down.
Kerry Kellogg – Master of the Trails
If you've ever set foot on a trail in the mountains above Santa Barbara, you should line up to shake the hand of Kerry Kellogg. While working on Los Padres National Forest for the past 35 years until his December 2011 retirement, Kellogg navigated government bureaucracy, plummeting budgets, and changing user groups in a never-ending struggle to keep the region's massive network of trails open and safe. His crowning achievement was declaring, in 1991, that all 220 hikeable miles of the Santa Barbara Ranger District were finally open to the public, to which someone quickly responded that a tree had just fallen on a popular trail. "That's the continuing saga," said Kellogg. "There's always something to do."
Kellogg's passion for the outdoors was ignited when he served as the City of Santa Barbara's camping director at age 19; he never really left Los Padres after that, working firefighter jobs in the late 1970s before starting in 1983 as a wilderness ranger, which evolved to managing all trails. "The organization kept shrinking," said Kellogg, who now works part-time as a wildfire specialist for Montecito Fire. "I was kind of the last man standing at some point."
With big rains in the mid 1990s, Kellogg told the media that the forest could use some volunteer help, and, he recalled, "the phone rang off the hook." Since then, training, organizing, and empowering volunteers has become the primary trail tool. "I am amazed at the level of commitment and the amount of work they do," said Kellogg, who recently joined a volunteer crew he had trained, and they surprised their mentor by revealing the brand-new Kellogg Camp. "It's a great white-hat job. Santa Barbara people love their trails."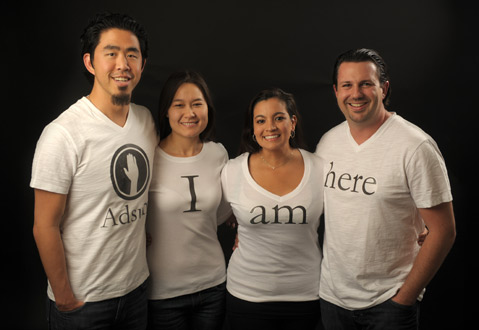 Maritza Mejia-Wilson, Travis Wilson, Debra Roets, and Jonathan Wang – Education Advocates
It's special when any student has an opportunity to go to college. But for one segment of the population, a college education is a rarified thing. (Pictured from left) Jonathan Wang, Debra Roets, Maritza Mejia-Wilson, and Travis Wilson ​— ​four young professionals and longtime friends ​— ​saw a need and decided to step up for students working hard to go to college. In 2010, the foursome founded Adsum Education Foundation (Adsum translates from Latin to "I am here"), which raises money for undocumented Santa Barbara County students to pursue higher education.
The goal is to help students who qualify for in-state tuition under Assembly Bill 540, which allows undocumented immigrants to receive in-state tuition if they have attended a California high school for at least three years, graduated from a California high school or received an equivalent degree, and are in the process of legalizing their immigration status.
Many of the students Adsum helps get GPAs of 4.0 or even higher while working low-wage jobs to help out their families. "These are high-achieving, focused, motivated kids," Wang explained. "But when they get to college, society shuts the door."
Only two years in, Adsum has given away more than $75,000 in scholarships; this year's goal is to raise $100,000 to give to students. With the foursome all working on a volunteer basis and the remaining costs covered by grants, 100 percent of donations go to students, who are looking at daunting costs for school if they want to continue their educations.
And just as important as providing funding for college is the opportunity to eliminate the stigma that many of these students carry with them ​— ​to show that they are not a financial drain on society and that people believe they can be positive members of their community.
Angel Ruiz – King of the Crossing Guards
Simply put, communities need people like Angel Ruiz. The 84-years-young Ruiz ​— ​or "48 but the other way around," as he like to put it ​— ​is in his 13th year as the main crossing guard in front of Monte Vista Elementary School, helping students and parents and teachers make their way across Hope Avenue safely each morning and afternoon. Ruiz's easy smile and warm, welcoming vibe are undeniable and have made him a beloved fixture at the school. In fact, it is not uncommon for former Monte Vista kids to come back and say hi to their former crossing guard.
However, it is the notion of lifelong giving and community participation that Ruiz embodies that truly makes him a hero worth emulating. After moving to the Santa Barbara area from Mexico in 1959, Ruiz embarked upon a career arc that found him working in several S.B. institutions. His résumé includes time at places like Joe's Café, the Big Yellow House in Summerland, the El Encanto, Raytheon, and, of course, his late wife's former Milpas eatery, Yolanda's. And, when retirement came a-calling after his 10-year tenure with Raytheon, this grandfather wasn't too keen on an excess of free time. "After a little while, I had nothing really to do at my house, so why not keep working?" explained Ruiz with a little smile. "The other way is no good; you have to keep busy. What am I going to do, just look at the television all day?"
Ahmed Jahadhmy – Eco Game Changer
Real change is only possible with real action. Just ask Ahmed Jahadhmy, the director of Albertsons in Carpinteria, one of the first chain grocery stores in the country to completely rid itself of plastic bags. After being approached by Albertsons management in early 2011 about the possibility of making his store one of two pilot stores in the bagless program, Jahadhmy, an alum of Dos Pueblos High School and UCSB, gave it a good long think before deciding to go for it. "It is a risk, a very big risk. You never know how your customers are going to react to something like that," said Jahadhmy. "But, in the end, this is Carpinteria, we are a small town on the front lines of the environmental movement, and we do things that other places are scared of. It was the right thing to do."
A resident of Carp for almost 30 years, Jahadhmy is quick to credit his fellow Carpinterians with being the real muscle behind his store's decision and the ensuing success of the program. Praising groups like Carpinteria Beautiful, Heal the Ocean, and Carp City Hall, he explained, "It has to be all-in if you are going to do something like this, so we couldn't have done this without our partnership ​— ​they really made it happen for us. As a town, we do things that other places are scared to do."
Even better, since Jahadhmy and company took their stand back in April 2011, not only have several other area businesses followed suit but also, as of this October, the City of Carpinteria made the bag ban mandatory for all large stores in town. "Really, it all just comes down to caring," summed up Jahadhmy.
Jan Hamber – Protector of the Condor
Of all the species faced with extinction, few came as close and meant so much as the California condor. "It was the symbol of wilderness," recalled Jam Hamber, who's fought for the bird's survival since the 1970s. "It was the symbol of freedom."
Wanting to be a naturalist since age 9, Hamber started bird-watching as a Cornell University student in the 1950s, and began volunteering in 1959 at the Santa Barbara Museum of Natural History, where, among other duties, she painted the tule reeds, set cactus spines in the original bird exhibit, and helped clean birds after the great oil spill of 1969, the year she was also hired as an employee. In the mid 1970s, legendary naturalist Dick Smith needed help tracking condors, and she signed right up. "It was my dream to be an outdoor naturalist, not an indoor naturalist," said Hamber, who still works at the museum today as a condor archivist. "It was my dream come true."
From 1976-1985, Hamber tracked a pair of condors named Groucho and Spot and participated in many of the recovery program's milestones, including her call to the trappers who captured the last wild condor. "It was one of the hardest things I ever did," said Hamber of that event on Easter Sunday 1987. "It still affects me." But she doesn't regret it, never agreeing that, as some argue, the bird should have gone extinct with dignity. "I don't think there's anything dignified about being poisoned with lead and slowly dying in a month," said Hamber, who's frustrated that lead ammunition remains the dominant yet preventable cause of condor woes.
Thanks to Hamber and the countless others she's worked with over the years, those 27 last condors bred and are now 410 individuals, including 230 flying free in the wild. Said Hamber, "My goal has always been to save the species."
Lance and Scott Brown & Sam and Zach Winner – Kids Helping Kids
Sam and Zach Winner and Scott and Lance Brown (pictured, from left) are two sets of twins, but they might as well be quadruplets. The foursome look similar (their faces are dotted with freckles), they're all high-energy and well-spoken 11-year-olds, and they're all smart cookies and best buds.
But that's not why they were chosen as Indy Local Heroes; they were selected because they aren't your normal 11-year-olds. Earlier this year, the four were planning to have a quadruple birthday party, but decided that rather than receive gifts, they would collect money to donate to CALM (Child Abuse Listening Mediation).
Zach was browsing at a bookstore and read a disturbing comic about child abuse that he never forgot. "Some kids don't know their parents are actually abusing them," he explained. Scott and Lance's mother knew about CALM, a nonprofit that works to prevent child abuse, and the boys decided to give to the nonprofit. So instead of getting the latest and greatest toys that might pique the interest of most 11-year-old boys, the four raised nearly $1,000 for CALM. After a visit and a tour, they decided to give to a particular part of the program ​— ​an interactive therapy room where a parent learns to play and interact with their child.
Now the four 6th graders ​— ​the two sets of twins go to different elementary schools but look forward to reuniting next year in middle school ​— ​are thinking about expanding their vision. They hope their actions will lead other kids to set aside presents for a year and that the small sacrifice will become the beginning of a large movement. It's already gaining steam ​— ​last week, a friend was planning to forego birthday gifts and instead raise money for veterans.
Steven Lovelace – Dance Teacher, Director, and Youth Mentor
The studios at Santa Barbara Dance Arts (SBDA) overflow with energy, affection, and inspiration due to the ongoing efforts of Steven Lovelace. This Local Hero has a longstanding commitment to our community that extends beyond teaching dance to directing and producing theater, and to tending to the emotional and artistic development of several generations of young people. As codirector of SBDA, Lovelace oversees one of the busiest and most varied dance programs in town, one that serves literally thousands of students a year. He has also been around long enough to recognize former students when they come to pick up their children. Lovelace is also codirector of Stage Left, where he has produced some of the most exciting youth theater in Santa Barbara, as well, including acclaimed recent productions of RENT and A Chorus Line.
When asked what has kept him motivated through decades of long hours spent in dance studios, behind the scenes, and onstage, Lovelace's face lit up with passion and sincerity. He said that dance "is an activity that demands one to understand one's body and communicate without words. When you dance," he continued, "you become at home in your body, and when you are at home in your body, good things happen." Looking around in the waiting area/café of SBDA, Lovelace nods toward a pair of preteen girls who are sitting together on a small sofa, knees touching as they share a book. "It's deep, what these kids get here. It's so deep that it goes beyond their muscles and into their brains, where it encourages them to develop the social connective tissue that will sustain them in life."
Tony Johansen – Jam Master
Imagine that you are spending a spare hour with nature in Alice Keck Park Memorial Gardens some Wednesday evening, and you find yourself following the sound of a dozen or more fiddles, banjos, guitars, ukuleles, hammer dulcimers, and other acoustic stringed instruments playing some sweet and complicated air. You might think you had died and gone to … Appalachia.
In fact, you would have stumbled upon the Glendessary Jam. It has been almost 25 years since Tony Johansen started the musical get-together, and it still convenes weekly ​— ​if not in the park, then at his home. In addition, the musicians play for free at events ranging from the Audubon Society annual picnic to Montecito Beautification Day. Glendessary Jam even welcomes newcomers, who, if they don't yet have the skill to keep up, can hope to get as good as the longtime players, which means the jam will keep going indefinitely.
In addition, Johansen, who compares the jams to meditation (and who started a "free school" in the Haight-Ashbury in 1964, to give you an idea of where he's coming from), also hosts the Santa Barbara Zen Group at his house weekly. In fact, anybody who has read Shunryu Suzuki's classic Zen Mind, Beginner's Mind might thank him for this, too: He and his then-wife used to drive Suzuki to the talks that comprise the text. Johansen taught meditation at Lompoc Prison for a few years and currently teaches weekly t'ai chi chih classes at the Jewish Community Center that are free to the public.
So, if you see Johansen on his ubiquitous bike ​— ​the one with the sign on the back saying "Bicycling: A Good Start Against Oil Wars," signed by the Committee for Full Enjoyment ​— ​please be careful not to run him over. He is helping to keep Santa Barbarans focused and happy.
Amir Abo-Shaeer – Teaching Innovation
It must be heady to be publicly declared a genius. But if it is, Dos Pueblos High School physics and engineering teacher Amir Abo-Shaeer wears the label like a comfortable overcoat, making him a little braver as he ventures deeper into the uncharted education territory that he's known for conquering. Two years ago, Abo-Shaeer received a "genius grant" from the MacArthur Foundation, one of 23 people across the country bestowed with the annual fellowship and given $500,000 with no strings attached.
Abo-Shaeer, who quit a lucrative mechanical-engineering career in 2001 because he didn't get to work with people enough, has spent the last decade turning the Dos Pueblos Engineering Academy he helped found into a world-class facility of brainpower and teaching chops that spits out machines, robots, art pieces, and products all designed and assembled by students. These school projects ​— ​the last of which is the senior-year construction of a 2,000-piece competitive robot ​— ​uniquely prepare kids for any number of science-based careers once they finish school.
The idea is to package science learning as hip, to move it away from the geeky, anti-social arena it occupies in most high schools, explained the charismatic Abo-Shaeer. More students (an equal number of boys and girls) apply to the program than it can accept, and in 2011, New York Times best-selling author Neal Bascomb released The New Cool, which chronicles Abo-Shaeer's innovative approach to instruction and tracks the 2009 robot competition season.
The program's curriculum centers on design-based education; there are lectures, sure, but most of the learning comes with creative, hands-on problem solving where basic skill sets are augmented with practical experience. The Engineering Academy recently moved into its new 12,000-square-foot building ​— ​complete with dozens of soldering irons, drill presses, and computers for each class of 100 kids in the four-year program.