News
Gift Giving Ideas
Affordable Gifts for Animals and Humans
They say it's better to give than to receive. If you make the right choices, you can do both this holiday season! This year let your holiday spending be a statement of compassion toward everyone who shares the planet with us. Here are some animal friendly and humanitarian gift giving ideas:
• Give a gift of support to the International Rescue Committee, and they will help provide critical assistance to refugee families around the world, starting at $25. For example, a gift of just $25 can ensure critical supplies and assistance that will help make childbirth safer for refugee mothers. In the midst of war or the aftermath of a natural disaster, mothers all around the world are giving birth in places where hospitals have been destroyed and doctors are in short supply. The teams at the IRC make sure women can deliver babies safely despite the uncertainty and chaos around them; in 2010, they helped more than 152,000 women have safe deliveries. You can choose to give a gift that you are passionate about–anything from mosquito netting to a new classroom. You choose the gift; the IRC will print and send a beautiful card–which includes your personalized dedication and description of how that gift helps refugees–to each gift recipient. For more information, visit http://gifts.rescue.org/shop/all-charity-holiday-gifts
• Adopt an endangered animal through Defenders of Wildlife, starting at $25. This is one of my favorite gifts to give. The Defenders of Wildlife have over 25 endangered animals you can choose from to adopt. Adoptions are a wonderful way to protect endangered wild animals and share the importance of conservation. I have given this as a gift to young children and they love it! With the adoption you receive a cuddly plush animal, activity booklet, personalized certificate of adoption, 5"x7" photo, animal fact sheet, and eco-friendly reusable tote. For more information on adopting an endangered animal, visit www.wildlifeadoption.org
• Give a charity gift card where the recipient chooses which charity receives the money. You make the donation for whatever amount you choose, and your recipient chooses which charity receives the money. You can even customize your charity gift card with your own image and message and let your recipient support the cause they are most passionate about. Why give more stuff when you can give a donation gift that makes the world a better place? For more information, visit www.tisbest.org
• Help schools and nonprofit organizations when you buy gifts. Kids Go Global is an online store and school fundraising catalog, which enables schools and nonprofit organizations to fundraise in an ethical way. You can choose gifts starting at $10. For more information, visit https://www.kidsgoglobalshop.com/default.aspx?id=90&tk=95
• Shop at the Humane Society of the United States and find gifts for your pet or your animal loving friends for under $50. Since 1954, The HSUS has been fighting for the protection of all animals through advocacy, education, and hands-on programs. They rescue and care for tens of thousands of animals each year, but their primary mission is to prevent cruelty before it occurs. Every purchase you make provides support for The HSUS's programs and the animals. For more information, visit http://store.humanesociety.org/prod_detail_list/GiftsUnder50?r=hsusemail111212top10
• Give to local charities in lieu of gifts. Instead of giving physical gifts this holiday season, why not donate to an area charity in honor of your recipient. Most charities will mail your gift recipient a notification upon request. You can also avoid traffic and long lines as most of these charities allow for on-line donations. Here are some animal charities in Santa Barbara to choose from:
ASAP: http://www.asapcats.org/
B.U.N.S: http://www.bunssb.org/
C.A.R.E.4Paws: www.care4paws.org
DAWG: http://www.sbdawg.net/
K9 PALS: http://www.k9pals.org/
RESQCATS: http://www.resqcats.org/
Santa Barbara Humane Society: http://www.sbhumanesociety.org/
Remember –Don't Give Animals as Gifts. Animals given as gifts are often unwanted after the holiday season has ended. Instead of giving a live animal as a gift, place a stuffed animal in a box filled with needed pet supplies–food, leashes, toys, etc. Then you can suggest a trip to your local humane society to adopt a pet if your recipient is ready. By doing this, you will also ensure that the recipient of your thoughtful gift bonds with the pet before they make a lifelong commitment.
By thinking of animals during this holiday shopping season, you will not only save lives, but you will share the gift of compassion with those you care about!
Adoptable Pet of the Week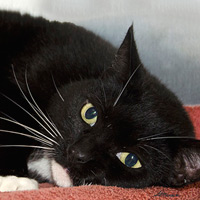 Binks is a six-year-old gorgeous short-haired tuxedo girl with a moon face, round eyes, and a snow white chin and whiskers. She loves being pampered and petted and is looking for an attentive human companion. She promises to be that most sought-after of felines–a lap cat! And Binks will probably set up camp in your bed at night!
Animal Shelter Assistance Program (ASAP) is a volunteer-based, nonprofit organization that takes care of the cats and kittens at the Santa Barbara County Animal Shelter. ASAP provides humane care for these animals and works to eliminate the practice of euthanizing them for reasons other than serious health or behavior problems.
The following is included in the adoption fee at ASAP: spay or neuter surgery, flea treatment, vaccinations, microchipping, health evaluation, including testing for Feline Leukemia (FeLV) and Feline Immunodeficiency Virus (FIV). Cats thought to be 10 years or older receive a full blood panel evaluation, thus assuring that the cat is indeed healthy and adoptable, medical and drug coverage through ASAP's vet for two weeks beyond adoption, if necessary, temperament evaluation and cat carrier (you can save the county money by bringing your own).
For more information, visit ASAP at the Santa Barbara County Animal Shelter, 5473 Overpass Road. Adoption hours are Monday-Friday, 9 a.m.-4:45 p.m.; Saturday, 10 a.m.-4 p.m. For more information, visit www.asapcats.org or call 805-683-3368