Environment
Cap and Trade Explained
UCSB Economist Breaks Down Program to Reduce Emissions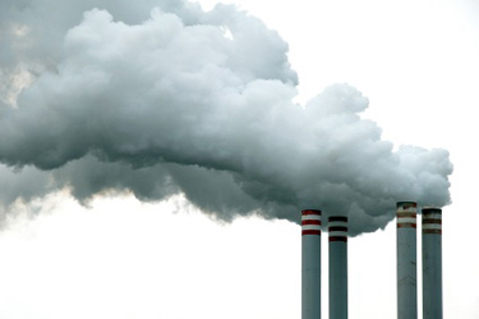 Two weeks ago, the State of California held its first auction for carbon credits, the next step in implementing its landmark Global Warming Solutions Act with the goal of reducing greenhouse gas emissions to 1990 levels by 2020. It was the first such auction ever held in the United States and could set precedent for cap-and-trade programs in other states, the entire country, or even other nations. The auction encompassed organizations ​— ​carbon producers, like utilities, oil refineries, food processors, and cement factories ​— ​that emit over 25,000 metric tons per year of carbon dioxide and set a price on pollution over that limit. (By comparison, the average U.S. household produces 12 metric tons of carbon dioxide annually.) If you want to emit more, you must buy allowances, but if you emit less, you can sell allowances on the open market. All of the 23,126,110 allowances for 2013 sold at $10.09, a few cents over the minimum bid price for a total of $289.1 million.
To figure out what it all means, The Santa Barbara Independent turned to Charles Kolstad, past chair of the Economics Department at UCSB, faculty member in the Bren School of Environmental Science and Management, and a coauthor of the Nobel Peace Prize–winning Intergovernmental Panel on Climate Change. Following is an approximation of our conversation.
Would you characterize the auction as a success? The good news is that the 2013 credits did get fully auctioned off. Only a small fraction of 2015 got auctioned off, though. Considering the price of allowances predicted in the national program ​— ​$14 a ton ​— ​and the price on the European system, this is not really out of line.
How is the California system different than the one administered by the European Union? The European system is bigger in terms of tons covered. The California system is designed to cover most of the pollution of the state. It is phased in over five years. We are in new territory, but California always trailblazes when it comes to pollution. Our cap-and-trade program is unique, and I think the challenge that the California Air Resources Board faces is doing this in a way that doesn't end up with calamitous results.
What could go wrong? You could get important firms closing because these environmental claims have made them uncompetitive with their counterparts [unencumbered by regulation] in Nevada or Arizona or Oregon. Polluters always complain that regulation is going to be onerous, but the system is carefully designed to avoid this. Each industry gets a certain fraction of permits for free. There was real wrangling over which industry gets what for free. Those that are more "trade exposed," or have the most perceived out-of-state competition, did the best. However, that's why a national system makes the most sense.
Considering the risk to businesses, would you say that implementing a cap-and-trade program is a good idea? Oh, it's great. To me, the big thing to get out of this is that if California can show it can control greenhouse gases while still maintaining a vibrant economy without causing much pain in the population, that will be a lesson for the entire world. If they show that it can't be done ​— ​that companies leave in droves ​— ​then that's a lesson, as well. It won't be such a positive one. It's important either way.
How far along is the rest of the world in considering or instituting cap-and-trade systems for greenhouse gases? The Australians are implementing a similar program. They are at a similar stage ​— ​maybe a little more advanced. The E.U. has been doing this for a few years. China has talked about it.
Do you think we can truly curb worldwide emissions through any other mechanism? The two main mechanisms that have been proposed are cap and trade at a national level or harmonized carbon taxes. That is, Canada, the U.S., Japan, and China agree to levy a tax of, for example, $100 per ton on carbon and keep their money within the borders. Either way has to be the way to do it. Carbon is too difficult to control using methods employed in contained urban areas to reduce pollution.
Cap and trade isn't exactly a new innovation. Can you fill us in on its history? It was first proposed by a University of Toronto economist named John Dales [in 1968 while studying pollution in the Great Lakes]. When we phased out lead and gas in gasoline, we used a cap-and-trade system. Over 10 years, lead content shrank to zero. The 1990 Clean Air Act instituted a cap-and-trade system to reduce sulfur emissions. The sulfur system worked so well that the Europeans adopted it 10 years ago for their carbon controls. Los Angeles implemented cap-and-trade programs for local air pollutants.
Will cap and trade spur the green tech industry? It's true that because California is on the cutting edge, they could be at an advantage, but I would put that in the bonus category.
Will the $289.1 million from the auction help California pay down its deficit? I'd be more reluctant to put that in the bonus category. The money goes to a greenhouse gas reduction account, and I'm not sure it will be spent wisely. I would have preferred it go to the general fund.