News
Bike Like a Woman
Mind the Gap, Part II
"She who succeeds in gaining the mastery of the bicycle will gain the mastery of life." —Susan B. Anthony
A few days ago, I surfed Rincon on a glorious morning. There were shoulder- to head-high waves, the water was clear and cool, and a deep fog made the world-class surf spot even more majestic and mysterious. And it was jam-packed with surfers, as is typical of Rincon.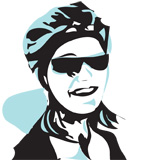 I am (mostly) at peace with being a mediocre surfer and will probably always be one. But something happens to a certain kind of guy in the water when confronted with a mediocre surfer who also happens to be a woman. Total strangers will start yelling at me, "Paddle, paddle! Go! Go!" If I miss the wave, which happens often, they look disappointed and will often start giving me advice. I rarely see this kind of advice being freely dispensed to mediocre male surfers.
On this day at Rincon, two older surfers paddled over to me and said, "We gotta get you a wave! I'll block the other punks for you. If you want to surf like a guy, you have to think like a guy." The other guy replied, to his friend mostly, "We'll probably have to push her into a wave, or she should just snake someone. She can get away with it because she's a girl!"
Oh my. I smoothed my ruffled feathers, did my best to smile graciously, and then paddled to another peak.
Gender definitions have been on my mind lately, and this exchange at Rincon got me thinking about some of the similarities and differences between being a woman in the water and on a bike. The advice to "think like a guy" reminded me of the fluidity of gender identity. I often think like a guy. Or do I? How would I know when I do or don't, being a woman and all? Would my success at surfing or biking somehow be significantly different were I to continue to "think like a woman"?
Definitions: First, a disclaimer. The field of gender studies is well-developed, and I am aware that my articles on gender and bicycling are surely lacking in depth, especially when it comes to challenging traditional definitions of gender. I applaud the good work of feminists and of advocates in our lesbian-gay-bisexual-transexual-queer (LGBTQ) communities for going much deeper into this topic than I do.
A fairly traditional definition of gender (as distinct from "sex") is offered by the World Health Organization: "'Gender' refers to the socially constructed roles, behaviours, activities, and attributes that a given society considers appropriate for men and women." If that definition is true, then where do women look to find out how to act in male-dominated sports like biking and surfing? It's natural that we would mostly imitate the behaviors of men successfully participating in these sports.
But as our confidence and numbers grow, we can look also to other women as models, and to our male allies who support us as we choose to excel in mountain bike contests, try our hand at Bike Sumo during Bike Moves, or give up our cars – even with large families. Our distinctly feminine approach becomes a celebrated, even admired part of bike culture, just as the masculine approach is. As women become leaders, the movement grows, building an ever-more diverse base of riders, with their own approach to riding and biking activities.
My last article on this issue asked you, dear reader, to chime in. I asked: "What do you see as the main reasons women bike less often, and what are you or others doing to change that? What else could we do here in Santa Barbara to encourage more women, from diverse backgrounds, to join us by bike?"
Thanks to those of you who responded with your thoughts and experiences. Your observations helped me tease out some of the main ways I have observed women joining together and becoming an impressive force in the world of bike advocacy and within the bike industry.
Ride together: Ride with your friends, with family, and community. One approach I've seen again and again is for women to start riding together. Nationally, there are groups such as Black Women Bike DC and Ovarian Psycos Cycle Brigade who are organizing rides and activities. When people start riding together with their families, I've noticed the safety of streets becomes more important, and people drive their cars differently — they are more courteous and patient with bicyclists. Also, when we are part of fun group rides, we meet new people and learn about other types of bikes and riders. Our world view expands.
Empower yourself with information and allies: Find bike shops and mechanics who are allies. There are so many fine bike shops in Santa Barbara that already have many loyal customers who also happen to be women. Find a shop that specializes in your style of riding and whose staff are welcoming of your questions and business. And please: If you get great information and customer service from a shop, buy from them. Don't go online to purchase the same product after getting invaluable customer service from a shop.
Support advocacy: Your local bike coalition and riding clubs are out there advocating for safer roadways, and for more comprehensive driver training (for both cars and bikes), and organizing fun events. Become an annual member and support their good work.
"Come out" as a bicyclist: Share stories of your love affair with your bike. Then when friends, family, and coworkers see a biker on the road, they'll think of you and maybe even slow down. Or you may be the catalyst that encourages them back onto the saddle, especially if you invite them for a ride, for example riding together the next time you go downtown for dinner or a show.