News
Dogs to Dollars
Are Pets Only for the Wealthy?
Owning a pet used to be a sign of extravagance that only the wealthy could afford. To be able to pay for food and veterinary care for your pet, you had to first be able to feed, clothe, house, and take care of yourself and your family. Although these things are still necessary, studies show that on a global scale pets are only partially a sign of wealth–whether people have companion animals seems to depend also on culture and nationality.
The 10 countries with the most family dogs are:
1. United States
2. Brazil
3. China
4. Japan
5. Russia
6. South Africa
7. France
8. Italy
9. Poland
10.Thailand
Contrast those with the list of the 10 richest countries (based on gross domestic product per capita):
1. Qatar
2. Luxembourg
3. Singapore
4. Norway
5. Brunei
6. United Arab Emirates
7. United States
8. Hong Kong
9. Switzerland
10.The Netherlands
The United States is the only nation overlapping on these two lists. So, on a global level, whether you own a pet or not has little to do with how much money you have. According to the nonprofit organization Care2, "This is because having companion animals requires not only money, but also a cultural affinity for and understanding that they are relatable, emotional beings who can be members of a family. In countries that traditionally view non-human animals as a means to an end (i.e., dinner), no matter how much money people have, they will not be spending it on cats. But where there is a cultural belief that people can have worthwhile relationships with animals, more disposable income will probably mean more family pets."
When looking at these statistics, what I found interesting was that China is in the top 10 lists for both dogs and cats, but the Chinese spend less then one dollar per month feeding their pets. Compare that to the biggest spender, Norway, where pet owners spend over 50 dollars a month feeding their pets.
If Norway's pet food budget seems extravagant, consider this: American consumers collectively spent $370 million on pet costumes this past Halloween. And extravagant spending on pets doesn't stop with Halloween. According to Time Magazine, Americans spent $5 billion on holiday gifts for pets and 77 percent of Americans give birthday presents to their pets.
All this spending may seem excessive, but perhaps we pet owners are saving money in the long run by avoiding regular visits to a therapist's office. Forty-nine percent of Americans say they experience anxiety and stress in their lives. When we cuddle, play with, or even just look at our pets we get a boost of oxytocin, our body's naturally occurring feel-good, stress-relieving hormone. Since 95 percent of pet owners say their pet makes them smile at least once a day, for most people, the emotional gratification we receive from our pets far outweighs whatever money is spent.
Adoptable Pets of the Week
Harry, Ron, and Hermoine
These three are adorable Chihuahuas were born in October. These darling little puppies are so fun and feisty. How can you not fall in love? They are wiggly, playful, happy, and absolutely love being held. You can come to visit them at the shelter but they won't be able to be held by the public for a while longer because they still need to get a couple rounds of shots to protect them from the bad sicknesses little puppies can catch.
All of the dogs have been spayed/neutered, micro-chipped, are current on their shots, and have flea/tick/mosquito protection. We ask for a minimum adoption donation of $250 for young dogs (under three years), $150 for adult dogs, and $125 for seniors (dogs 8 years old and over).
For more information on our available dogs, call (805) 681-0561, email adopt@sbdawg.org, or come by 5480 Overpass Rd. in Goleta, during open adoption hours, Thursday-Monday, 12 noon-5 p.m. You can view more adoptable dogs at www.sbdawg.org.
Simba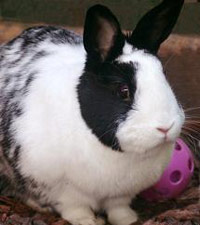 Don't let Simba's grumbled demeanor fool you, he feels he has to act a bit macho to compensate for his striking and unique beauty. His dapple-gray coat sets him apart from other bunnies. Call him handsome and don't ruffle his dignity and he'll be your loving companion for life! Every rabbit sheltered at B.U.N.S. is spayed or neutered prior to adoption.
Bunnies Urgently Needing Shelter (B.U.N.S.) is a volunteer organization that cares for abandoned rabbits. B.U.N.S is located at the Santa Barbara County Animal Shelter, 5473 Overpass Rd. B.U.N.S. works to find bunnies permanent homes, and educates the public on caring for a companion rabbit. You can call the County Shelter at (805) 681-5285 or call B.U.N.S. at (805) 683-0521 and leave a message for someone to call you back. For more information, visit www.bunssb.org.