News
Eating Well on Busy Days
Grab and Go
Dear Organizer,
How can I balance healthy eating with my very busy work schedule? I have clients non-stop most days and only short bits of time between them to eat. Do you have any suggestions? – Hungry Hairdresser
Dear Hungry Hairdresser,
Many people find that their schedules are so packed that they aren't eating as well as they should. This will catch up with you and cause problems in the long run, so you are wise to find a solution sooner versus later.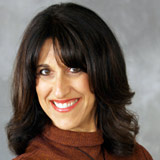 Healthy eating comes down to good advance planning. Food preparation takes a little time, but when you think of all the value good food provides, it is really worth it. After all, it keeps us alive and provides pleasure as well; it should be given a respectable amount of time! Here are some ideas to help you stay on track with a healthy diet in your busy life and particularly on a busy day:
On the day or two when you are not working (for many that is the weekend), strategize about the upcoming days when you won't have as much time to shop for and prepare food. Make a list of mini-meals you can prepare in advance. And keep in mind that if you only keep healthy foods in your home, that's what you will most likely be eating.
The following grab-and-go foods are easy to prepare, and they keep and travel well too. Get a good insulated food-carrier, with an ice pack, to keep foods safe throughout the day, especially if you don't have a refrigerator where you work.
—-
Hummus and fresh vegetables: If you want to make your life really easy, buy the organic, ready-to-eat baby carrots and a container of hummus, and you are done.
Fresh fruit: Cut apples and drizzle with honey for a great pick-me-up mid-morning snack. For that matter, any fruit can be cut-up and mixed together with others, providing you with wholesome and delicious fruit salad for several days. Go one step further and package this into serving-sized containers.
Cottage cheese with fruit: Split cottage cheese into two or three containers. Pre-wash berries or/and grapes, cut some pineapple, apples, or oranges, and simply add these to the cottage cheese before you leave the house. Voila! Two or three days delightful light lunch treats ready to roll.
Mini-sandwiches: Slice meat into pieces that will fit on crackers or small sandwich thins, and prepare mini-sandwiches that are easy to eat one-at-a-time between clients. Much easier than a big sandwich requiring two hands and more time.
Edamame: I purchase frozen, ready-to-eat edamame and put a baggie or other container full of them into my bag for the day. By the time I am ready to eat, they're defrosted.
Quinoa: This grain-like seed, a complete protein, can be reheated in the microwave at work, or eaten cold. I cook a double portion on the weekend and have enough for the better part of a week. Add raisins, mint leaves, almonds, cinnamon, or pumpkin spice for yummy flavors.
Brown rice and beans: Another complete protein, and, as with quinoa, you can make a large batch, then package it into single servings in a microwavable container.
Trail mix: Get trail mix already packaged in 100-calorie bags, or you can make your own trail mix by combining nuts and dried fruits, maybe with some M&Ms, for a midday energy snack. Make half a dozen or more packets for the week. I never leave home without a package of nuts in my purse in case my blood sugar drops.
Yogurt with trail mix: Mix one of your packets into a container of yogurt right on the spot when you're ready to eat.
The secret is to stock your home with the right foods, then prepare and package them well in advance for the next few days into serving-sized containers. It goes without saying that pre-packaging is also portion control, making it to monitor your intake of calories. And remember to bring a spoon!
Watch next week for more tips on meal organizing.
Ask a question for the column and I will address it at the appropriate time. Email questions to Coach Juli at jshulem@gmail.com and put "question for column" in the subject line, and they will be answered right here.