Columns
The Importance of Kelp
UCSB Researchers Investigate Beach Ecosystem
While some people see kelp as smelly, irritating detritus deposited on beaches as a plague to their enjoyment, this seaweed has an important role in our ecosystem. UCSB researchers have secured a renewed round of National Science Foundation funding to take a long-term look at the interaction between the coastal kelp forests and activities occurring on land and in the offshore ocean.
This grant, of close to $1 million per year, with a six-year funding cycle, allows the 25 faculty members working in the Santa Barbara Coastal Long Term Ecological Research (SBC LTER) program a chance to take an in-depth view.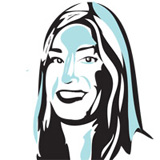 "Ecosystems, by and large, don't exist in isolation," said principal investigator Dan Reed, research biologist and deputy director for the Marine Science Institute. "Activities on land, disturbances from fire and land use, affect what goes into the ocean."
Reed said that after a fire, the sediments and nutrients that are deposited in the ocean by rain runoff can affect the health of the kelp beds. If the kelp beds can't get the nutrients they need, they do not thrive, and the animals, and people, that depend on them, have lost an important resource.
Researchers are also looking into how sea walls, the temperature of ocean water, and currents affect kelp-bed health. Reed said that a certain amount of kelp bed die-off isn't a bad thing. Kelp beds can become overgrown, and may not allow enough sunlight through the canopy to promote a diversity of food production on the bottom. However, unusually large waves or an increase in ocean temperature may cause unusually large die-offs that are not beneficial.
While focusing on the health of kelp beds, investigators are also studying the effect this seaweed has on the beach environment. Reed said that one of the researchers, Jenny Dugan, is looking into how the amount of kelp found along the beach affects shore bird populations.
Crustaceans, beach flies, and other insects feed off of kelp washed ashore. After digesting it, they release nitrogen into the sand, which is then washed back out to sea. Sea birds then feed off of the crustaceans that are nourished by the kelp.
While dead kelp might not be aesthetically pleasing to everyone, it is left to decay naturally along the beaches in Isla Vista, providing a draw for shore birds, such as the Snowy Plover. In contrast, the kelp is removed from some beaches in the Santa Barbara area, particularly in tourist areas. Without the kelp, the shore birds don't have an important food source, and the chain is broken.
Reed said that researchers in SBC LTER publish information on their research and share it with government entities and the public to ensure that everyone knows how human activity and changes in climate affects the ocean environment. In this way, the program's research can help guide human behavior, for example, in deciding whether or not to remove kelp from the beach. "We are hoping to provide a factual basis for society to be able to evaluate the trade-offs," he said.