News
'Fifty Years of Work in 15 Minutes'
Muralist's Collection Wiped Out by Eastside Fire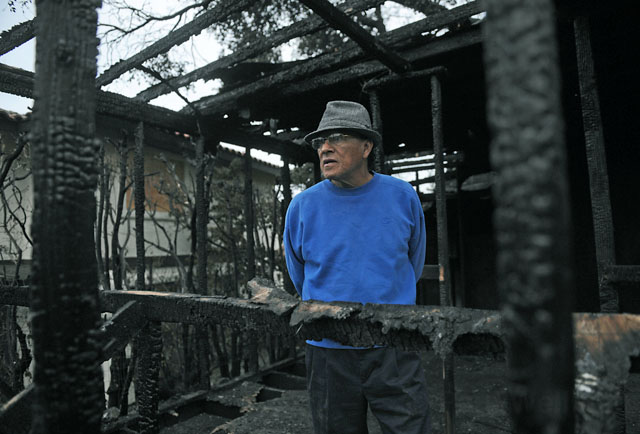 Santa Barbara firefighters have been more than a little busy this winter, responding to a rash of urban fires suspicious, accidental, and of causes as yet unknown. Among the more recent victims was Manuel Unzueta, one of California's premier Chicano muralists, who lost almost his entire collection of paintings when his two backyard storage structures went up in smoke during a late-night blaze this weekend. While investigators have not concluded their work, the fire ​— ​eerily surgical in what it destroyed and what it left standing ​— ​appears accidental, probably originating at an electrical outlet.
Unzueta, who has taught at both UCSB and City College and counts among his past students former L.A. Laker Brian Shaw and County Supervisor Salud Carbajal, lost about 35 years' worth of lectures and thousands of slides used to illustrate his instruction. Up in smoke went hundreds of drawings, autographed photographs of actors Gregory Peck and Henry Fonda, not to mention a book signed by boxing legend Muhammad Ali. "Fifty years," he exclaimed, "gone in 15 minutes." Beyond his art collection, Unzueta lost plants, birds, lizards, and rabbits in the fire, though he managed to rescue one rabbit just as the flames engulfed its fur. Before the fire, the rabbit, Unzueta said, had no name. Now, he said, it's been christened "Milagro," Spanish for "Miracle."
"This was a happy place," Unzueta said, walking around his backyard and pointing to where his art collection once was. "Now it looks like a war zone."
In recent months, Unzueta directed a large-scale volunteer effort to paint a sprawling mural on the wall of Bohnett Park. Likewise, he's immersed himself in similar neighborhood art efforts at the Eastside Community Center and has talked about launching a wholesale mural campaign to reclaim the walls otherwise tagged by graffiti on vacant lots on and near Milpas Street. "This was a happy place," Unzueta said, walking around his backyard and pointing to where his art collection once was. "Now it looks like a war zone."
About 20 city firefighters made it to Unzueta's home on the 100 block of East De la Guerra Street in six minutes. In about two hours, they had the fire out. It was, however, just one of many urban fires that have broken out in Santa Barbara this winter. "We've been busier than usual. It's not just a matter of issuing more press releases," said Joe Poiré, chief investigator for the City of Santa Barbara Fire Department. "We always go through periods of ebbs and flow. Right now, it's more of a flow as opposed to an ebb."
And many of these fires have been suspicious in origin. For example, emergency crews were dispatched to TV Hill to put out what were likely arson fires five times over a two-week period this January. All those fires, Poiré said, were intentionally set and all but certainly by the same person. No arrests have been made, but Poiré said, "We have a person of interest." One of the stock motives for firebugs, he said, is "societal revenge," and the TV Hill fire starter appears to fall loosely within that category. Poiré declined to elaborate as to how the fires were set, but he confirmed that in all instances they started close to Loma Alta.
He said there was no indication that any of the fires were set by homeless people, who over the years have sought refuge on the hillside's steep and inaccessible terrain. The arson fires, Poiré said, consumed about an acre or two each before crews put them out. No houses were damaged, he said, but heat from one of the blazes blew out the window panes of a nearby home's backyard patio structure.
In February, a similar number of smaller arson fires were set along the railroad tracks from Carrillo to Canon Perdido streets. All but one involved only vegetation. In one, a fence near an apartment complex went up in flames but was put out before serious damage could be done. Poiré said the fires along the railroad tracks appear related to one another, but not to the fires on TV Hill. With the railroad tracks, he said, the department has no suspects and no motive either. Poiré expressed gratitude that Union Pacific Railroad conducted a thorough cleanup along the tracks last year, hauling off old abandoned couches and mattresses and hacking back vegetation.
Of the structure fires that engine companies have responded to, one ​— ​at 27 Alisos Street ​— ​appeared suspicious. Poiré said that investigators have ruled out all accidental origins for the fire, which appeared to have started outside the house. The damage, he said, was limited, and no arrests have been made. The fire put out on El Prado Place was accidental, however, caused by fireplace ashes the occupant erroneously believed had been extinguished. Perhaps the most destructive blaze this year was the fire started accidentally by a homeless squatter who occupied the abandoned quarters of Montecito Motors on the 500 block of Chapala Street.
As busy as this winter has been, Poiré expressed relief that there have been no fires started by electrical heaters thus far. Typically when temperatures plunge, as they have this year, such fires are common and can displace many people.